Capping a damp day at Churchill Downs, Orb stormed to the front of the 19-horse field under the twin spires. Shortly before the 1 1/4-mile race, Orb and Revolutionary were co-favorites at 6-1. Revolutionary finished third, with Golden Soul taking second place.
According to NBC, Orb paid $12.80 to win, $7.40 to place and $5.80 to show. The total purse for the 2013 Derby is $2,199,800, according to The Associated Press, with $1,439,800 going the winner.
"This is like more than a dream," elated jockey Joel Rosario told NBC's on-horse reporter Donna Brothers after his winning ride.
True to its reputation as "the most exciting two minutes in sports," the 139th running of the Kentucky Derby was another thriller. With the lead pack running a blistering pace for much of the race, Rosario allowed Orb to drop back before surging late. After Verrazano and Falling Sky took the early lead out of the gates, Palace Malice overtook them by the first turn. Unfortunately for trainer Todd Pletcher, who entered a record-tying five horses in the race, Palace Malice could hold neither the lead nor the fast pace. Rick Porter's Normandy Invasion held the lead by the time the pack turned for the finish line. Having surged into contention from near the back of the field, Orb then powered through the center of the muddy track to take the lead late and finish first in the "run for the roses" in a time of 2:02.89.
"This guy, today. It was all him," Rosario said of Orb. "I was so far behind. I just let him be calm and be relaxed and he was able to do it all."
WATCH DRAMATIC FINSIH ABOVE
"It means everything to me," McGaughey told Kenny Rice of NBC on the track after the race. "I've always dreamed of this day and it finally came."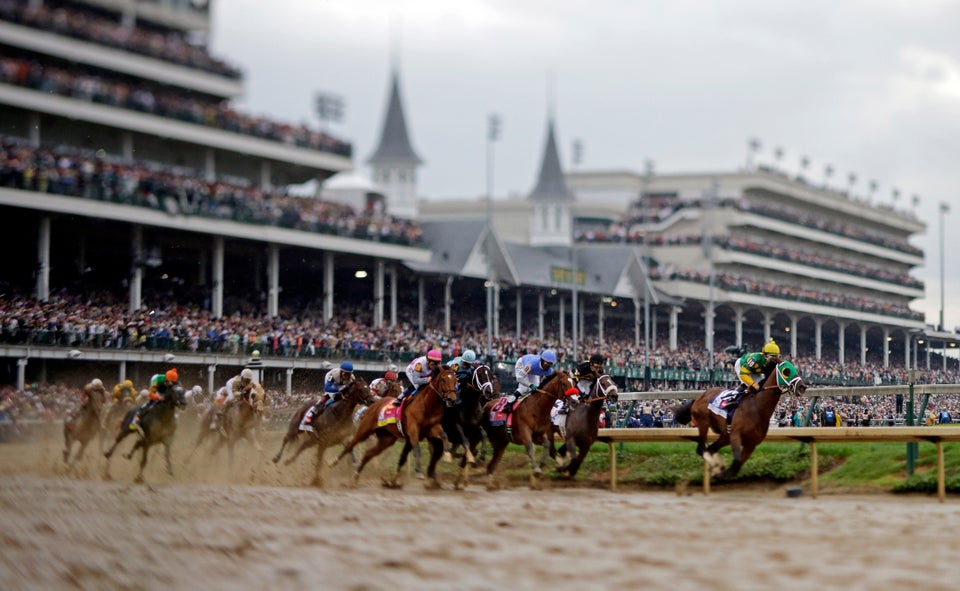 PHOTOS: 139th Kentucky Derby