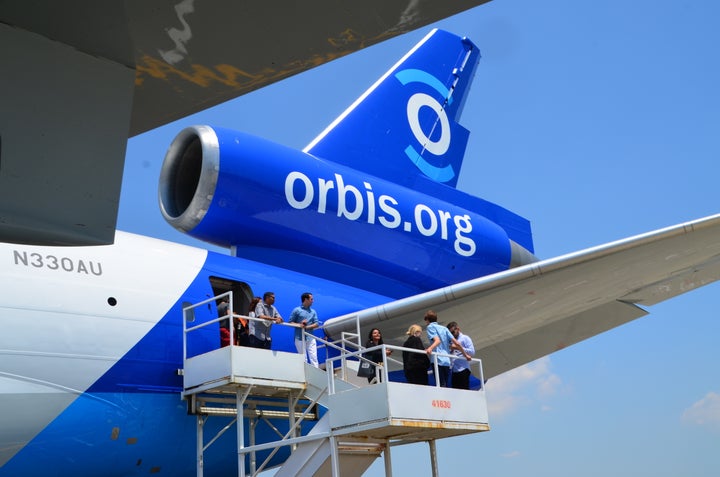 I took my dear friend Ann to see the ORBIS Flying Eye Hospital recently while it was in New York. I wanted her to have the chance to experience ORBIS and to talk to the staff who work in this unusual surgery center on a plane. I really wanted her to see this plane.
Ann has Retinitis Pigmentosa (RP) and has lost her sight gradually over the past 20-some years that I have known her. RP is an inherited disease that involves a breakdown and loss of cells in the retina. It slowly affects photoreceptor cells that begin to die and take away peripheral and night vision. You might think of it as tunnel vision. The vision in the middle of the tunnel is okay, but as the years pass, the tunnel gets smaller and smaller until nothing much is left of the vision—maybe a little light. Of course, everyone with RP is affected a little differently, but the end result is usually blindness.
I've watched Ann go from not being able to drive a car, to stumbling a little bit here and there, to having problems with sidewalk curbs, to needing to be led from room to room, to being able to see pictures of my daughter if she held the picture really close to her eyes, to finally telling me to just describe Rebecca because she couldn't see her at all any more—that she really couldn't see anything any longer.
And the thing is—RP really isn't curable. Oh, there's hope now and then. A new treatment here and there. Professionals are working to find a cure, and hopefully they will soon find success. But for Ann, right now, it's a matter of adapting to what life has hurled at her.
And adapt, she has. Ann has healthcare experience as an RN and facility planner, so naturally she was interested in the Flying Eye Hospital. She also taught for Clemson University's Grad Architecture program in Health Facility Design before starting her own business, ETICON, providing etiquette consulting for businesses. If you google Ann Humphries ETICON, you will see her featured on CNN, in newspapers, in magazine articles.
After 9/11 etiquette didn't sell as well and her sight was becoming progressively worse, so she worked again as an RN, but this time in clinical trials research with the aid of assistive technology. She says she really loved this work, but eventually her vision became too restrictive, so she changed her focus to volunteering, educating and enjoying life despite any hardships her vision caused.
In Columbia, SC, Ann is well known. Ann and her guide dog Brego visited 22 South Carolina state parks together, and South Carolina Parks & Tourism gave Brego a party when he retired from guiding Ann. The best story is when Ann registered for a waterfall hike, asking if assistance animals were allowed. After saying yes, the ranger was shocked when Ann turned up for the hike with a guide dog! (You can also google Ann Humphries, Brego.) She speaks in schools about blindness and visits museums whenever possible. She has good friends who take her places and a wonderful family that supports her.
Would Ann do about anything to have her sight returned? I think the answer would be yes. But, she doesn't really wish for it any longer as it won't likely happen in her lifetime. She has a full, enriched life because of her positive attitude, and the way she faces each day, ready for whatever happens. She also uses to the fullest extent the technology and services available to assist her
In comparison, the blind in most developing countries served by ORBIS rarely lead a full, enriched life. They are often shunned or ridiculed. There are no guide dogs or assistive services for them. They are usually unable to be employed. Fathers cannot provide for their children, often leaving the family in poverty. Children cannot learn to read.
And the really sad thing is that so much of this blindness is preventable.
The ORBIS mission is to transform lives through access to quality eye health, and the ORBIS vision is for a world where no one is needlessly blind or visually impaired. Eighty percent of all visual impairment can be avoided or cured. Access to quality eye care is one of the most effective and cost-effective paths for reversing the cycle of poverty.
Through the use of the Flying Eye Hospital for performing surgeries and training local practitioners, combined with the local hospital-based programs that do the same, ORBIS is transforming lives. For every eye professional trained, many, many people will have access to eye care. ORBIS has worked in 92 countries since 1982—think of how many lives have been transformed during this time.
Oh, I wish that Ann could have surgery on the plane or anywhere that could restore her sight. But I am glad that she got to "see" the plane. She is in awe of the whole concept and toured the plane with others providing her sight. She saw the 46-seat classroom where volunteer faculty will teach medical professionals, and trainees will watch live surgery. She saw the Operating Room with its new lasers and microscopes. She had the sterilization process explained to her and noted the new pass-through system that will be used to safely clean instruments. She talked to the head nurse, Angela, and saw the pre/post-op beds that will be used by patients in the ORBIS China program in September, the first program with the new Flying Eye Hospital.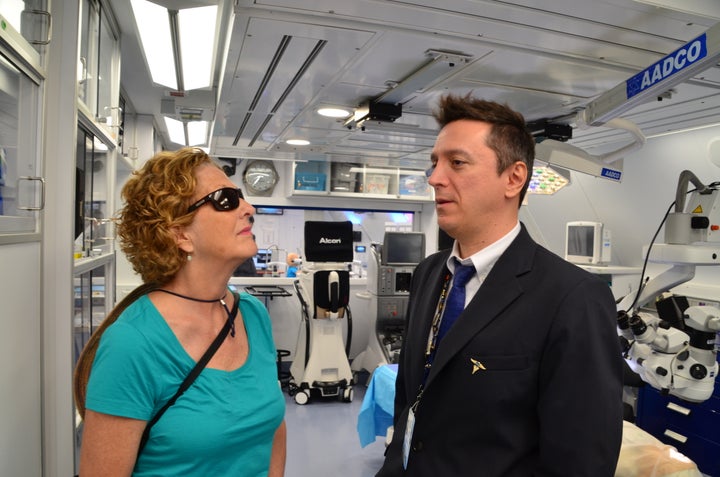 She enjoyed meeting some of the plane's staff members that day, people from all over the world: Peru, Ethiopia, United Kingdom, India, Colombia. Bangladesh, and South Africa. She met the FedEx pilot who flew the plane to New York and sat in the plane's cockpit.
She heard staff tell the story of the little boy who was delighted to be able to see after his surgery. He followed the physician for the rest of the day, holding on to his jacket. At the end of the day, the little boy insisted that he couldn't let go of the jacket because he was afraid that if he released the physician, he would lose his sight again.
She said it was just the best day! (Ann has lots of "best days"—that's why we all love her.)
But most of all, she is happy for all those around the world who also get to have a "best day" because of ORBIS programs—a best day that will last for years when they open their eyes to see a new world, after receiving sight-saving surgery from ORBIS.
For more information on ORBIS International, http://www.orbis.org. Ann's dog, Brego, came from Southeastern Guide Dogs, and she said he "catapulted me to a rich life of abilities." For more information, https://www.guidedogs.org.
Popular in the Community