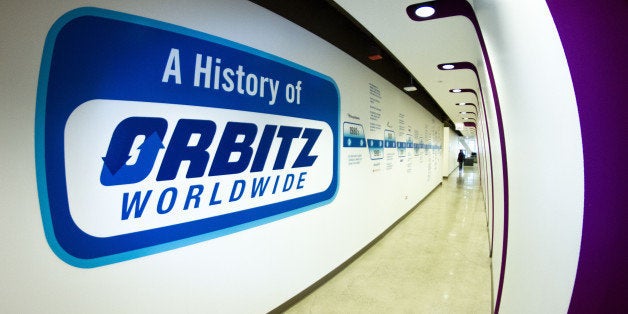 CHICAGO -- Wanderlusters and travel buffs alike may recall a cheeky 2012 ad campaign that encouraged America to "take vacation back."
In that campaign, Orbitz urged the world's travelers to embrace relaxation, -- a call-to-action CEO Barney Harford admitted would have rung hollow unless the company (which boasts 1,600 employees worldwide) took it to heart themselves.
"The most important thing is we want to make this a great place to work," Harford told HuffPost at the company's worldwide headquarters in Chicago. "People spend so much time working: 40, 50, 60 hours working, whether they're thinking about it at home, or in the shower. And…it's gotta be fun. We want to be able to attract and retain the very best people because that also makes [Orbitz] a fun place to be."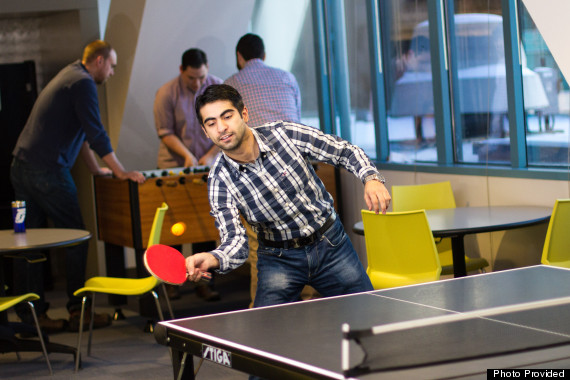 The Orbitz headquarters in Chicago has plenty of space for play, and regularly scheduled activities (employees call the happy-hour themed "Thirsty Thursdays" a favorite) to help workers relax and unwind.
In an effort to encourage their own employees to remember to take time for themselves, Orbitz offers big travel discounts, a generous vacation policy and even two additional days each year to take time off to pursue volunteer projects of their own choosing.
Victoria McDonough, who has been with Orbitz for two years, said she's never had the option to take volunteer days with any of her previous employers. She used her volunteer days with Orbitz to help chaperone a mission trip to Panama for her church.
Employees are especially fond of the company's holiday vacation policy which shuts down the office for the whole week between Christmas and New Years. Harford said employees spoke out when belt-tightening due to the global financial crisis threatened to scale the benefit back.
"We got a lot -- a lot -- of feedback from employees and learned that they really valued that time off between Christmas and New Years," Harford said.
Harford pointed out that a key reason employees valued the all-company break: the week-long time off gave everyone a chance to unplug at the same time.
"Usually if you're on vacation, as an individual, everyone else is still working. You get emails and such and most people feel they need to respond," Harford said. "That makes it hard to really unplug."
With the holiday time off, employees told HuffPost it's easier to relax knowing that their colleagues are doing the same.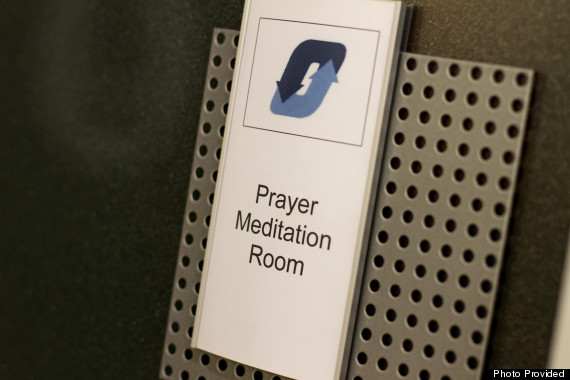 Orbitz's prayer and meditation room is among the several ways employees are encouraged to take a break from work and recharge physically, spiritually and mentally.
The company has also found different ways to help employees feel renewed and respected while on the job.
Brady McCarthy, a father of three who has been with the company for seven years, appreciates that the company "has a place for moms," referring to a special nursing room and a flexible, child-friendly company attitude.
Employees have the flexibility to work out ideal hours with their managers in order to meet family obligations, even if they're as routine as dinner or school plays.
Employee Bryant Hardy keeps a guitar stashed at work so can take a break and play in the company's meditation room. Other times, he said he'll take a pause mid-day to read his Bible. "It's a nice break from text and email," he said.
Harford has even put thought into the snacks around the office, with bowls of fresh fruit on every floor -- and perhaps more importantly -- the wildly-popular sparking water fountains on each floor that offer employees fun (and healthy) refreshment.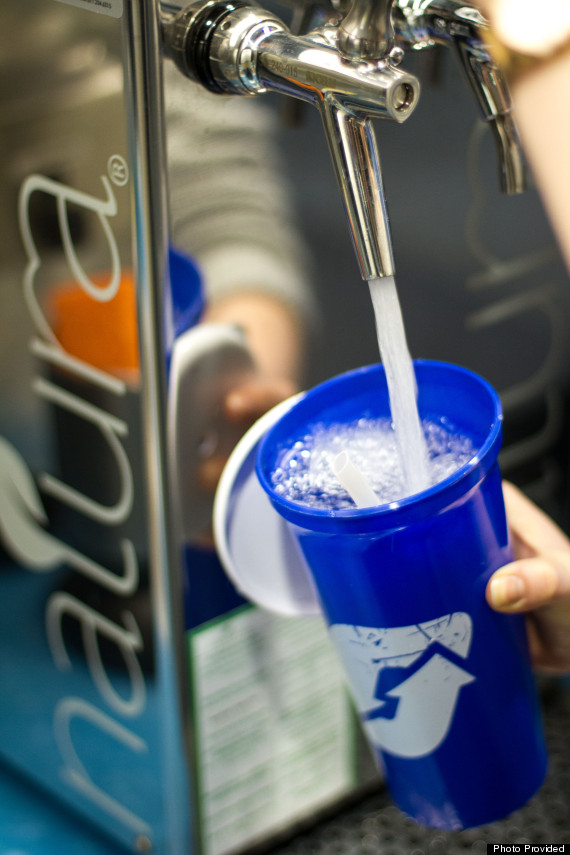 With re-usable containers and a sparkling water fountain on every floor, Orbitz employees have a fun, low-waste means of refreshment. And for those that want a jolt of caffeine, the company has custom coffee drink machines and of course, pop.
Employees say the company's respect for personal time and personal lives extends beyond the office doors.
"We've embraced LGBT since we launched," said Orbitz vice president of mobile Chris Brown. "Orbitz is the preferred travel brand [of the LGBT community] and we have a perfect score on the HRC index."
Brown adds, "The nice thing about working here is that [supporting equality] is not just lip service."
"We're always looking at how do you make this a better environment," Harford said. "We're always doing it as a team effort. Me personally, I care about employees. They're putting so much of their time and energy into this, so I always want to know: How can we make this better for them?"
Note: An earlier version of this story incorrectly stated employee Bryant Hardy's last name as "Handley." The author apologizes for the error.
REAL LIFE. REAL NEWS. REAL VOICES.
Help us tell more of the stories that matter from voices that too often remain unheard.