The federal government just announced that it was going to consider removing protections for Puget Sound's orcas. There are three reasons why this move to delist these "killer whales" from the Endangered Species Act seems too wacky to be offered serious consideration.
First, there are only about 86 individuals left in this endangered killer whale population. Seattle's iconic killer whales are limited in number, and they face ongoing threats, including limited food availability, contamination and habitat degradation. There's nothing new showing that the orcas have recovered or that they're out of danger.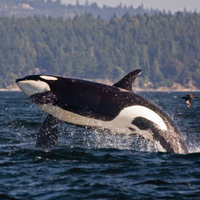 Second, California farmers seem an odd lot to want Puget Sound orcas off the endangered species list. Under the charge of the Pacific Legal Foundation a group of farmers petitioned the government to strip orcas of their protections as endangered. So what's their beef? Allegedly, the farmers complain about cuts in irrigation aimed to protect salmon, the orca's primary diet. Tacitly, the Pacific Legal Foundation is a property-rights group that has systematically been looking for ways to challenge Endangered Species Act protections of many animals, including green sturgeon, marbled murrelets, woodland caribou and now the southern resident orcas.
Third, the petition to delist the killer whales relies on discredited legal arguments. Arguments that the Puget Sound's orcas are not a distinct population, or that the Endangered Species Act does not allow listing of this type of population, have already had their day in court. In 2002, the federal government admitted the orca was going extinct in response to a petition by the Center for Biological Diversity, but refused to protect it on the grounds that the Puget Sound population was ineligible for listing. The matter ended up in court and ultimately the killer whales won protections. Then, in 2006, Pacific Legal Foundation -- once again representing farmers and raising much the same complaints as they allege in their newest petition -- brought suit. The court firmly rejected the Foundation's case, and the killer whale's endangered status was upheld.
Playful, intelligent killer whales are part of the Pacific Northwest's natural heritage that we cannot afford to lose. They live in communities called pods, they need their moms and they are an indicator of the health of the Puget Sound ecosystem. These rare dolphins need our help, and we cannot afford to strip them of the most powerful conservation tool that we have-- the Endangered Species Act, which has prevented the extinction of 99 percent of the plants and animals under its protection.
The government is accepting comments on the delisting petition for the orcas until January 28, 2013.
Photo: Fish and Wildlife Service
Popular in the Community