After a leisurely morning ferry ride between the emerald islands of the San Juan Archipelagos, we arrive on Orcas Island. We head straight to West Beach Resort where our Airstream's campsite was awaiting our arrival.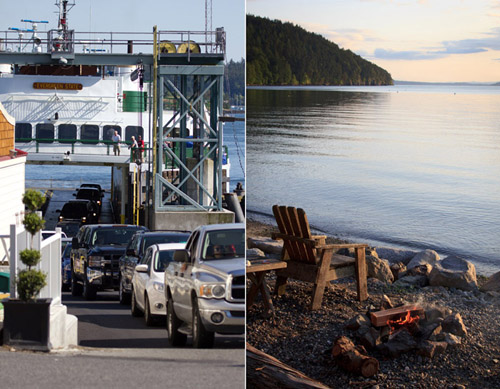 ~ Orcas Island Ferry Landing; Picturesque West Beach Resort
"What should we do first?" hubby asks me as we finish setting up camp.
I'm surprised he even asked.
For months I have been dreaming of returning to the Orcas Island farmer's market and finally the day was here. Nestled in the quaint village of Eastsound, the market was in full swing. Colorful organic fruits and veggies freshly harvested from the local farms that morning, unique arts and crafts, homemade pastas, breads, pizzas and so much more were to be found here. Meeting some of the local vendors we immediately sensed their pride in what they do. Sustainable agriculture and living is what Orcas Island does so well and it was definitely felt at the market this morning.
After the market we take a stroll through the village and are greeted with some of the sweetest boutiques. Filled with goods created by talented local islanders these boutiques truly showcase what Orcas Island has to offer. In addition to the boutiques are the restaurants, cafes, pie and ice cream shops. If you are a foodie, Orcas Island is your dream come true. Local organic produce, fresh seafood, colorful farm eggs and cheeses all grace the tables of these fine establishments for a farm to fork experience any time of the day. How can one decide?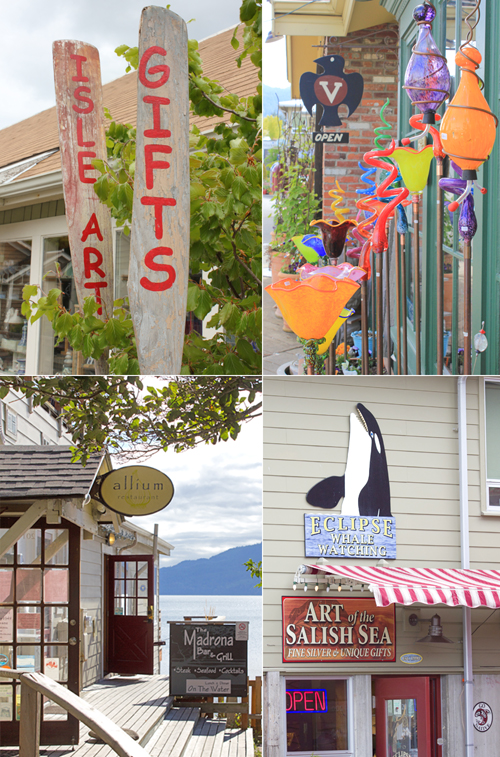 On this morning we are drawn to the historical Outlook Inn at the edge of Eastsound which is home to the New Leaf Café . Admiring the view of Fishing Bay while sipping our hot morning beverages our breakfast arrives and is nothing short of amazing. The smoked salmon in the eggs benedict is smoked on site and the brioche strawberry French toast was like a breakfast dessert. It was definitely a breakfast to remember.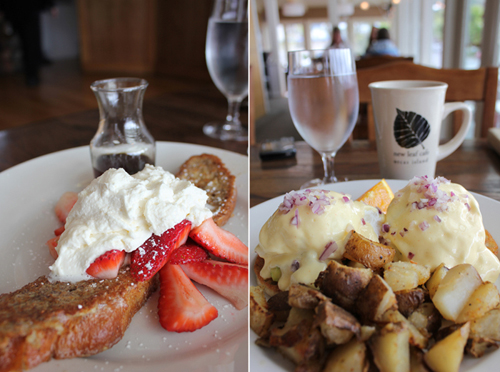 With satisfied appetites we decided it was time to get moving and explore Orcas island that the locals fondly refer to as "The Rock." It's no wonder how this name came to be from the rugged coastline to the high elevations experienced in Moran State Park at the top of Mt. Constitution. People come here from afar to experience the hike (or drive) to the top. If a more easy and relaxed hike is desired at Moran State Park, there is Cascade Falls. At 40 feet tall, Cascade Falls is the tallest falls in all the islands. All you need is a picnic lunch and you're set.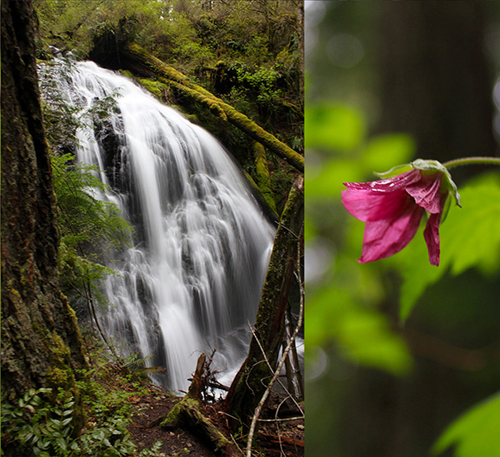 ~ Cascade Falls, Moran State Park
Today however, we were on a mission to Turtleback Mountain. There is an incredible hike here that delivers stellar views. Switchback after switchback we are greeted with peekaboo views of the islands that reach beyond Orcas. At around 1,000 feet up is when the world opens up before our eyes. Thanks to the San Juan County Land Bank and the San Juan Preservation Trust the Turtleback Mountain Preserve will remain just like this, forever for future generations to come.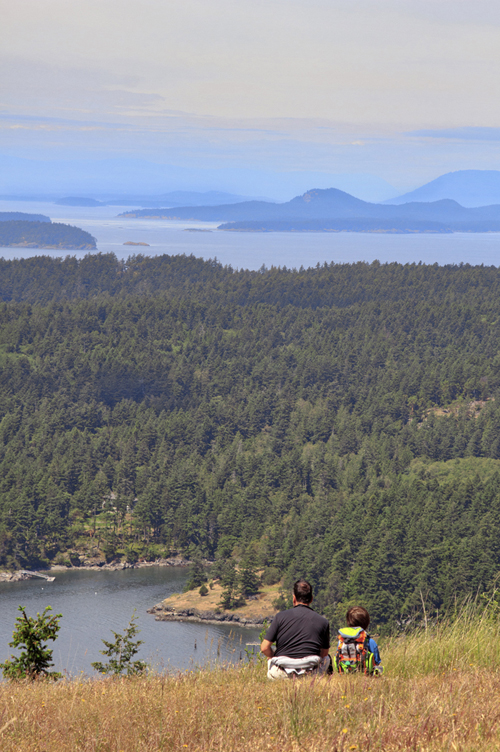 ~ One of the many views that greet you on Turtleback Mountain
From the rocky coastline to the top of Mt. Constitution to the lush green valleys that run in between there is never a shortage of spectacular views. The valleys are dotted with quaint farms complete with grazing sheep, cows and goats. We decide to stop at Turtleback Farm Inn to have a look around. As we stepped out of the car I could not believe my eyes at the beauty before me.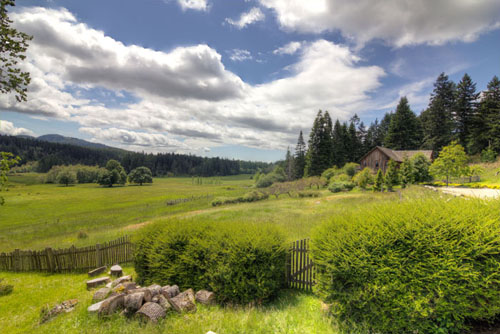 Proprietors Bill and Susan Fletcher take pride in Turtleback Farm Inn. Not only a farm but a bed and breakfast as well which instantly felt like home away from home. Inside the charming farmhouse the walls are adorned with framed articles from travel writers who have been impacted by the beauty here. One after another I read the articles when my eye catches a framed movie advertisement for Tarzan from the 1933's. "Starring Buster Crabbe as Tarzan," I read in big letters.
"That was Susan's dad," Bill tells me. Not only was Buster Crabbe a famous movie actor from the 1930's, he was also an Olympic Gold Medalist in swimming bringing home the gold in 1932.
Smiling ear to ear Bill tells me "You know Monica, back in the day I paid 25 cents to see the movie Tarzan and I would have never guessed in a million years I would marry his daughter."
Saying goodbye to Bill and Susan we head to the tiny little town of Olga where we find Buck Bay Shellfish Farm and Toni's shucking shack. It was time for a snack and this was the place to have it. Sweet, chilled oysters shucked on a picnic table with views of Buck Bay from where they were just pulled. A squeeze of lime is all you need and I can tell you, I will never have them any other way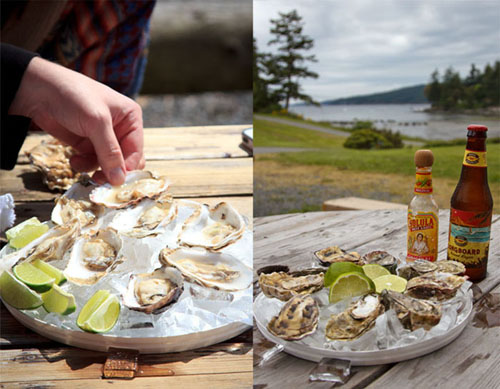 A quick stop just up the road at The Doe Bay Resort general store, I picked up some special heirloom tomatoes. The tomatoes here at Doe Bay are incredible and they come from the "Garden by the Sea," as I like to call it. The garden here at Doe Bay is beautiful and you can't help but feel happy as you listen to the angelic music wafting through the air that is played for the fruits and vegetables growing here. The menu at the Doe Bay Café is centered around the bounties from this special garden as well as other local island ingredients.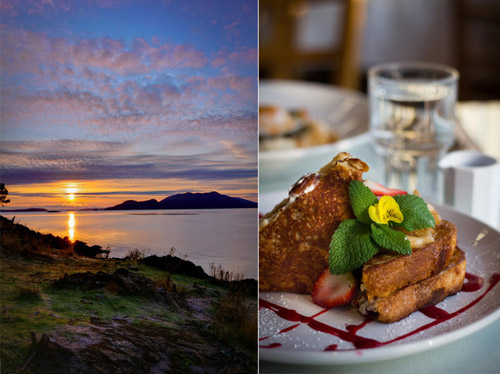 ~ A Doe Bay Resort Sunrise and Breakfast at the Cafe
Onwards we make our way to Deer Harbor Marina where our kayak tour is about to begin with Jeff as our guide from Shearwater. I am very excited about this because close to Deer Harbor is where Yellow Island is to be found. I once spent quite a bit of time on the 11 acre nature preserve and met an incredible man who lives there. Phil Green takes care of the island for the Nature Conservancy. For over 14 years he has lived here. Imagine! "It's just me and the seals," he tells me after I tell him how wonderful it must be to live here. He is a very, very lucky man.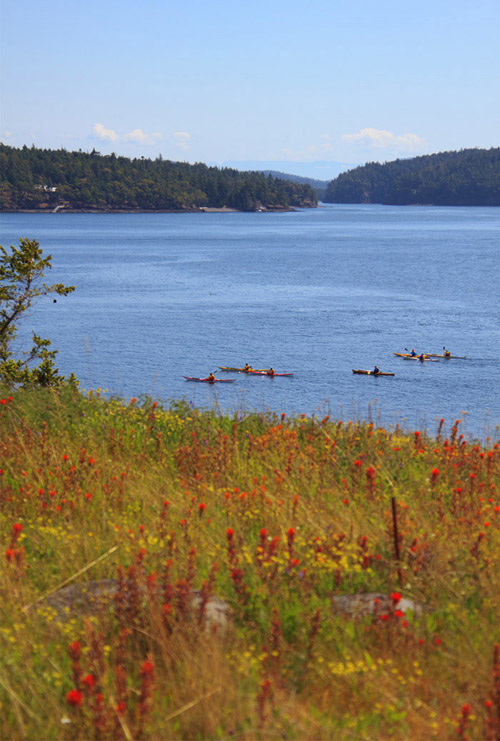 ~Kayakers paddling past Yellow Island
I have to say that the grand finale to our day was our dining experience at the Inn at Ship Bay. My curiosity was piqued when Chef Steve Debaste from the New Leaf Café mentioned this was his second favorite place to dine. I didn't need to hear anything else - reservations were in order and were we impressed! From the Charcuterie appetizer plate and Weathervane scallops to my perfectly cooked salmon, it was truly an evening of culinary delights. Would you like to have Chef Geddes' salmon recipe? He is happy to share it with you here :)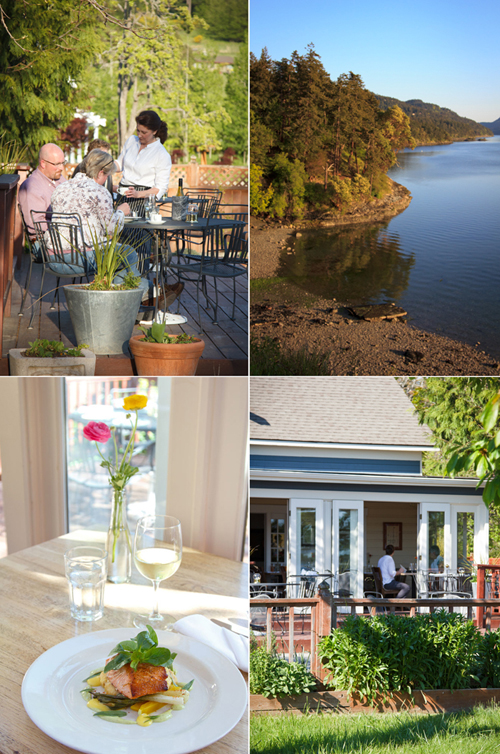 From the farmer's market, gourmet dining, scenic hikes, fresh seafood, kayaking and meeting inspirational people, it was the perfect day to be had on Orcas Island.
More travel stories from Orcas Island can be found here.