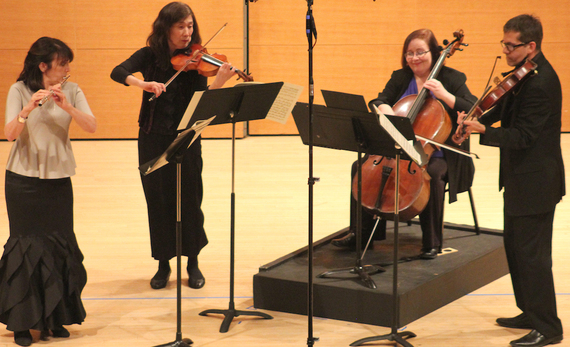 By Joanne Sydney Lessner, ZEALnyc Contributing Writer, January 23, 2017
With eighty concerts a year, a roster of impressive guest artists, a summer residency at Caramoor, and a sparkling new home at the DiMenna Center for Classical Music, the Orchestra of St. Luke's has come a long way since its founding in 1974 as the resident chamber ensemble of The Church of St. Luke in the Fields in Greenwich Village. This season also marks the 30th anniversary of its annual subscription series at Carnegie Hall. To bring the festivities full circle, the twenty-one-member St. Luke's Chamber Ensemble, still the nucleus of the larger Orchestra of St. Luke's, returns to its namesake church for the first time since 1997, with a two-program Baroque Series that includes additional performances at the Brooklyn Museum, a longtime partner.
"We wanted to present our musicians in their core repertoire, in the place where the orchestra was born. Also, the acoustics are unrivaled," says Executive Director James Roe. "We're excited to reintroduce ourselves to the community of Greenwich Village, who first recognized and loved us. Because of their nurturing four decades ago, the orchestra went on to be noticed. For the players, it will feel like coming home."
The two programs are designed to delight first-time concertgoers as well as aficionados. "Bach and Vivaldi" (January 29-30, 2017) showcases soprano Anna Dennis in Bach's Weichet nur, betrübte Schatten, BWV 202, aka the "Wedding Cantata," and the less well-known Vivaldi motet O qui coeli terraeque serenitas. Principal flutist Liz Mann provides the virtuoso fireworks in Bach's Orchestral Suite No. 2, and Vivaldi's "La Folia" Variations round out the program. Regarding the juxtaposition of the latter with the "Wedding Cantata," Roe says, "We wanted to open up that dialogue of connection between marriage and folly, but we'll leave it up to the audience to decide privately if there's a direct progression."
"Bach and Telemann's Coffeehouse" (April 2-3, 2017) conjures both a historical moment, when Baroque was still brand new, and a specific venue, the celebrated Café Zimmermann in Leipzig, where Georg Telemann founded his Collegium Musicum before passing its stewardship to Bach. Composers sought out Gottfried Zimmermann's coffee house for its inviting atmosphere and first-rate musicians. Bach premiered many of his secular cantatas there, including his famous "Coffee Cantata," a satirical jab at the audience, who were spared a cover charge, but were required to buy coffee. Women, normally verboten in a coffee house, were granted dispensation to attend the concerts. Another draw was the host's extensive collection of the most up-to-date musical instruments, which he made available to the players.
As Roe points out, "Pre-electricity, musical instruments were the equivalent of high tech. Woodwinds and keyboards in particular were advancing year by year. Zimmermann's collection allowed composers to push the limits of music as far as they could."
Celebrating this virtuosity, the St. Luke's program includes Telemann's Sonata à 4 in A Major and Gigue for Solo Violin, featuring concertmaster Krista Bennion Feeney, as well as Bach's Sonata in G Minor, BWV 1029, and W.F. Bach's Overture in G Minor.
Individual tickets are $40 and a two-concert subscription is $68 are available. For more information click here.
Cover: Members of the St. Luke's Chamber Ensemble; photo: courtesy of Orchestra of St. Luke's

__________________________________
For all the news on New York City arts and culture, visit ZEALnyc Front Page.
Related
Popular in the Community