On August 22, volunteer members of the Sheraton Cadwell Orchestra in Toronto received an email from the organization's management. When they opened the email, they found a warning ― not about their performance, but about singers' body size. 
In the email, uploaded to singer Sydney Dunitz's Facebook page that same day and embedded below, two members of the orchestra's vocal group were called out for not being "fit & slim." Orchestra management warned that those singers should "refrain from using tight-fitting dresses" that might "bring attention to their temporary physical/dietary indulgences." 
Management went on to write that only those "fit & slim" singers would be asked to perform moving forward. 
"Kindly note that for all future shows...only singers who are physically fit & slim (or, at the very least, those who know how to dress strategically/suitably in order to not bring attention to their temporary physical/dietary indulgences) would be showcased with our boutique orchestras," management wrote in the email.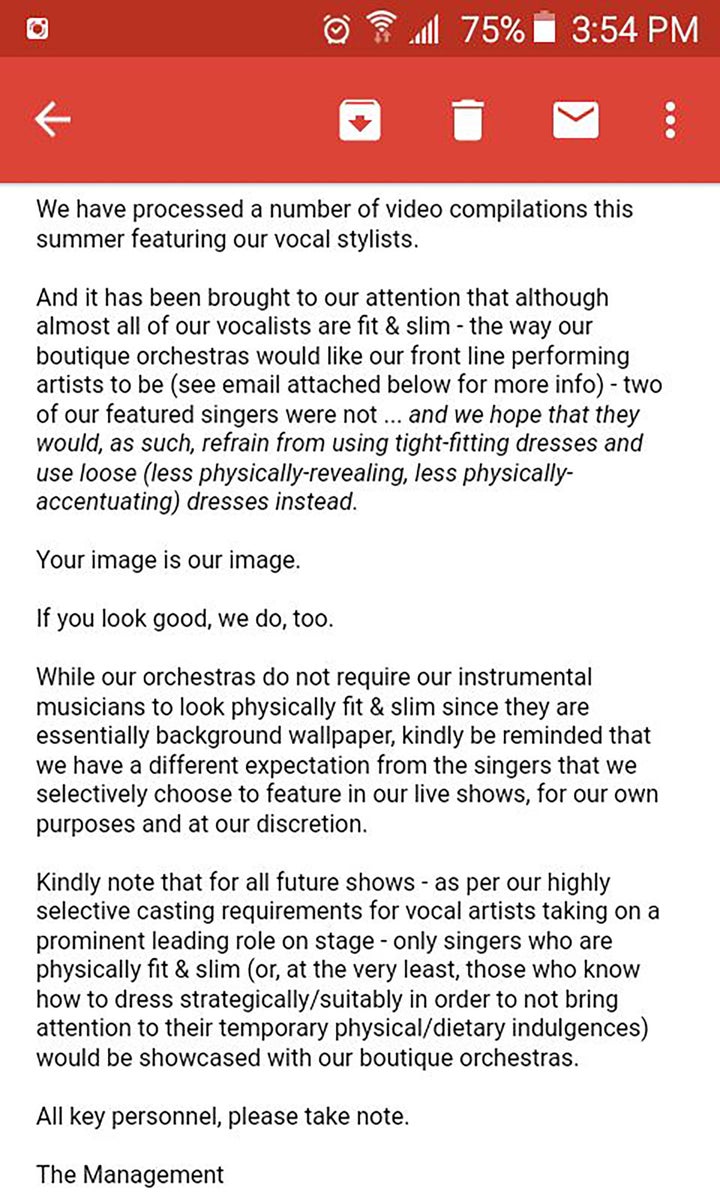 Dunitz responded to the email the next day, calling it "incredibly inappropriate," "appalling," and "bullying." She asked for an apology from the organization's management. 
She also made sure that whoever wrote the email was aware of just how damaging these kinds of comments are for women struggling with their weight or body image. 
"Many struggle with weight, many suffer eating disorders, many are in the process of getting fit, many just plain enjoy their bodies the way they are," she wrote. "That says nothing about their musical ability... This email is bullying, it is dealing with well-recognized issues that many women have with their bodies. And that is not your area of expertise, that is your opinion, which I truly wish you had kept silent." (Check out her full response below.)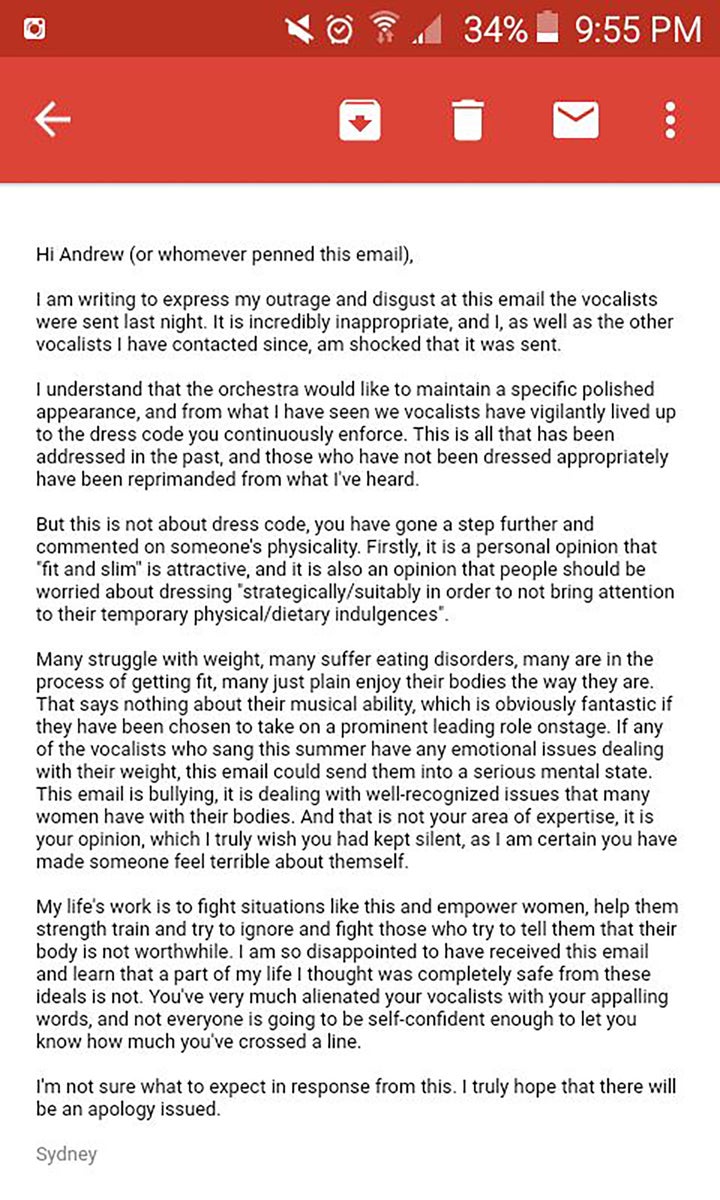 According to CBC Toronto, the Sheraton Cadwell Orchestra (whose website has since been taken down) sent a follow-up email with an apology, and is now disbanding altogether. 
"We sincerely apologize for any embarrassment/harassment that you may experience from media representatives or other individuals/parties as a result of misconstrued/malicious allegations and extremely negative/destructive/evil intent," representatives wrote. 
The same email also included the resignation of some of the board's 11 members (the exact number of resignations has not been reported), and in a statement to CBC Toronto, the orchestra said that "the entire organization will cease to exist in due course."
Dunitz updated her original Facebook post to say that she's happy the company apologized and that she spoke up about it. 
"I've said what I wanted to say, and started the conversations I wanted to start," she wrote.
HuffPost reached out to Dunitz for comment and will update this piece accordingly. 
Calling all HuffPost superfans!
Sign up for membership to become a founding member and help shape HuffPost's next chapter
BEFORE YOU GO
PHOTO GALLERY
Facts About Women And Body Image