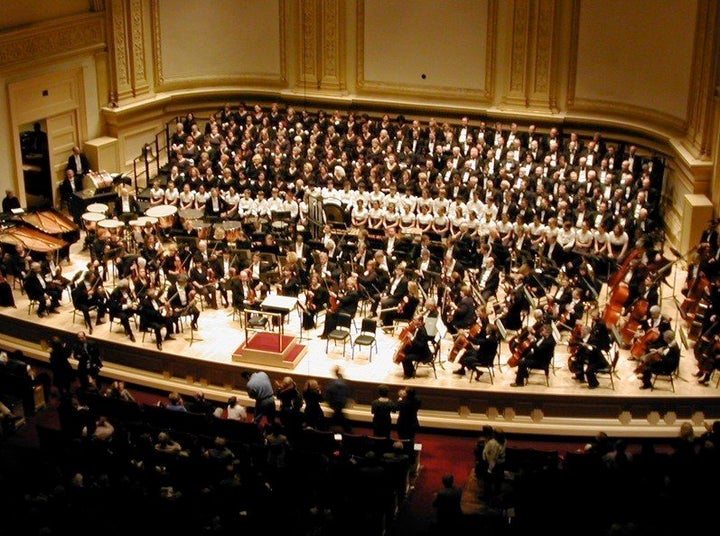 It's the voodoo. That horrible, Kuru-inducing zombie voodoo.
These are heady times for the League of American Orchestras (LAO) and their ilk. True, their suits have grown a tad more maggot-ridden since their early ASOL days. But churning out full-throated, industry-consuming zombie administrators has proven decidedly lucrative. Plus, it provides for quality time with the family at supper, namely because supper is the family. The only problem is: musicians coming late to the table are getting the cold shoulder.
Hardly a week goes by without another orchestra lockout, strike, or cannibalistic feeding frenzy. This week, it's Seattle, and for those who are paying attention, something smells funky about the League's stewardship.
According to their website, the League "leads, supports, and champions America's symphony orchestras and the vitality of the music they perform." To that end, it offers internships and management training programs that have seeded administrators across the nation. Detroit is a notable beneficiary, for instance. Its Executive Director Anne Parsons was among the League's first class of fellows, and we've all seen how much that organization has benefited under her steady, decaying hand.
The point is, if ever the musicians needed an industry watchdog, it's today. The national orchestral landscape, replete with endless lockouts and strikes, could benefit from real expertise, but current management trends are practiced (and trained?) at eating the right hand to feed the left.
Atlanta is a good example. The Atlanta Symphony Orchestra employs 74 administrators to do the job 15 used to do. Their CEO, Stanley Romanstein, agreed to a 6 percent aggregate pay cut for himself and four other administrators while the musicians, who comprise 24 percent of the organization's total budget, choked down $5.2 million in concessions and sustained the loss of 7 full time positions.
Under the sinewy hand of LAO "support," the Atlanta Symphony Orchestra musicians have been set back by over 31 years in work weeks and 10 years in compensation.
On the eve of Minnesota Orchestra musicians' first work stoppage since 1994, League zombie overlord, Jesse Rosen suggested to the Star Tribune that, "The conversation needs to move up and out of how much money are we going to pay people."
Minnesota Orchestra musicians are being asked to slash their average salaries by 35 percent so that management can buy a new lobby. (Hopes are high that the $50 million price tag includes a cotton candy machine and roller coaster.) Meanwhile, St. Paul Chamber Orchestra is being asked to take a 67 percent pay cut. (Read Evelina Chao's beautiful piece here.)
Rosen's point isn't without merit. Getting the conversation up and out of how much people are paid could divert our attention to more meaningful conversations, such as what a tremendous idea it was to hire the current and previous stewards of the Minnesota Orchestra after they ran the Bournemouth Symphony Orchestra into the ground.
But getting the conversation up and out of how much people are paid won't explain the Seattle Symphony situation, where musicians boast a balanced budget, record high donations, and ticket sales that have reached a whopping 45 percent of total revenue, fully funding the salaries of its musicians. They've even added administrative positions, (which we can all agree is directly helpful for playing beautifully and in tune). All this and a strike still seems imminent, with management demanding a 15 percent salary cut on top of $9.6 million in previous concessions.
Getting the conversation up and out of how much people are paid won't shed light on what happened to the Indianapolis Symphony, where musicians recently ended a lockout with a 32 percent pay cut and $11.5 million in concessions.
Getting the conversation up and out of how much people are paid can't explain how Detroit Symphony folks benefited from settling their six month strike with a 25 percent overall cut from their previous contract and a 96 member orchestra slashed to 81. League protégé, Anne Parsons, drove musicians away from the motor city like John Cusack fleeing LA in the beginning of the movie 2012. Poor Slatkin lost every string principal but one on Parson's attitude that musicians are replaceable parts. Her loss is Gustavo Dudamel's gain, who stands to pick up one of Detroit's top talents, cellist Robert deMaine.
And therein lies the problem. While these are heady times to be a zombie, eventually the most gifted artists go looking for work elsewhere, and when they're all gone, what's a poor zombie to do? Settling for that chicken brains diet is the fastest way down the zombie social ladder, save for a pair of missing legs, which is arguably the more common.
Yet, zombies aren't that forward looking. A zombie sees only food, and doesn't care whether its decaying shade of green perfectly matches the tint of professional envy, particularly in a place like Atlanta, where the musicians have taken such a disproportionate share of the financial hit.
Worse, braaains-storming a balanced budget is tough work for creatures who have literally lost their heads, or hearts, four blocks back.
There have been two words garbled intelligibly from the zombie crowd: Arts crisis. But with nonprofit charitable donations up by 6.4 percent and examples like Seattle, where musicians' salaries are equal to ticket sales, proving public demand for the product, the assertion of an arts crisis is an increasingly challenging point to make. More apparently, we have an arts management crisis, as Bruce Ridge so eloquently stated here.
Which brings us back to the voodoo. That horrible Kuru-inducing zombie voodoo.
In the end, American orchestral musicians can only dream of a day where math is done more even-handedly. They can dream of a time when zombies, consumed with the midnight munchies, don't also drag their feet on leadership. A time when the League's bitter, failed performers aren't consumed with life-wrecking jealousy. They can dream of a time when the League of American Orchestras isn't determined to eat its supper before it gets cold.

Update: At publication time, the St. Paul Chamber Orchestra was locked out. Management was reportedly seeking a 57 to 67 percent pay cut.
Update: As of October 23, management is proposing a 33 percent pay cut.
REAL LIFE. REAL NEWS. REAL VOICES.
Help us tell more of the stories that matter from voices that too often remain unheard.