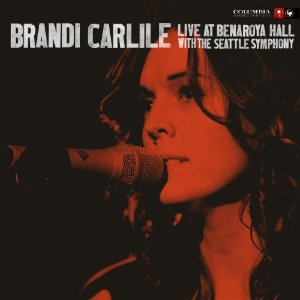 A Conersation with Brandi Carlile
Mike Ragogna: Brandi, let's talk about your new project, Live At Benaroya Hall With The Seattle Symphony. This is your fourth album, right?
Brandi Carlile: Yes it is.
MR: And "Sixty Years On," a song from the Elton John album, is included.
BC: Yeah, yeah, with the '70 Paul Buckmaster arrangement.
MR: Right, it's the original arrangement too.
BC: Yeah, it may have been the reworked one for that Live In Australia album -- I can't remember which version it is -- but it's "Sixty Years On" as it sounds to me.
MR: When people do a live album, normally it's a collection of hits, but this was on your Give Up The Ghost tour, so it features many of those songs.
BC: Well, we were on tour supporting the Give Up The Ghost record, and we had always had it in our head that we wanted to do a live album for our fourth album. We hadn't come up with the symphony concept yet--we wanted it to be a compilation of songs from one great tour, and maybe name the album after that tour or a one night only show at a legendary venue. When we started first developing symphony charts and coming up with the idea of playing with a symphony, it became really obvious that the symphony record would be the live record that we wanted for our fourth album.
MR: Nice. And who is with you on this tour?
BC: Well, this is just my typical band. It's me and the twins, Phil and Tim Hanseroth, a cellist that played with the symphony, Josh Neumann, a drummer, Allison Miller, and then a guitar tech that stepped in and played electric guitar and piano sometimes named Jon Pagan.
MR: Let's talk about the track list for this album. You do "Hallelujah," Leonard Cohen's song.
BC: I've been singing that for so many years, so long.
MR: It seems to be a huge modern classic, kind of out of nowhere.
BC: Yeah, right, but it's the right way for things to develop. I'm sure if you asked Leonard Cohen what he thought about everyone doing "Hallelujah," he'd have a mixed response, but songs like that are meant to be standards. That's why people cover them to this day, because that's how you cultivate standards -- having artists cover the song time and time again until they're just a part of folk culture in this country. I think that's what "Hallelujah" is going to be; it's going to be our "It's A Small World After All."
MR: (laughs) Brandi, did the concerts on this tour have the same track list both nights, or did you play around with different sets? How did that work?
BC: Well, we really wanted to play every song both nights so that we could make sure we had the best opportunity to get a really good recording of them. But we changed the order around, and we incorporated different cover tunes -- we really believe in cover tunes, and we believe in cultivating standards. We feel that it's not just a privilege, but a responsibility to cover songs by other artists, especially ones that aren't really out on the road playing their songs now. The way we switched up the two nights was in changing the order of the set lists, and by incorporating different cover tunes.
MR: I wanted to talk to you about all the covers on this album. You perform "Pride And Joy," "Looking Out," "I Will," and "Dreams." I believe that had a media usage.
BC: The best thing that "Dreams" was used for this year was that fifty-year anniversary Disney ad, that was really cool.
MR: What was your reaction when you saw that?
BC: Oh, I just loved it. I love the reel-to-reel intro, and then all throughout all those cartoons that we used to watch as kids, all the way into the modern day cartoons. I thought it was really cool, and I'm really proud of it.
MR: Yeah, it's really sweet. Also, you featured a song streaming before it was available, "Before It Breaks," right?
MR: Brandi, you're obviously very tight with your band, and I wanted to talk to you a little about that. There is another cover, "The Sound Of Silence," and you had the twins sing it.
BC: We were singing it backstage one night, and I thought that it was the most beautiful, weirdest thing that I'd ever heard because they just sound so creepy and twin-like, you know? They actually do sound a hell of a lot like Simon & Garfunkel, so I asked the twins if they wanted to start doing that song at shows, and they were like, "No." But then, the band and the other people we were touring with helped convince them, and they got their nose up to do it. It's a showstopper every night. People love listening to the twins sing that song by themselves. When it came time to choose the songs from the evening for this album, we were faced with the decision of whether or not it was going to be a show or an album, you know?
BC: Well, we have four albums, we needed to put an album out that was a show. So, we wanted to include what a night with us really is like, and a night with us includes a lot of cover tunes, and it includes the twins singing Simon & Garfunkel.
MR: What other covers that didn't make the album do you perform when you're out on the road?
BC: Oh my gosh, we do so many different covers that if I went through a big list of them, it might ruin some surprises. We do a lot of country music stuff -- Hank Williams, Patsy Cline, Willie Nelson -- I do several Elton John covers, as you might expect.
MR: What are some of the other Elton John songs?
BC: I've done "Rocket Man," and I've done "We All Fall In Love Sometimes," which is one of my favorite Elton John songs.
MR: Shameless plug here, but my favorite Elton song is "Cold As Christmas."
BC: Oh yeah, I love "Cold As Christmas," but my favorite song by Elton has got to be "Someone Saved My Life Tonight." Now though, it's "Tiny Dancer" because Elton dedicated that song to me in a show one time.
MR: He must really dig what you do with his songs. He knows you're doing this, of course, right?
MR: So, are you sending him a personal CD for him to check it out?
BC: Yeah, I probably will. Every time I mean to send him something or call him, I lose my nerve and just can't do it.
MR: So, he's a hero of yours, isn't he.
MR: I think the last time we spoke you mentioned that you have every CD of his.
BC: Oh yeah, several times throughout the course of my life I've had every album.
MR: Who are your other heroes?
BC: Most of them are dead. Patsy Cline is a huge hero of mine, Buddy Holly, Roy Orbison, Freddie Mercury, and Tammy Wynette, who passed away in my lifetime. A lot of my heroes are gone, and I'm not sure why.
MR: That's interesting that you have a lot of country heroes.
MR: How did you get turned on to that style of music?
BC: Well, country music has been in my family for a lot of years. My grandfather is a singer and my grandfather on my father's side plays dobra. They were always involved in bluegrass music. My grandfather was a huge Hank Williams fan -- a huge Jim Reeves fan too, actually. Then, that kind of trickled down to my mom, who was a huge Tammy Wynette fan, and we had kind of a Patsy Cline/Tammy Wynette rivalry in my house growing up. We just loved country music, and I don't know where it came from -- probably my grandparents.
MR: Who are you listening to?
BC: Well, I've been trying to listen to more and more new artists. That's a responsibility that I've wanted to take on, and I've gotten really into a lot of new artists like Edward Sharpe And The Magnetic Zeroes, Gregory Allen Isakov, Katie Herzig, and Lucy Wainwright Roche is a new artist and I love her songwriting. I try to listen to a lot of new stuff to keep myself current. When I recorded "Caroline" with Elton John, he gave me a really hard time about listening to only the artists I had been listening to my entire life, and pushing me to grow to help define timelessness in my generation. So, I'm trying a lot of new artists.
MR: Very nice. This seems like a perfect spot for this question -- what advice do you have for new artists?
BC: Well, my greatest piece of advice -- and it's not taking a shot at individualism -- is to band together with other artists, and to completely abandon the idea of the competitive nature of music. Don't let the business infiltrate your creativity. Make friends, write songs with other people, play with other people, and develop a community around you like they did in the '70s in San Francisco and like they're doing in L.A. and Nashville now. Join that community because it's hard enough to make a living and make a name for yourself, but it's a lot easier with friends.
MR: You can also turn what would have been the competition into a support group.
MR: What was it like when you were setting up these shows for the album? What was it like backstage before hand, and what were the dynamics like onstage?
BC: You know, the backstage at a symphony hall is enormous because when you have a thirty to sixty seat orchestra, there has to be a lot of seats for everyone. So, the backstage was abuzz with a lot of exciting people and a lot of performers. The conductor was back there, and we would have a lot of meetings, where we would go over papers and play piano. I should mention, Benaroya Hall, itself, is a venue in the city of Seattle that I had passed by as a kid, and I had always wondered what it looked like from the stage. I also saw Eddie Vedder and Dave Matthews there, acoustic, at different points. It was just kind of a fantasy of mine, to get up on that stage and see what it looked like to look out on that giant audience, and I got to do it for two nights in a row. It was just a culmination of all kinds of dreams for me -- being at Benaroya Hall, being onstage, having my show sold out, and having the audience absolutely packed full of all my friends, family, peers, and people that have known me since I was a little kid. Then, to have a 30-piece orchestra behind you just to reinforce how profound music can be, it creates a profound experience that you can't really explain. It was a very, very special night.
MR: What was the set-up? Was the orchestra onstage with you or in a pit?
BC: No, they're onstage with you -- they're all around you. The drums are set right in the middle of them, with plexi-glass around the drums, and then you play in front of them. It's kind of funny because they're kind of like the British Guards in front of Buckingham Palace -- you turn around on any given song and try to get up in one of their faces to make them smile and they won't move. It's really fun to be onstage with those guys.
MR: It's got to be a phenomenal experience to be onstage, playing your songs, and then, here comes an orchestra backing you. Were there moments when you were turning around thinking, "Oh my God."
BC: Yeah, it's intense. You have to have a rehearsal the day of. We all know how to play our songs and the symphony knows how to sight read. In my opinion, the rehearsal is just to prepare you because when you get out onstage and hear that sound, you can forget to sing because you're listening, or you can all of a sudden become overwhelmed with emotion and have a hard time getting the words out. It's an intense experience, so the rehearsal is just to prepare you for how intense it really is.
BC: Totally. A total dream come true, all in one package, and it's all on this record. We are more proud of this record than we are of any other record because at the end of the day, we're a live band, and that's just who we are.
MR: And obviously, being a live band, you're going to be out on the road supporting this new album.
BC: All throughout the country. We're going all throughout the West Coast, and do some in the Southwest. We're going to head to the East Coast and play New York City, Boston, and New Hampshire. We're going to be in the Midwest -- we're just going to be going all over the country in a giant zig-zag for two months, then we're going to take a break and go back out with Ray LaMontagne, who is one of my favorite singers.
MR: I really wish you well, and I'm sure it's going to be a phenomenal year for you, the album is a beautiful record.
BC: Thanks, I'm glad you like it so much.
Tracks:
1. Curtain Call
2. Sixty Years On
3. Looking Out
4. Before It Breaks
5. I Will
6. Shadow On The Wall
7. Dreams
8. Turpentine
9. The Sound Of Silence
10. The Story
11. Pride And Joy
12. Hallelujah
Transcribed by Ryan Gaffney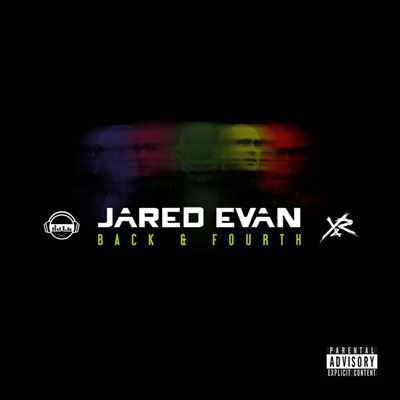 A Conversation with Jared Evan
Mike Ragogna: Jared, how did you get a #1 iTunes hit in Greece with "In Love With You"?
Jared Evan: Man. It's a really incredible story that kind of happened overnight. It started with a TV show out there called Radio Arvila which has the biggest single viewership in the country, approximately 1.5 million daily, I'm told. One of the hosts of the show named Antonis Kanakis discovered the "In Love With You" video and was apparently really digging it. He loved the song and video so much that he eventually aired it on the show. When he aired it, he didn't let any of the viewers know who the artist was and challenged them to find out on their own. At that point, pretty much the whole country of Greece started going HAM on video and FB comments! I then stoked the flame by using social media to really connect with the fans over there, they have been so supportive. I'm actually planning on heading over there in the beginning of June to perform on the season finale of the show, and do some big concerts and radio promos. I can't wait.
MR: When the song was featured in Entourage, what was your reaction when you saw how it was used?
JE: I was in shock that they wanted to use it. I mean that's a show that I grew up watching and to now hear one of my songs at the ending credits was surreal. I also think the scene perfectly fit the record.
MR: What went into making your Back & Fourth mixtape?
JE: A lot of experimenting and expressing myself as an artist. Back & Fourth is a body of work that represents a lot of the things that I am. It really shows the sounds and styles that I go back and forth with throughout my music; rapping and singing, hard tones and soft tones, rock, soul, hip-hop, pop...they are all in there. It was really a project that displayed my growth as an artist. I think when I made "Radio In My Head," I was still finding my sound. On Back & Fourth, I really found my comfort zone. Shout out to ill Factor, Jimmy Douglass, Ill Mind and Young & Reckless for making that mixtape what it is.
MR: What was it like touring with OneRepublic? Got any road stories you can share? You're heading to the East Coast, right?
JE: Man, the tour with OneRepublic was dope! It was such an incredible time and more importantly, a really good learning experience for me. Ryan (Tedder) is a great performer, and to see him do work every night was an honor. Def a ton of road stories with those guys, including sprinting from my tour bus to the stage when my manager Matt Graham informed me that Ryan called me out to perform with him and I was not there, thankfully, I made it out before the end of the song. As for the East Coast, it's obviously a really important place for me, it's my home and hopefully they'll continue to support what I do. S/O to South Dakota, Texas, Tennessee and Alabama as well, they really held me down when I was there.
MR: Did you catch any acts at SXSW when you performed there? What did you think of your own performance?
JE: Yessir! SXSW was insane. The scene down there is me all day; I loved it. I was able to catch James Blake and Mos Def perform at The Fader Fort. I also got to see Queens Of The Stone Age, Jack White... really, a lot of my idols. I was proud of the sets we did. I was able to win some new fans, which is all that matters to me.
MR: When Grey Goose named you one of 2011's "Rising Icons," what was the criteria and who else won awards this year?
JE: First of all, thank you to them. I'm very blessed that Grey Goose honored me with that award, it was my first award as a professional musician. The event was really dope as well, they had a drink in my name, "The Jared Evan." The other winners included a bunch of other really talented people like Pusha T, Jessica White, Big Sean and Mel DeBarge. I don't know what the criteria was, but judging by the winners, they were measuring "dopeness"! Won't ever forget that, thank you again Grey Goose!
MR: Have you started work on your debut album? When will it be released?
JE: Yeah, I'm always creating music for my debut album. I mean, I naturally make music pretty much everyday and if a gem is created, I usually throw it in the album pile. It will be released when I feel the time is right, when I feel like the people are ready to hear it, that's when I'll put it out. Hopefully, that's very soon!
MR: Here's a tabloid question or two. What's the most personal thing you can share with millions of people?
JE: I'm afraid of spiders
MR: What advice might you have for fellow new artists?
JE: Don't let anyone ever get in the way of your vision. Be who you are to the fullest and be honest. Once you do that, just make sure your music is tight!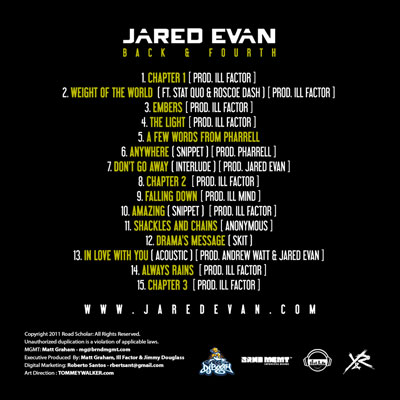 The link is http://jaredevan.com/mixtape/
Popular in the Community