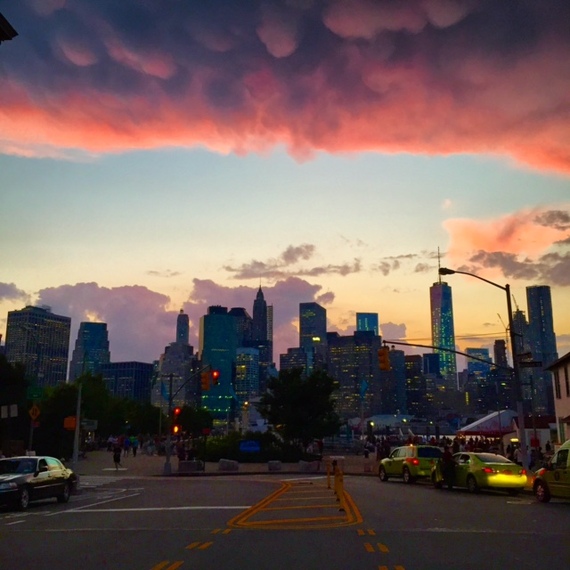 On the night of the first 2016 presidential debate between Democrat Hillary Clinton and Republican Donald Trump on September 26, I met a friend at his place for a quick bite before we headed to watch the event at an East Village bar.

Conversation turned to post election scenarios: primarily, will voters, especially Trump's staunchest supporters, unify around Clinton if Trump loses?

"I worry about his fringe supporters, those Alt-right [Alternative Right] types who might not accept the outcome of the election, then all hell will break lose," said my friend.

Republican presidential candidate Donald Trump, Alt-right websites along with other conspiracy-peddling social media, including the widely read tabloid-style Breitbart News, have been hammering out a conspiracy-laden narrative declaring mainstream media biased, voter fraud rampant and the election rigged. Tech-savvy and well moneyed, the Alt-right's messaging is well orchestrated and stealth, operating under the guise of news.

A recent search in Breitbart News using the keywords "election," "Trump" and "rigged" turned up more than 4,000 articles from over the last two years.

Talk of a rigged or tainted election is troubling, says Sherri R. Greenberg, a clinical professor at the LBJ School of Public Affairs at the University of Texas, Austin.

"It is fundamental to democracy that people have faith in the system and faith in the validity of elections," said Greenberg.

By the second debate on October 9, Donald Trump's campaign was caught up in a nasty swirl of controversy after video surfaced of Trump bragging about making unwanted advances on women. Big-name Republicans were pulling support faster than green grass through a goose. Yet, many Trump supporters remain defiant and determined. Two days after the debate, 89 percent of Republicans said they would support Trump according to a Wall Street Journal/NBC News Poll.
The Republican establishment never showed much love for Donald Trump in the first place. Instead, they grudgingly accepted him like a crazy uncle.

Crass and simplistic, espousing policy positions that are inherently xenophobic, Trump is the ideal messiah for fringe conservative elements including Alt-right.
The term "Alt-right" was coined in 2008 by Richard Bertrand Spencer who heads the National Policy Institute, a white nationalist think tank. In 2016, Spencer declared that Trump was creating a political space, "intentionally or not," in which the Alt-right could grow.

Trump's initial calls to build a wall between the United States and Mexico was like a dog whistle to millions of disenfranchised voters. In Trump, they see a candidate who shares their concerns about immigration, political correctness and the loss of manufacturing jobs to globalization. These are voters who feel the nation's elected officials have forgotten them. For years, mainstream Republicans winked and nodded and often paid lip service to hot button social issues, but in Trump, they had a DC outsider, a blunt aggressive businessman that spoke their language and won their adoration.

Many of his supporters are people who also feel as if they've been crushed by waves of cultural change, according to Ryan Lenz, Senior Writer, Intelligence Report at Southern Poverty Law Center (SPLC), a nonprofit legal advocacy organization in Montgomery Ala. that monitors extremist and hate groups.
SPLC identifies the Alt-right's core beliefs as being "'white identity' is under attack by multicultural forces using 'political correctness' and 'social justice' to undermine white people and 'their' civilization."

What we saw rallying around Trump was "a young, tech-savvy crowd of racists who were now emboldened and felt legitimized because of a political climate where they were no longer marginalized for their beliefs," said Lenz.

Among Trump supporters, those who subscribe to Alt-right ideology are the ones who might raise the loudest objections if Trump loses, according to Lenz.

"There are a number of quotes from Alt-right leaders making threats about what might happen if Trump loses," said Lenz."If the election goes in a way they don't want it to, it will only add to their sense of disenfranchisement and likely fuel a sense of political desperation."

He pointed to an August tweet from well known webmaster and black-hat hacker Andrew Auemheimer, now at the extreme neo-nazi Alt-right publication Daily Stormer."If Trump loses, I am going to break bad and start doing real infrastructure damage," Auemheimer tweeted to his more than 35,000 followers.
Interestingly, Daily Stormer's Andrew Anglin recently declared a "holy crusade" against Breitbart's Milo Yiannopoulos. He called Yiannopoulos an egomaniac homosexual Zionist neocon charlatan, parroting some Republican talking points in order to insert himself as a Trojan Horse into the Alt-Right.
Lenz says there's no way to know what kind of losers some members of the Alt-right would be. He says SPLC has seen people posting online both anonymously and using their own names, that this election is their last hope. That if Donald Trump doesn't win, the interests of white people are dead.
"The Alt-right believes that multiculturalism and civil rights have been pushed upon the nation falsely. But that's not the case.Both are ideals of this nation that took us a long time to realize," Lenz said, adding, "this idea of equality under the law is relatively new."

It would be simplistic to charge that all Trump supporters subscribe to any of the racist ideology fomented by elements in the Alt-right. Some Trump supporters I've talked to claim to be neo-libertarian -- and I've seen social media posts from Trump supporters who say they see the Hillary Clinton as part of the status quo in Washington.

That said, there's no denying the Alt-right has been fueling a paranoid messaging machine that questions the very validity of one of democracy's most fundamental safety valves -- the election process.The Alt-right has worked hard to attach a more palatable incarnation of its brand to Trump.Its sophisticated media and online infrastructure has propagated Trump's argument that all the checks and balances designed to keep the nation's electoral system in check is corrupt. This might be the first time that's happened to our democracy.

Brian Balogh, co-host of Backstory with the American History Guys said he can't think of any modern major party presidential candidate (besides Trump) who has questioned the legitimacy of the electoral system.
In 1960, there were rumblings among some Republicans about never proven mischief in Texas and Illinois after John Kennedy narrowly beat Richard Nixon. But none of those charges were coming from the candidate himself, Balogh says.
True historical precedent for when more Americans felt elections were rigged would have to come from a time when they actually were rigged, Balogh says.
"That is virtually every election between the beginning of the 20th century well into the 1960s in the Jim Crow south, where African Americans were systematically excluded from voting," said Balogh.
The United States did have an election that was very close in 2000, that got decided by the Supreme Court, roughly along partisan lines. Balogh says that after the court's decision, plenty of people didn't believe George W. Bush should be president, but there was no violence and relatively little suggestion that the electoral system was rigged.
"Today we have all this discussion about a rigged system, before we even had the election," said Balogh.

Richard J. Meagher, a political science professor at Randolph Macon College, has researched and written extensively about conservatism and movement on the Right.

He says the Alt-right movement around Trump is new in some ways, and is actually the culmination of trends on the Right in others.

"Trump is acting as a conduit for the conspiracy-theory fringe of the Right, and connecting them to the more mainstream, GOP conservative institutions. Still, these links have been building for years -- Breitbart News, Drudge Report, even Rush Limbaugh have been circulating rumors -- and follow decades of conservatives telling Americans that government is their oppressor," said Meagher.

This narrative has been strengthened as Republicans in Congress and conservative network organizations have worked to delegitimize Democratic policies and Barack Obama in particular, he says.

"So in this sense, the 'rigged election' narrative is just an outgrowth of the birther narrative, which is itself an outgrowth of the 'government is bad' narrative," said Meagher.

The problem for conservatives, he adds, and particularly for Republicans currently in office, is that if they continue the narrative that government is illegitimate, they risk undermining their own power.

SPLC's Lenz says that for a long time, Breitbart News was the media arm of the Alt-right.Now, the tabloid-style website has essentially been folded into the Trump campaign, with Breitbart's former CEO, Stephen Bannon, now running the Trump show.
In August, when Donald Trump named Bannon as his campaign's chief executive and Kellyanne Conway as campaign manager, he was also deepening ties with Robert Mercer, a billionaire hedge-fund manager from Long Island, New York who originally bankrolled Texas Senator Ted Cruz in his run for president, according to an August Bloomberg News report. Not long after Cruz left the race, Mercer threw his support behind Trump.
Mercer is listed as the second biggest disclosed donor to outside spending groups, having spent more than $19 million to influence votes, according to the Center for Responsive Politics.

In 2011, Mercer made an $10 million equity investment in Breitbart News.

Mercer's daughter Rebekah had worked with Stephen Bannon on the film Clinton Cash. Both Mercers have been long-time critics of the Clintons. In September Rebekah Mercer assumed leadership of the super-pac, Make America Number 1,

This all begs the question, what might go down if there were loud objections to the election results on grounds of chicanery, after a treacherous, low-brow campaign featuring two candidates who are more loathed than loved?

We live in a "If you see something, say something" society, and anyone suspecting or observing election day irregularities will be able to "say something" in social media with the possibility that news media and party executives may amplify a post, tweet, or video, according to Michael Cornfield, Research Director, Graduate School of Political Management, George Washington University.
The point persons to field such challenges are the Secretaries of State and comparable officials in the 51 main election jurisdictions, along with county and local officials, he said.

Cornfield said at the federal level, the U.S. Election Assistance Commission and other agencies may weigh in, and of course legal challenges will head to the courts.
"This could lead, in increasing magnitude of seriousness, to a burst of viral objections, a protracted investigation and case along the line of Florida 2000, should the election be close in one state and in the overall electoral count, leading to a succession crisis the likes of which we haven't seen in 140 years," said Cornfield.

But, in objective terms, the chance of a tampered election is extremely low, he said.

David Becker of the Center for Election Innovation and Research testified to Congress in mid-September that our system has four levels of security: 1) It's decentralized;2) Voting machines are publicly tested in advance; 3) More than 75% of jurisdictions generate paper records, and 4) Thirty-two states and Washington, D.C. require paper and digital record-matching audits.

"Thus, while problems may emerge, they are likely to be isolated and mitigated," said Cornfield.

Bottom line: Lots of people will be very unhappy after the election.

"But that unhappiness probably won't lead to a succession crisis.What it portends for party cooperation and party stability during the transition and opening days of the new government is another question," said Cornfield.
So while my friend has legitimate reasons to worry about growing discontent among some voters, the hope is, the faith that binds us together as a democracy is far stronger than the shadowy narratives being pedaled by organized elements that would tear us apart.
REAL LIFE. REAL NEWS. REAL VOICES.
Help us tell more of the stories that matter from voices that too often remain unheard.