Week four of the Saturday High Architecture class at Art Center College of Design. Today we are starting to tackle one of the key concepts: Orchestrating Experience. My goal is to add yet another layer, to broaden understanding of the design process for each teen in the room. The quote in the syllabus is by Aaron Betsky: "Design should do the same thing in everyday life that art does when encountered: amaze us, scare us or delight us, but certainly open us to new worlds within our existence."
To get their creative juices flowing, I initiate a mind-mapping exercise. After printing in bold letters on the board: "Where do I begin?" and volunteering the first answer -- "anywhere" -- I leave for five minutes and they proceed by nominating Tyler to jot down all of their ideas. When I get back, he is finishing up and apologizing for spelling mistakes. They thought of:
• purpose
• style
• inspiration
• comfort zone
• unexplored ideas
• theme
• details / small things
• location
• application of skills
We go over what they have collectively generated; I ask for their clarifications, interjecting a few of my own thoughts. I want to stress the importance of sketching as a way to freeform exploration, entice them to venture far and wide in their thinking, encourage to rely on and follow their instinct. I ask: "What do you think Picasso meant when he said that we lie in order to tell the truth?" I want them to be comfortable with relating unrelated while holding conflicting ideas and putting old knowledge in a new context. Yes, of course, we can begin anywhere -- it's like solving a puzzle.
Perhaps orchestrating experience is finding balance between familiar and fresh focusing on human scale. Charles Eames defined design as "a plan for arranging elements to accomplish a particular purpose." Design is an essential human activity of visioning and making. It surely can be applied to enrich one's experience.
To illustrate architectural plan and elevation conventions I use one of the world's most influential buildings -- the Pantheon. I also use it to introduce the lesson's vocabulary:
beauty-the aggregate of qualities that gives intense pleasure to the senses or deep satisfaction to the mind or spirit. It is due more to the harmonious relationships among the elements of a composition than to the elements themselves.
composition-the arranging of parts or elements into proper proportion or relation so as to form a unified whole.
balance-the pleasing or harmonious arrangement of elements in a design composition.
structure-the organization of elements or parts in a complex system as dominated by the general character of the whole.
I shared with my students how the other day I was feeling really helpless dealing with a frustrating situation beyond my control and how imagining a building I love calmed me down. I am not embarrassed to make it very personal. In fact, it is my goal to infect them with my passion. While acknowledging human genius that makes great architecture possible, one can examine their own concerns with a different lens. I visualized being inside the Pantheon.
Recalling the building's sheer strength translated into the most engagingly balanced Room- magnificently forceful and soothing at the same time -- I thought of its underlying, core design principles, its all-embracing idea brought to life with a circle that defines the space both in plan and three-dimensionally. I evoked the oculus in the coffered dome, an engineering feat as well as a symbolic gesture of colossal proportions. In my mind's eye I admired its marble floor, a gorgeous representation of vast Roman colonies, yet another element working toward the goal of showcasing the all-inclusive concept of the structure. As my thoughts highlighted these beloved details, I was able to distance myself from that unnerving problem. Conjuring up images of the Pantheon provided a needed perspective.
My students listen intently; it seems that the points I am making are resonating with them. Finally, it's time to apply what they've learned and I postulate: "When you begin working on your plans, elevations, and models, the first thing to do is to determine the scale based on how big your person is." This is something I tirelessly remind them of while walking around the classroom and talking to each one of them individually.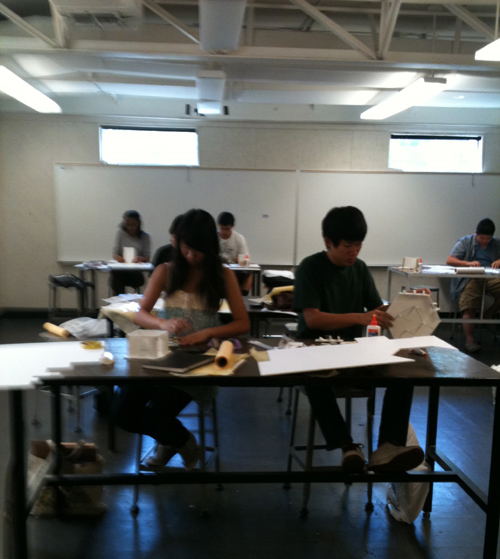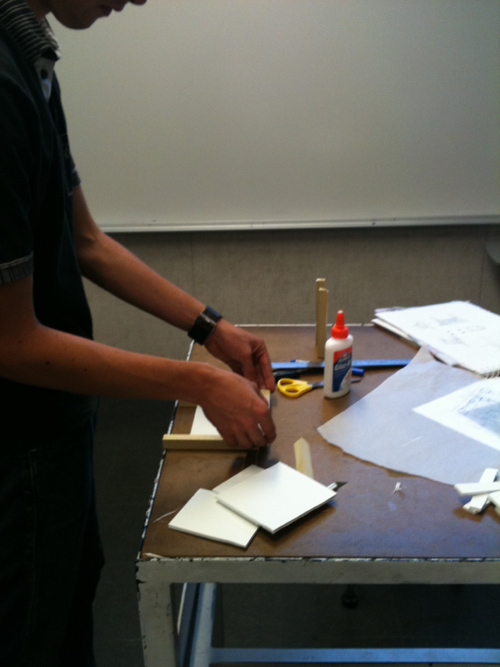 In the last 15 minutes we look at everyone's progress as I continue to emphasize the importance of taking human scale into consideration. Next week we will continue orchestrating experience.

Calling all HuffPost superfans!
Sign up for membership to become a founding member and help shape HuffPost's next chapter