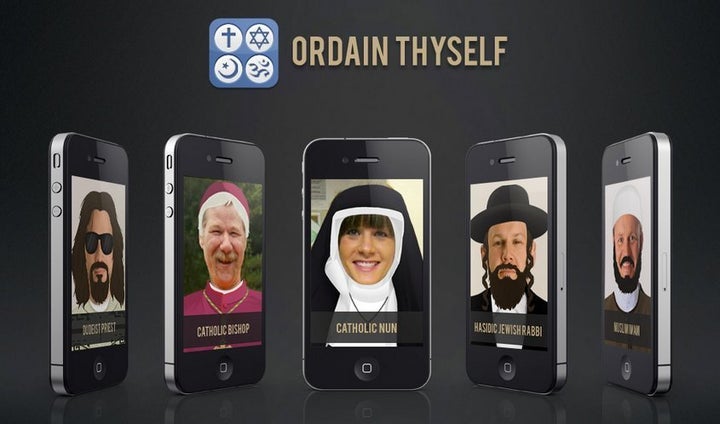 Now, an ordained minister with a sense of humor is adding to the bottomless app pit with a bizarre one of his own. Called "Ordain Thyself," the app promises ordination on the go.
No? Well, with a flick of the finger, you can become one anyway (in your cell phone universe, at least).
As CNN notes, you can't actually attain any legitimate religious credentials through this new app, but you can see what you'd look like "wearing the religious garb of different clerics, and read brief and humorous summaries of various world religions."
So far the app has received mixed reviews.
Called both "hilarious" and "fun" by some users, the app has been lauded for its ability to promote thought-provoking conversation.
"Sharing your ordination on Facebook makes for some interesting discussions," commented one user.
The app, however, has not been immune to criticism. While some have blasted the app for what has been called a "belittling" attitude toward ordination, others have lamented the limitations of its usefulness and educational scope.
"I kind of wish that all of this effort had been put into something a little more educational," Johnnie Moore, vice president of Liberty University, told CNN, adding that 'Americans could really benefit from efforts to better understand world religions.'
Provocative or pointless? Tell us what you think of this new app in the comments below.
Calling all HuffPost superfans!
Sign up for membership to become a founding member and help shape HuffPost's next chapter
BEFORE YOU GO