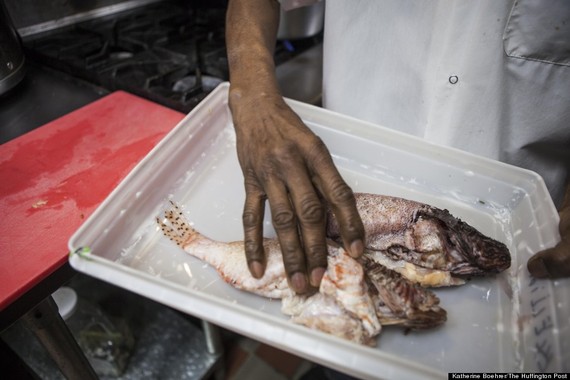 PHOTO: KATHERINE BOEHRER/HUFFINGTON POST
New Fish on the Block Norman's Cay in New York City has taken a unique approach, opting to "Eat the Enemy."
How lionfish, which is native to the Indo-Pacific region, ended up in the Atlantic Ocean isn't certain, but the species' presence is wreaking havoc on the ecosystem. With no native predators in the Atlantic lionfish have become a top predator, specifically to herbivores. This has proven detrimental to coral health which depend on herbivores to eat algae that grows on reefs. Without herbivores, reefs may die.
To tackle the problem, restauranteurs Ryan Chadwick and Charlie Gliwa, decided to take a market based approach, creating a supply chain to serve lionfish in all their restaurants -- from NYC to Aspen.
Initially Ryan and Charlie were running the operation, shipping lionfish on commercial airlines but the process quickly became expensive and the supply chain unsustainable. They couldn't keep lionfish on the menu. So, to support growing demand, Ryan and Charlie formed a fish co-op, connecting divers to wholesale fisheries. Their new model also ensured that restaurants received the lionfish whole, poisonous spines and all, packaging the fish with learning materials to support a conversation of sustainability from the kitchen to the dinner table.
While NOAA predicted that "that invasive lionfish populations will continue to grow and cannot be eliminated with conventional methods," Norman's Cay business model and empowered customers might be the unconventional solution the Atlantic Ocean needs. Bringing Back the Catch of the Day Invasive species aren't the only fish making a splash in the restaurant scene. Sean Barrett launched Dock to Dish in 2013 to provide chefs and restaurants access to local, seasonal fish. Fashioned after the popular CSA model, a group of fishermen in Montauk have built the first restaurant-supported-fishery. Together, this community of fisherman are elevating the appeal uncommon fish by working with chefs to make them "the centerpieces of fine dining."
The shift in chef perception may prove key in changing consumer demand. Current demand for a narrow seafood palette has resulted in the exploitation of 52% of the marine fish stocks monitored by FAO. By bringing new fish to the table, chefs have the unique opportunity to educate consumers on fish they might thought inedible. Building a Movement, One Restaurant at a Time Smart Catch was originally conceived by Paul G. Allen as a simple way for consumers to identify which restaurants serve sustainable seafood. As it turns out, the seafood industry is anything but simple to explain to consumers. Chefs and buyers want more information, front of staff want a story to tell diners when they ask about the fish.
Allen's Smart Catch had three primary objectives: 1) recognize restaurants working toward sustainability; 2) provide diners a simple way to show their support beyond their bill and 3) give everyone a simple way to make a difference.
A for chefs, by chefs program designed by notable industry leaders, the program was wildly successful in its first year. Over 100 restaurants completed both an initial and follow-up menu assessment and a pop-up restaurant featuring sustainable seafood sold out within minutes. Most importantly, the percentage of sustainable seafood sold in participating restaurants increased from the first to second assessment.
A Global Community of Conscious Consumers Although the rising trend in sustainable seafood restaurants is being driven by western markets, Asia's role as a supplier should not be overlooked. The US imports more fresh Tuna than Japan, nearly 11,300 tons in 2015 alone, and Thailand is a main supplier. Earlier this month the World Bank released a report, "The Pacific Possible: Tuna Fisheries report." It outlines the Pacific region's opportunity to grow the market to $344USD million if fisheries are reformed with sustainable practices.
While only future efforts will prove projections, Virdin is optimistic about the Pacific's fisheries. He believes countries will increasingly combine "environmental measures with overall fisheries management measures," like Dock to Dish's fishermen-to-restaurant exchange. Not only are sustainable measures necessary to maintain the existence of global fish stocks but also have the promise of a lucrative return.
This post is part of a series produced by The Huffington Post in partnership with Ocean Unite and the Lonely Whale Foundation,an initiative to unite and activate powerful voices for ocean-conservation action. The series is being produced to coincide with World Ocean Day (June 8), as part of HuffPost's "What's Working" initiative, putting a spotlight on initiatives around the world that are solutions oriented. To read all the posts in the series, read here. Follow the conversation on Twitter with the hashtag #MakeASplash.
Popular in the Community