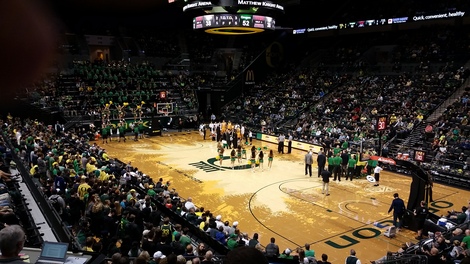 Last season the University of Oregon won the Pac-12 title and earned a No.1 seed in the NCAA tournament. The Ducks reached the Elite 8, defeating Duke in the regional semifinals and losing to Oklahoma and Buddy Hield in the regional finals. They lost two important pieces in 6-6 Elgin Cook and 6-7 Dwayne Benjamin.
However, this year Oregon is once again picked to top the conference in most preseason predictions and are also a trendy Final Four pick. A trio of Canadian imports, 6-7 junior Dillon Brooks, 6-10 senior Chris Boucher and 6-2 senior Dylan Ennis all are expected to be important parts of Oregon's projected success. Two other international players, 6-10 junior college transfer Kavell Bigby-Williams (England) and 6-10 junior Roman Sorkin (Israel) will help provide depth inside.
Brooks is the centerpiece who will fuel Oregon's run for the title. Brooks, along with 6-4 Tyler Dorsey, both declared for the NBA Draft this past summer with both pulling out of the draft and returning to school. Brooks matured significantly in his sophomore year both from a leadership and performance standpoint as well as physically. He led the Ducks last season in scoring (16.7 ppg) and in assists (3.1 apg) and was second in rebounding (5.1 rpg). He was noticeably stronger last season and clearly reduced his body fat appreciably. He has improved his three point shooting (33.8 percent), is an excellent mid-range shooter and can utilize his strength to get to the basket and score some inside. Brooks is clearly the teams leader on the floor and will invariably have the ball in his hands to make the right decision at important parts of the game. He's Oregon first preseason first team All-America. Brooks suffered a foot injury in the summer and will be brought back to action gradually early this season. Brooks will likely be back in action by the time the team heads to Hawaii for the Maui Invitational. The Ducks will need Brooks at his best to advance as far as they are projected.
Boucher has a great story, moving with his family from the island of St. Lucia to Montreal. He started playing basketball late and had no organized experience when he was discovered when he was 19 years old by Igor Rwigema at a local tournament. Boucher went to play for Rwigema at Quebec's Alma Academy and subsequently created quite a impression at the National Prep School Invitational in Rhode Island, where he was named the Most Outstanding Player at the event. At that time Boucher clearly did not have the academic background to qualify at an NCAA school so he wound up attending two junior colleges, eventually being named the NJCAA Player of the Year. Looking at Boucher's frame (6-10 and 195 pounds) you wonder how he can defend against interior Pac-12 bigs. But he does, helped by exceptional shot blocking ability (110 blocks last season) and a 7-3 wingspan. Boucher can also confound defenders by stepping out and hitting three-pointers. He made 39 last season and became the first Pac-12 player to have more than 100 blocks and 35 three-pointers in the same season. With additional help inside his season Boucher will likely step out more and become a bigger three-point threat. On defense, combined with 6-9 Jordan Bell and the 6-10 Bigby-Williams, the Ducks have three exceptional rim defenders. Tthey may lead the country in blocked shots. Boucher has made himself quite interesting to NBA scouts due to his varied skill base and athleticism.
Ennis is at his third school, a transfer from Villanova and Rice. He transferred to Oregon last season but broke his foot. He then re-broke it in his second game back. The NCAA granted him a sixth year of eligibility after an appeal. Ennis will assume a floor leadership role from his guard spot. He will likely be part of the starting lineup at the beginning of the season with 6-3 Casey Benson and Dorsey in the backcourt and Bell and Boucher up front. When Brooks returns he might assume sixth-man duties. Ennis is very strong, can get to the rim, has good shooting range and averaged not quite in double-figures while at Villanova. He'll be an important part of Oregon's success.
The 6-10 Bigby-Williams is the second consecutive National Junior College Player of the Year to enroll in Eugene. He won't score much away from the basket but will primarily make himself known by rebounding and shot-blocking. Last season at Gillette (WY) Junior College Bigby-Williams led the nation with 211 blocked shots (5.6 pg) to go along with 16.8 points and 13.6 rebounds per game. He had five triple-doubles last season including a 22-point, 16-rebound 12-blocked shot performance. With Boucher and Bell starting inside Bigby-Williams will likely come off the bench this season but will log serious minutes and will be critical to Oregon's interior defense.
The 6-10 Sorkin came to Oregon from Israel mid-season two years ago. He probably should have been redshirted but Oregon had limited scholarship players that year so they elected to play him. Sorkin only played 5.6 minutes per game last year (1.9 ppg) but he has shown improvement. He can step out and hit three-pointers and has shown better footwork inside. He's still Oregon's No. 4 inside option so he likely won't play a lot but will be used more early in the season before Brooks returns to action. Sorkin may see some important minutes this year.
This will be the year for Oregon to make their run as they will lose Boucher and Ennis to graduation after the season. Brooks, Dorsey and Bell are all NBA prospects so their futures in Eugene after this season is questionable. But for this season Oregon's international players will try to take them to Phoenix and the Final Four.
Popular in the Community