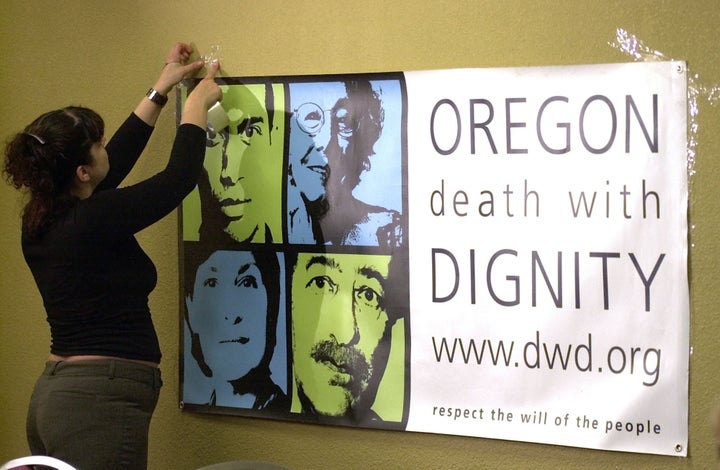 Seventeen years ago, the people of Oregon took a bold step in end-of-life care and comfort. By citizen initiative, they adopted eligibility criteria and practice guidelines for terminally ill, mentally competent adults to obtain medication that would ensure peaceful dying.
I was one of the drafters of that law, and I have stood by every word ever since. For years, when reporters asked what I would change in the law, I replied "one comma," to clarify that impaired judgment from any type of mental dysfunction disqualifies a patient from making a request. Subsequently, we did change that comma.
Opponents believed catastrophe would befall Oregon and medical practice would suffer, but the opposite occurred: End-of-life care is robust, thriving and increasingly patient-centered in Oregon. Thousands of patients find comfort every year knowing they do not have to suffer unbearably. No evidence exists of anyone harmed. Opponents' assertions to the contrary rely on vast conspiracy theories, fraud and cover-up by Oregon hospices and the hospice association, officials at the Department of Health, the medical disciplinary board and police departments in communities across the state. These scary stories hold no credibility, and polling reveals a full 77 percent of Oregonians support their Death with Dignity Act.
Proponents believed terminally-ill patients want and need assurance they can control the time and manner of their dying and will apply profound thought and care before ever exercising this control. We believed nothing could override doctors' drive to cure disease and prolong life, but that as death inevitably approaches, most doctors would allow qualifying patients this measure of comfort. Those beliefs have been validated.
Oregon's data and experience has revealed other truths. We could not have predicted all of them, but they carry important lessons for our future advocacy:
Oregon's Death with Dignity law says patients may express a "wish to die." Data and experience contradict this. We now know patients approaching death and planning for peace have no wish to die. They wish only, if death is imminent, that it be as peaceful and humane as possible.
Oregon's law says a physician may provide, and a qualifying individual may receive, medication "for the purpose of ending his or her life ... " Data and experience indicate this statement of purpose is inaccurate. Patients making a request want assurance, and they have made no decision about whether to ingest the medication. Fully 40 percent of patients who completed the entire qualifying process in 2010 either did not fill the prescription or did not take the medication. Experience teaches the purpose of the prescription usually is to provide comfort and peace of mind. The purpose is to lend substance to the fondest hope -- for a peaceful death, at home with loved ones near. The purpose is to improve the quality of life for a dying person. The purpose is not to cause death, for cancer or other fatal disease is already producing that end.
Physicians embrace clear practice guidelines. They are eager to conform to the expectations of their peers. Many Montana physicians would have welcomed further guidance from the legislature to round out the broad aid-in-dying parameters laid out by the Montana Supreme Court. Legislators declined to adopt guidelines, so the Court's public-policy findings guide Montana's aid-in-dying practice, which is also informed by practice in Oregon and Washington and relevant authoritative medical literature.
As much as doctors embrace practice guidelines, they do not appreciate government-required paperwork and the idea that Big Brother can intrude into the intimate and private doctor-patient relationship. For 14 years Oregon's medical community has been heroic and diligent in completing elaborate and duplicate forms for every completed aid-in-dying request and meeting onerous reporting deadlines. Some have faced investigation by the medical disciplinary board for minor technical omissions on these forms. These physicians endured intrusive investigations that never revealed actual violation of the law.
As the U.S. Supreme Court intended, Oregon has served as a laboratory to test the impact of a new end-of-life option on patients, physicians and end-of-life care. Washington's data and experience reproduced the findings from Oregon. The "laboratory experiment" is complete, and the results will inform our advocacy from now on.
We will work for policy that reflects community standards, establishes clear guidelines and guides physicians in safe and responsible aid-in-dying practice, without burdensome government reporting on every patient encounter. Bureaucratic paperwork has provided important data demonstrating the safety of aid in dying, but it is not responsible for making the practice safe. As is clear in Montana, physicians meticulously adhere to a standard of practice defined by the bounds of the Court decision, without the needless and intrusive burden of government reporting.
We will affirm the true purpose of aid-in-dying medication is to provide comfort and improve the quality of life for dying patients. Physicians intend to comfort, and patients intend to acquire the ability to escape unbearable suffering.
As advocates, we have defended the law from multiple attacks. As stewards, we have guided patients, families and medical professionals through the eligibility requirements, procedural guidelines and reporting duties of aid in dying. As investigators, we have observed the law's provisions play out at countless bedsides, living rooms and kitchen tables across the state. Medical studies, state reports and our own experience inform our "post-Oregon" advocacy. We must not ignore the lessons of Oregon's data and experience.
Popular in the Community