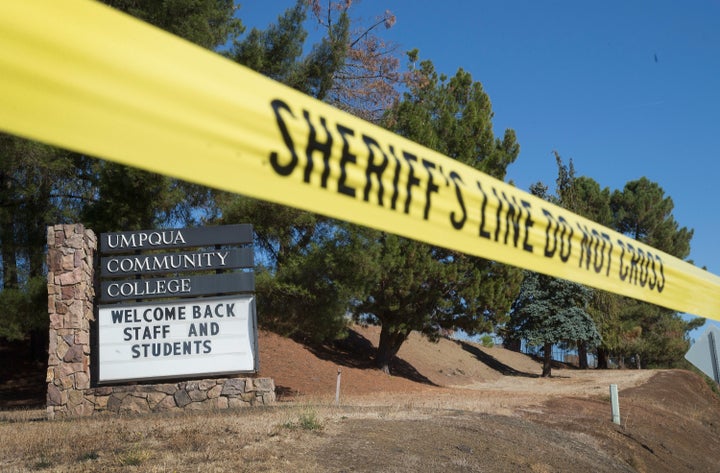 Law enforcement officials have identified Chris Harper Mercer as the person responsible for the mass shooting at Umpqua Community College in Roseburg, Oregon, according to multiple news reports.
He was armed with four weapons -- three handguns and one assault weapon, according to NBC News' Pete Williams. Mercer, 26, was a student in the class where the killings occurred, CNN reported Friday. Williams said authorities have uncovered "documents that expressed the philosophy of hate."
At an evening news conference on Thursday, Douglas County Sheriff John Hanlin refused to confirm the name of the shooter. "I will not name the shooter," Hanlin told reporters. "I will not give him the credit he probably sought prior to this horrific and cowardly act."
Hanlin said an official identity will come from the medical examiner's office.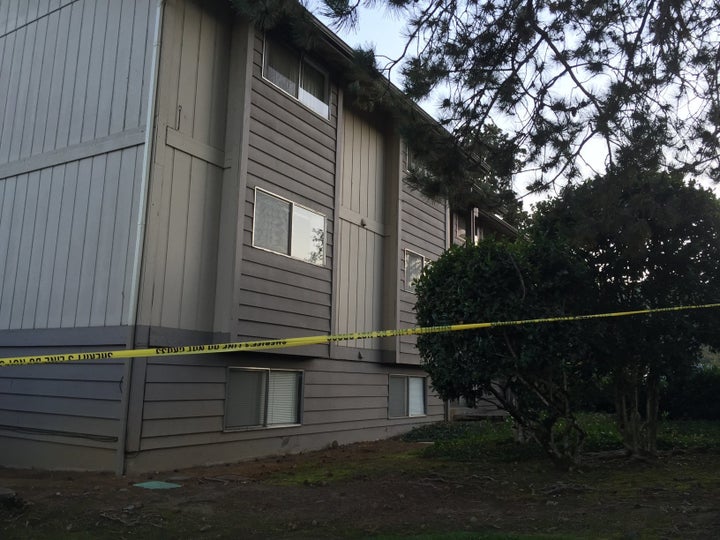 Meanwhile, authorities taped off a Winchester, Oregon, apartment complex that was listed as Mercer's address. Bronte Hart, 21, told HuffPost Mercer may have lived above her unit.
"I don't want to believe there's a guy like that living here. I have kids," said Hart. "I think he lives above me. The guy lives here. It's so messed up."
She said she began to cry when police started taping off the complex, assuming the shooter lived alongside her.
At 7 p.m., law enforcement officers with K-9 units began searching cars in the cordoned off parking lot.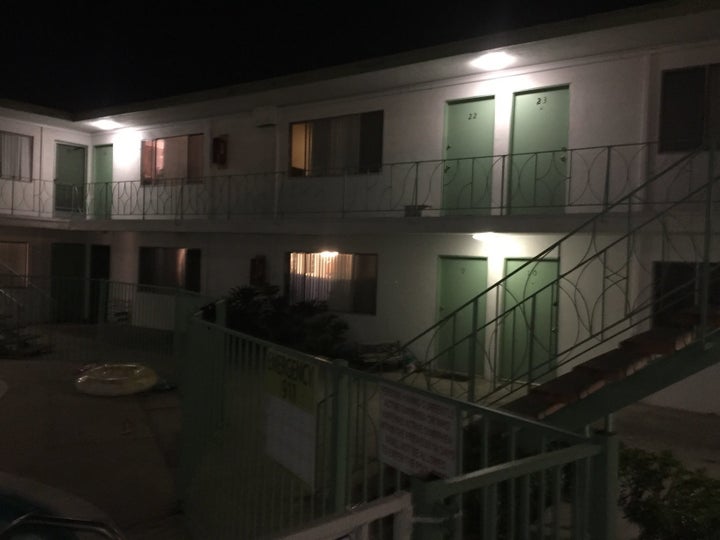 Mercer's father, Ian Mercer, addressed reporters late Thursday.
"It's been a devastating day, devastating for me and my family," he said. "Shocked is all I can say."
Before moving to Oregon, Mercer lived with his mother in Torrance, California, old neighbors told HuffPost. They described a reserved young man who did not appear dangerous.
Brian Clay, who lived across the pool from their apartment, said the Mercers lived there for about a year, and moved away around 2011. Mercer's mother seemed "happy to move," Clay said, although he did not know the reason they left.
"Chris was kind of reserved, kept to himself mostly," Clay said. "Sometimes I would see his mom come out and complain about kids playing outside."
Clay described a routined man who did not appear dangerous. "The way Chris carried himself was like ex-military almost -- combat boots, camo pants, white shirt, brown shirt. Every day it was the same thing.
"He never showed guns or talked about guns," Clay said. "[There was] no fear of him when he was here. He was just our neighbor."
Another neighbor, Derrick McClendon, said he was shocked to learn of Mercer's alleged involvement in Thursday's shooting.
McClendon described the Mercers has having "kept to themselves."
"I didn't speculate any danger with them," he said. "We are all shocked around here, comes definitely as a surprise. I'm still in disbelief. I did not pick up that kind of behavior from him to just pick up and kill somebody.
"Chris told me he was over 20 years old when we talked, but his mindset was like a teenager -- no girlfriend no friends. That was the only thing that was a concern to me, but that's his business," McClendon said.
Unconfirmed social media accounts tell a different story. Profiles of Mercer contain photos of the Irish Republican Army, a revolutionary group that has historically been rooted in acts of violence.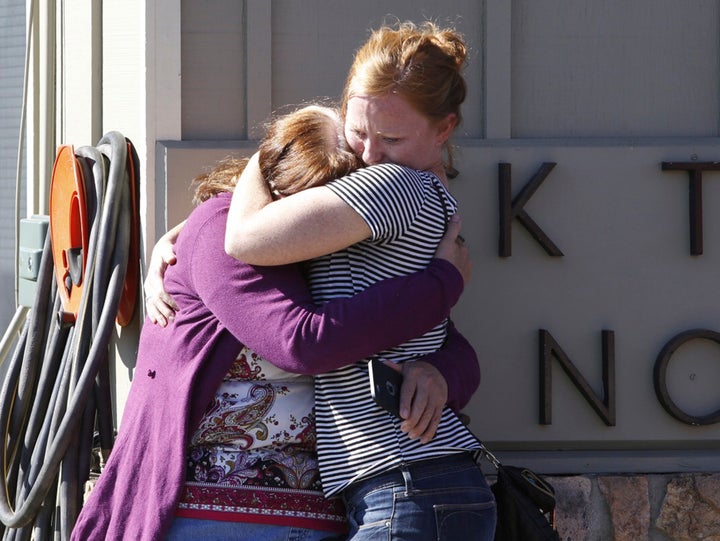 Police shot the gunman to death on Thursday morning after he entered an English classroom and opened fire, then moved to Snyder Hall, killing 10 and wounding nine more.
An unidentified law enforcement official told CNN that three pistols and a rifle were recovered at the scene, and appear to have belonged to the gunman. It's unclear if the guns were obtained legally.
"I was in the classroom right next door to the shooter, and I … heard a popping noise, almost like a balloon popping," student Cassandra Walker told CNN in an interview Thursday afternoon. "We got underneath the tables, one of my fellow classmates went to see what was going on … and the gunman shot her. We locked the doors, turned off the lights, and were pretty much in panic mode. We called 911 and called our loved ones."
Walker estimated Mercer fired 35 to 40 shots.
President Barack Obama offered his thoughts and prayers to the families affected by the shooting and pushed for "common sense" gun laws.
"We don't yet know why this individual did what he did," Obama told reporters. "It's fair to say that anybody who does this has a sickness in their minds, regardless of what they think their motivations might be."
This article has been updated to note that the gunman was enrolled in a class where the killings occurred, and to revise casualty figures.
Matt Ferner and Andy Campbell also contributed to this report.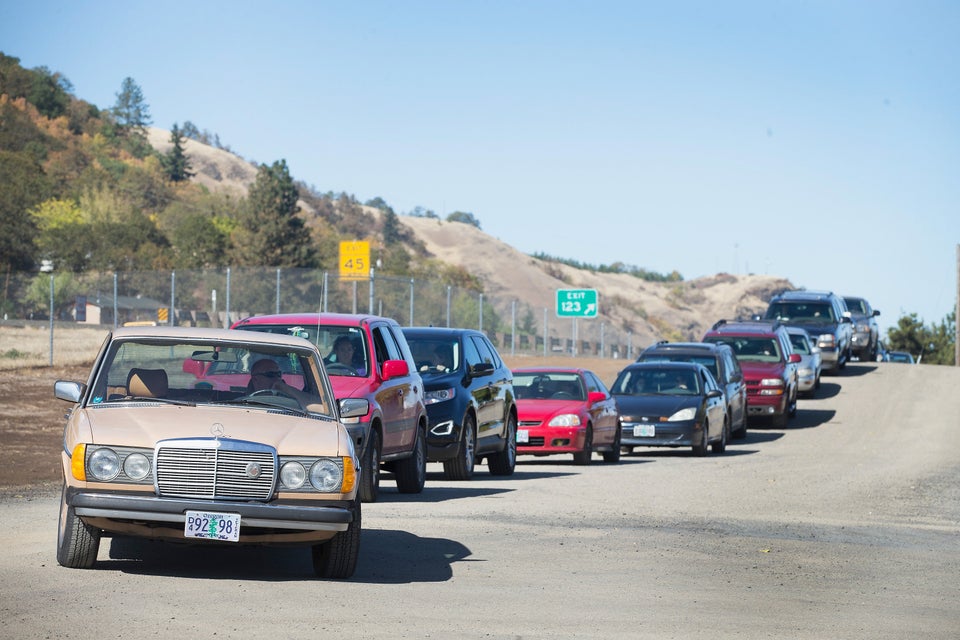 Umpqua Community College Shooting
Popular in the Community