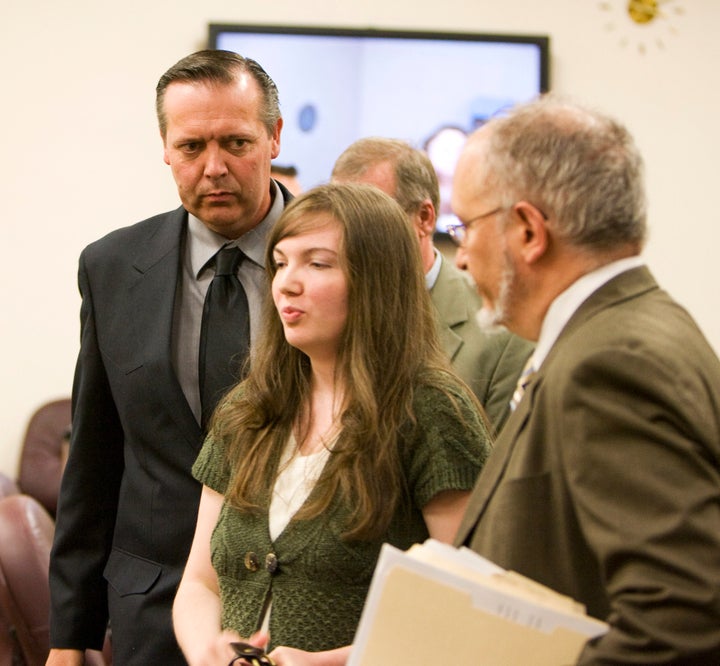 By Steve Mayes and Jeff Mapes
Religion News Service
OREGON CITY, Ore. (RNS) A couple whose reliance on faith healing threatened their daughter's eyesight will go on trial this week, one day after state lawmakers moved to strip legal protection for parents who rely on faith healing.

The case returns the spotlight on Followers of Christ church, an Oregon City congregation that rejects medical care in favor of spiritual treatment, as state leaders wrestle with the church's long history of child deaths.

Timothy and Rebecca Wyland are charged with first-degree criminal mistreatment for failing to seek medical care for their daughter, Alayna, now 18 months old.

Alayna's left eye was affected by a hemangioma -- an abnormal buildup of blood vessels -- that put pressure on the eye. That, combined with a lack of light and stimulation, left her nearly blind. She has since improved under court-ordered medical treatment.

The Wylands, like most members of their congregation, embrace faith healing and the power of God to treat disease and medical conditions. Alayna was treated with prayer and anointed with oil.

The Wylands' candor about their beliefs and the care they gave Alayna could pose problems for them at trial. The couple's attorneys, Mark Cogan and John Neidig, tried unsuccessfully to prevent testimony from doctors, a detective, and child-welfare workers who interviewed the couple.

When the state Department of Human Services took custody of Alayna last July, Timothy Wyland told a detective that he had not sought any medical treatment for the growing mass, according to court records.

Timothy Wyland allegedly told investigators that God was the family's physician and they would not seek medical care because it would conflict with their religious beliefs. His wife made similar comments to authorities.

Cogan, who represents Timothy Wyland, downplayed the significance of those statements.

"The law sets a very high standard of proof," Cogan said. Prosecutors must convince jurors that the Wylands "knowingly denied their child of necessary and adequate medical care," Cogan said.

Jury selection was scheduled to begin Tuesday (May 24).

The trials of two other couples who belong to the church received national coverage. Raylene and Carl Brent Worthington were found not guilty of second-degree manslaughter in the death of their daughter, Ava, who died of bronchial pneumonia and a blood infection. Brent Worthington was convicted of the lesser charge of criminal mistreatment and sentenced to 60 days in jail.

Raylene Worthington's parents, Jeff and Marci Beagley, were convicted of criminally negligent homicide last year and sentenced to 16 months in prison after their 16-year-old son, Neil, died of complications from an untreated urinary tract blockage.

The Followers of Christ have a long history of children dying from treatable medical conditions. Outrage over the deaths led Oregon legislators a decade ago to restrict, but not eliminate, parents' ability to use a religious defense in such cases.

On a 25-5 vote, the state Senate on Monday joined the House in passing a measure that would strip parents' ability to use a religious defense in faith-healing deaths.

The bill would also impose tough mandatory sentences for parents whose child dies as a result of faith healing. The legislation has no effect on the Wyland case.
Popular in the Community