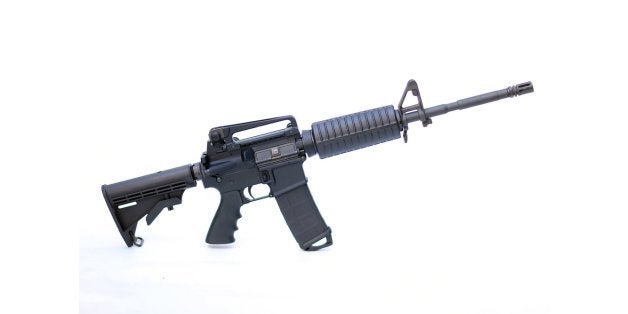 In an obscene gesture, the Multnomah County GOP in Oregon is raffling off an AR-15 assault rifle "in honor" of the memories of Abraham Lincoln and The Rev. Dr. Martin Luther King, Jr., two great Americans cut down by bullets from the guns of assassins. In committing this act, the GOP aligns themselves with voices of hatred and racism, and against all that Lincoln and King stood for.
Multnomah Country Republicans recognize the incredible time of year we are in. In successive months to start the year, we celebrate the legacy of two great Republicans who demonstrated leadership and courage that all of us still lean on today: Martin Luther King, Jr and Abraham Lincoln. In celebrating these two men, and the denial of the rights they fought so hard against, the Multnomah County Republican Party announces that we have started our third raffle for an AR-15 rifle (or handgun of the winner's choice). The drawing will be held at our Lincoln Day Dinner on February 15th, 2014.
Multnomah County includes the city of Portland. Republicans don't win in the City of Roses. Democrats control every statewide elected office, including the two U.S. Senate seats, in Oregon. Gut wrenching stunts like this might be part of the reason. In the past, Oregon's GOP produced such national leaders as Tom McCall and Mark Hatfield. Most political observers note the radical tone of today's GOP would prevent the rise of a McCall or Hatfield out of Oregon's Republican Party.
To honor Lincoln and King, the GOP wants to make more weapons available to kill more people. Rev. King preached non-violence. He argued that: "Darkness cannot drive out darkness: only light can do that. Hate cannot drive out hate: only love can do that. The beauty of nonviolence is that in its own way and in its own time it seeks to break the chain reaction of evil.''
You do not honor men killed by gun violence by putting more guns on the street. Instead you work to reduce gun violence and work to bring reconciliation to a fractured nation. Reconciliation of the American community was a foundational goal sought by both Lincoln and King.
Nor do you lie about who they were or what they stood for. Rev. King was not a Republican. His allegiance belonged to no political party. King was a minister of the Gospel. And in that role he backed the expansion of government programs and the war on poverty at the same time he decried the war in Vietnam. He marched for civil rights and died standing up with workers and their union. Does that sound like a Republican?
The national GOP should censure the Multnomah County GOP for this raffle, a brazen act that betrays the best American values - values that Lincoln and King gave their lives for. This isn't a time for political stunts. What our nation needs is genuine leadership from both parties that builds on the ideals of liberty and justice Lincoln and King called this nation to live out for all.
Related
Popular in the Community