An anti-government group's takeover of a federal building in Oregon represents the fallout of a "government gone wild," according to one Fox News contributor.
Conservative author Deneen Borelli sided with the militants during a discussion on Monday that questioned whether the public should view them as a band of terrorists or as patriots.
Fox News host Martha MacCallum began the segment by noting accusations that the predominantly white militants are receiving more favorable media coverage than black protesters marching against police violence who have been labeled "thugs" on social media and elsewhere.
"Nothing like the left-wing media using an opportunity to really cloud the instance that's gone on in Oregon," said Borelli, who is black, in response to a Washington Post article MacCallum cited.
"What's going on in Oregon ... is really an overgrowth of government. Government gone wild is outreach of government," she said. 
"It's really outrageous how government is creeping into our everyday lives no matter what it is you're doing. And people just want to be left alone," Borelli later added.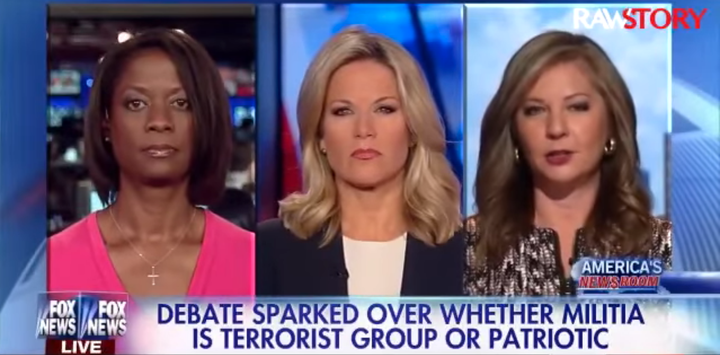 Since Saturday, the militants have occupied the Malheur National Wildlife Refuge outside Burns, Oregon, demanding that government-owned lands be ceded to locals. They're also protesting the five-year prison sentences of two local ranchers convicted of setting fire to federal land.
Borelli went on to cast the anti-government militants as "peaceful" and contrasted them with protesters in places like Ferguson, Missouri, and Baltimore.
Though no hostages have been taken, several of the Oregon militants have warned that things could turn deadly if authorities use force to push them out.
"Lives could be lost because of that," Ammon Bundy, son of rancher Cliven Bundy -- who staged a standoff against federal authorities in 2014 -- told reporters on Sunday.
Attorney Jessica Ehrlich, another panelist, took issue with Borelli's description of the militants in Oregon. "These people are armed … They're planning on staying, they've put a call out to other people to join them. And that's not a peaceful demonstration," she said. "These people are taking over an area that's a federal office building, and that's not the way we make change in the United States."
"If you're not happy with what's going on at the federal level, that's wonderful, that's part of being an American," Ehrlich continued. "We can disagree all day long as to whether you think they're overreaching or not. But you don't go and take over."
MacCallum ultimately got the last word in, arguing that the activists feel that the "rule of law is rigged against them in this case, and they can't win by going through the normal channels."
Borelli emphatically nodded her head.
PHOTO GALLERY
Ferguson Protests 2015
REAL LIFE. REAL NEWS. REAL VOICES.
Help us tell more of the stories that matter from voices that too often remain unheard.