So you would think, in a year when Democratic voter enthusiasm is through the roof and expected to translate into big wins for the party in November, that someone like Brown would be comfortably coasting to victory in her re-election.
Brown has just a slight edge over her GOP challenger, state legislator Knute Buehler. Despite Oregon being an entirely Democrat-led state, her race has become so tight that Cook Political Report last month shifted its prediction from "lean Democrat" to "toss-up."
With so many other states leaning blue, why is Oregon heading in the opposite direction?
"A lot of interests want to stop our progress," Brown said in an interview. "One has spent $3.5 million to make sure we are not moving forward. And I'm not willing to let that happen."
She's referring to Nike founder Phil Knight, who has personally given $2.5 million to Buehler's campaign ― the highest amount a single individual has ever given to a candidate in the state. Knight gave another $1 million to the Republican Governors Association, which has spent more than $2 million on Buehler. To date, Brown has brought in $11.9 million and Buehler has raised $8.5 million, which is a record for this race.
There's a host of other reasons Brown may be struggling. Sexism. A sense that Democrats have grown complacent and that it may be time for a divided government. Frustration with the state's frayed social safety net. The editorial board at The Oregonian, for one, endorsed Buehler, hitting Brown for falling short on education and arguing that voters shouldn't factor national politics into this race.
Brown, of course, disagrees.
"My argument is, 'hell no.' We need strong leadership to counteract the Trump administration," she said. "We are able to make progress in Oregon when we work together, and that's what we've done under my administration."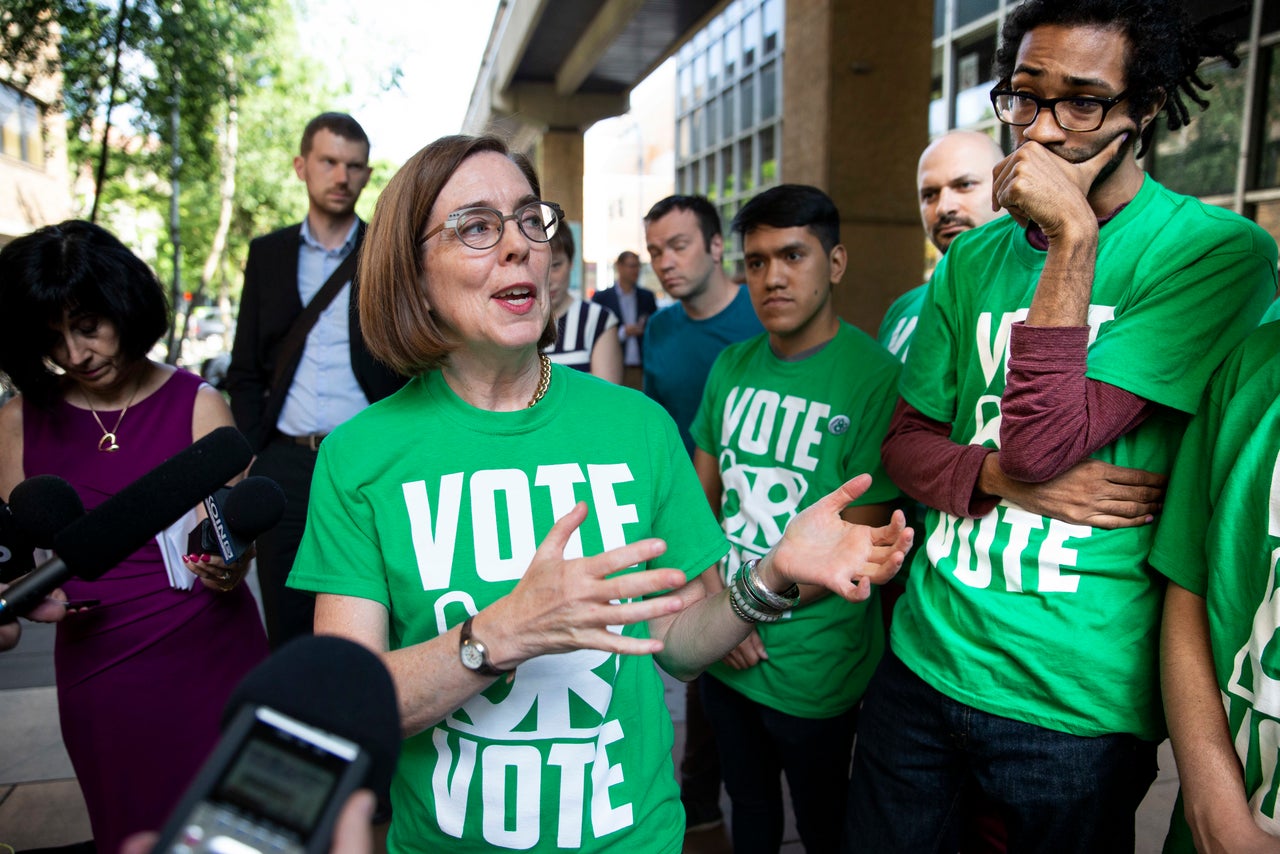 Brown, who won a special election in 2016 and is now seeking her first four-year term, said governor's races in Oregon are typically close and noted that her predecessor won with 49.8 percent of the vote in 2014. As for the insane amount of money being spent against her this time, she said it's a natural consequence of enacting strong progressive policies.
Awkwardly, while Nike's founder is backing Buehler, the Nike company, which is based in Oregon and worked with Brown to advance LGBTQ equality legislation, is supporting her. And in a boost on Tuesday, independent gubernatorial candidate Patrick Starnes dropped out and endorsed Brown.
Equally as puzzling as Brown's job being at risk is that abortion rights are in play in this election. Oregonians will vote in November on a ballot measure that would amend the state's constitution to eliminate elective abortions for anyone on Medicaid or state-funded insurance, including public employees.
Brown and Buehler both say they are pro-choice, but Buehler's record is a bit spotty. Last year, he voted against the Reproductive Health Equity Act, one of Brown's crowning achievements as governor, which enshrined Roe v. Wade into state law. He later bragged on a conservative radio show, Gator & Denise Radio, about his vote against the bill, saying it would "make Oregon a magnet state" for abortion access.
"I'm arguing he's not pro-choice, he's multiple choice," Brown said. "We're making sure the record is very clear."
Buehler spokeswoman Monica Wroblewski said he opposed the reproductive rights bill because he was protesting cuts in a separate bill, the 2017 Department of Human Services budget. She noted that Buehler authored a bill that made Oregon the first state in the country to make birth control available over the counter.
"Knute has always been pro-choice," said Wroblewski.
Brown said she's ready to keep using her role as governor to push back on Trump's anti-immigrant, anti-environment, anti-LGBTQ policies. She actually has a federal rapid response team in place to respond not to any particular issue, but to the president himself.
"We know when he is in hot water with the press, he is going to do something radical," she said.
The governor wasted little time responding to Trump's request in April that governors prepare to deploy National Guard troops to the U.S.-Mexico border to beef up security against immigrants. Brown publicly refused.
"Appalling," she said. "These troops that give their lives for us during wildfire season, hurricanes and in battle should not be used as political pawns to make up for his inability to build a wall."
This article has been updated with independent candidate Patrick Starnes dropping out of the race.
Support HuffPost
The Stakes Have Never Been Higher
Popular in the Community