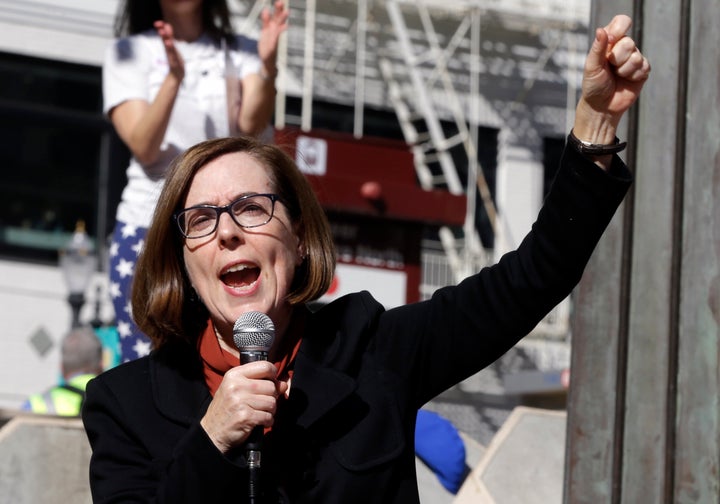 WASHINGTON ― Oregon Gov. Kate Brown (D) won re-election Tuesday night despite Republicans spending an unprecedented amount of money to unseat her.
Brown easily won her special election in 2016 to fill the governor's seat, but this year's race was tighter. She held just a slight edge over GOP state legislator Knute Buehler all along, even though Oregon is an overwhelmingly Democrat-led state. In October, Cook Political Report shifted its prediction in the race from "lean Democrat" to "toss-up."
Money was a major factor in the closeness of her race. Nike founder Phil Knight gave $2.5 million to Buehler's campaign ― the highest amount a single individual has ever given to a candidate in the state. Knight gave another $1 million to the Republican Governors Association, which spent more than $2 million on Buehler.
By the end, Brown brought in more than $11.9 million and Buehler raised more than $8.5 million, a record level for this race.
Dark money also spilled into the race. A group called Priority Oregon, whose funders are unknown, spent most of the year crafting attack ads against Brown, including one featuring a mother reading a "scary" bedtime story about Brown to her kids. Brown's campaign said the ad made false, illegal claims and demanded that it be pulled down.
"People are pretty grossed out," the governor told HuffPost last week. "What I am hoping is that this will be the impetus for Oregon to finally get to campaign finance reform. There's no real momentum now, but I think you will see movement."
In April, she announced that she would refuse Trump's request to deploy National Guard troops to the U.S.-Mexico border to beef up security against immigrants.
Ahead of the election, one local paper, The Oregonian, argued that national politics shouldn't factor into a governor's race. Brown emphatically disagreed.
"Hell no," she told HuffPost. "We need strong leadership to counteract the Trump administration. We are able to make progress in Oregon when we work together, and that's what we've done under my administration."
REAL LIFE. REAL NEWS. REAL VOICES.
Help us tell more of the stories that matter from voices that too often remain unheard.