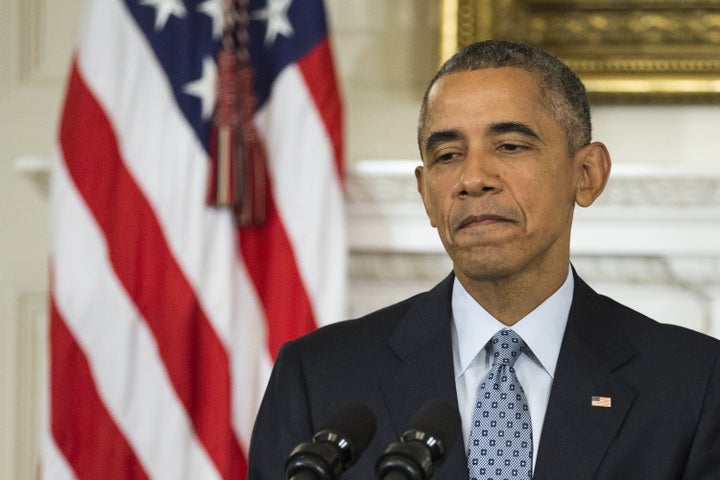 That sentiment appears to ring true for many Americans as the nation reels from yet another shooting. A new HuffPost/YouGov poll finds that while Americans generally favor stricter gun laws, fewer are convinced that gun regulation is either possible to implement or likely to make a difference, and even supporters of more legislation are unlikely to name gun control as a top issue.
Nearly half of Americans -- 49 percent -- say laws governing the sale of handguns should be stricter, while 30 percent want the laws to remain the same, and just 13 percent want looser gun restrictions.
Only 35 percent of Americans, though, think tighter gun laws would reduce mass shootings, and just 39 percent believe it's politically possible for such laws to be implemented. The segment of the country that supports new restrictions, believes they would help and thinks passing them is feasible falls just shy of 15 percent.

Americans are still inclined to believe mass shootings can be stopped, but they come short of a majority in thinking so. Forty-eight percent say shootings are preventable, while 35 percent call them a fact of life in the U.S. today. That percentage of fatalists represents an uptick since last December, when just 27 percent of Americans said they doubted most mass shootings could be prevented.
Another change: In December, about two years after the Sandy Hook Elementary School shooting, 18 percent of Americans said the nation had actually become worse at preventing gun violence -- a number that's now risen slightly to 24 percent. Just 7 percent think society has made some progress.

That pessimism is just one of the problems gun control advocates face. Another is that opinions on gun control seem to have calcified: While the Sandy Hook shootings brought a brief surge in support for stricter laws, subsequent shootings have failed to produce much effect at all.
Many specific policies, like universal background checks, remain overwhelmingly popular. But when asked broadly about support for gun control, people are typically divided along partisan lines, with Democrats staunchly in support and Republicans fervently against it.
Party affiliation, in fact, is a good predictor of someone's views on guns -- better, even, than whether they are a gun owner themselves. Americans who own guns are 37 points less likely than people with no guns in their households to support stricter gun control. The gap between Democrats and Republicans is 47 points.
Even when gun control supporters outnumber the opponents, they're often the less vocal group. As far back as 1978, gun control opponents have been more likely than supporters to contact public officials in support of their views, a gap that has since widened significantly.
In a June HuffPost/YouGov survey asking Americans to choose the two most important issues from a list of eight topics, gun control ranked last, with just 10 percent naming the subject.
"People will support this and they think it's a good idea, but they don't feel super deeply about it," Lanae Erickson Hatalsky of the centrist think tank Third Way told National Journal in 2013. "They're not convinced that it will necessarily work and that it will work to change their own lives."
In a press conference last week, President Barack Obama addressed that issue directly.
"You have to make sure that anybody who you are voting for is on the right side of this issue," he said. "And if they're not, even if they're great on other stuff, for a couple of election cycles you've got to vote against them, and let them know precisely why you're voting against them. And you just have to, for a while, be a single-issue voter because that's what is happening on the other side."
That seems unlikely to happen: Just under one-fifth of registered voters both favor stricter handgun laws and say the issue will be very important to their vote in next year's presidential election. Voters who want relaxed laws are 16 points more likely than those who want restrictions to say it'll be an important consideration.
Still, gun control advocates take solace in the fact that the subject has taken renewed precedence on the presidential campaign trail, where Hillary Clinton unveiled an ambitious set of new restrictions and promised to push through reforms by executive action if Congress didn't step forward. Sen. Bernie Sanders (I-Vt.), who voted against mandatory background checks in the 1990s, also issued a call for "sensible gun control legislation."
"There has been a sea change on this issue," Sen. Richard Blumenthal (D-Conn.) told Bloomberg. "For a major presidential candidate to break this logjam in the way she's doing is a momentous shift."
The HuffPost/YouGov poll consisted of 1,000 completed interviews conducted Oct. 2-5 among U.S. adults, using a sample selected from YouGov's opt-in online panel to match the demographics and other characteristics of the adult U.S. population.
The Huffington Post has teamed up with YouGov to conduct daily opinion polls. You can learn more about this project and take part in YouGov's nationally representative opinion polling. Data from all HuffPost/YouGov polls can be found here. More details on the polls' methodology are available here.
Most surveys report a margin of error that represents some, but not all, potential survey errors. YouGov's reports include a model-based margin of error, which rests on a specific set of statistical assumptions about the selected sample, rather than the standard methodology for random probability sampling. If these assumptions are wrong, the model-based margin of error may also be inaccurate. Click here for a more detailed explanation of the model-based margin of error.
Popular in the Community