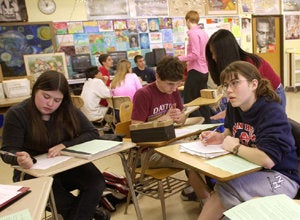 At 6 p.m. EST on Tuesday, Tony Crawford looked at his clock in Canby, Oregon and lamented the change the next sixty minutes would bring.
"For the next hour, I am a social studies teacher at Ackerman Middle school," he said at the time. "Today's our last day. Our school is closed."
He alternates between feeling depressed and angry. His school is not closing because of issues with proficiency or performance, he said. Budget shortfalls in his district required the closure of one of its two middle schools. And since the building was the older of the two, Ackerman closed. He'll teach at the new, combined school in the newer building next year.
He's angry, he said, because the state legislature is weighing a bill that would make it easier to open charter schools -- schools that are publicly funded and can be privately run -- in Oregon. "It redirects what should be funding for public education for either private interest or expansion in charter schools who have not proven to save money," he said. Oregon is losing $1 billion in public education funding this year, about one sixth of its total education budget.
Meanwhile, lawmakers are considering a slew of bills that change the way the state runs education, including measures that mandate a full-day kindergarten and name the governor as the state's education superintendent. On Friday, these bills advanced through committees in the state house.
But unlike in other states, where bills that alter teacher management practices pit officials against teachers unions, the Oregon bill that amends teacher evaluation is the least controversial.
"It has bi-partisan support," said Gail Rasmussen, president of the Oregon Education Association, adding that her group helped write the bill.
The evaluation bill requires that teacher evaluation system take into account multiple measure of teacher effectiveness, stating that student performance data is one important component. The bill passed the senate on Tuesday afternoon.
"The Senate took a significant step forward today in creating a more accountable and innovative education system in Oregon," Gov. John Kitzbaher said in a statement. "Senate Bill 290's focus on professional development and uniform standards for educators and administrators can help achieve our goals of delivering better results for students, more resources for teachers and a better return for taxpayers."
But the other education bills advanced through Oregon state house committees quietly, making Rasmussen worry that "they bulked them together and the laws haven't been vetted," she said. "It just doesn't sound right."
Crawford said that as a social studies teacher, he was ashamed at the apparent lack of public process involved in considering these laws without debate. "It's unconscionable," he said.
Lew Fredrick, a Democratic Representative, said the bills only advanced this far because of backroom talks. "It avoided the discussion that would have taken place in committee," he said. "We had a charter-school bill that failed in the house floor. Once it failed, the co-chair decided we weren't going to have more meetings."
Regardless of the process, Fredrick dislikes the content of three of the bills. One law "ends up being a re-segregation situation, where you end up with wealthy white kids moving to different schools than the low income minority kids," he said, referring to a law that allows students to move from district to district.
Amendments to the charter bill could end up allowing public universities to authorize the creation of new charter schools. "They're trying to let charter schools come in and set up schools in the same way you'd just set up a McDonalds somewhere," Fredrick said.
Calls placed to the office of Rep. Matt Wingard, the architect of much of this legislation, were not immediately returned.
The charter law touches on a national debate about the viability and value of charter schools. Advocates of charter schools and school choice say that zip codes should not determine the quality of education a child gets. Critics say they erode funding from traditional public schools.
Like Crawford, Rasmussen lamented the timing of the proposed expansion of charter schools. " Part of that bill promotes the growth of charter schools at a time when our own public schools are struggling. It does shift money away from our schools," she said. "That would be long-term damage. These bills certainly wouldn't help us help our kids around it."
She added that she would rather see resources designated to bolstering the public college system. "Putting more emphasis in charter schools than on the college system doesn't make sense," she said.
Calling all HuffPost superfans!
Sign up for membership to become a founding member and help shape HuffPost's next chapter