WASHINGTON -- While four militants continue to occupy a federal wildlife refuge in Oregon, the eight individuals swept up in a law enforcement operation this week are behind bars, facing federal felony charges and preparing for a legal battle that could send them to prison and permanently take away their right to possess weapons.
As of Friday, six of the militants have been assigned a federal public defender or court-appointed lawyer, meaning the federal government they were protesting will be footing their legal bills. Ammon Bundy -- the son of rancher Cliven Bundy, who engaged in a prior battle with the federal government over unpaid grazing fees -- is crowdsourcing online to pay for his private legal defense.
All of the people arrested -- Ammon Bundy and his brother Ryan Bundy, Jon Ritzheimer, Joseph O'Shaughnessy, Ryan Payne, Brian Cavalier, Shawna Cox and Peter Santilli -- have a court appearance scheduled for Feb. 3 and an arraignment set for Feb. 24. They all face a charge of conspiracy "to impede officers of the United States from discharging their official duties through use of force, intimidation, or threats."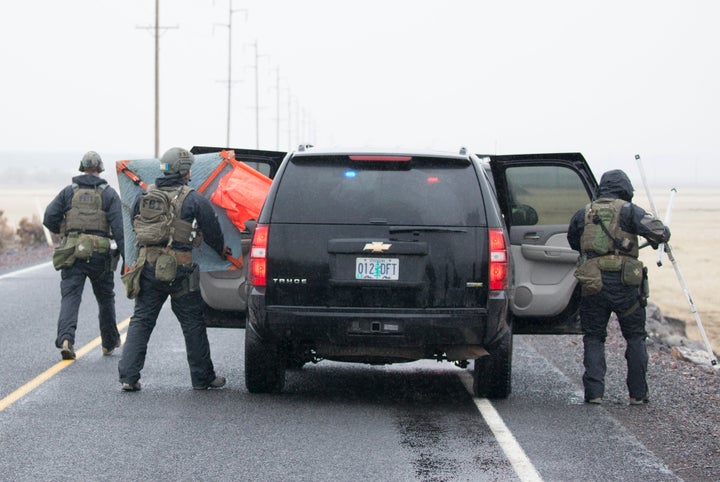 In a statement issued by his lawyers, Ammon Bundy called on the militants still occupying the Malheur National Wildlife Refuge to turn themselves in peacefully. "The world is listening," he said. "We will use the criminal discovery process to obtain information and government records. We will continue to educate the American people of the injustices that are taking place."
Bundy is crowdfunding for a total of $100,000 in legal fees. The online pitch his legal team set up says that while the protest was the first stage of Bundy's plan to deliver his message, "Phase 2 is through the courts." As of Friday, 21 supporters had pledged $1,979. 
Lawyers for Bundy told local news station KATU that they believed their client started a national conversation on public land rights. 
"Ammon's argument is sound. Their message is clear. And they're going to continue even if they're in custody, continue to believe in liberty and freedom for American citizens," one lawyer said.
Lissa Casey, another one of Bundy's lawyers, told local station KEZI that her firm took the case because it's interested in the Constitution, individual liberties and disputes between citizens and the government. "This case has gone on to a national debate about federal government interacting with citizens in the form of land management. But I think that it's going to be an even larger debate. And we wanted to help," Casey said.
The militants began occupying the wildlife refuge on Jan. 2. Seeking to combat rumors about Tuesday's fatal shooting of militant Robert "LaVoy" Finicum, the FBI released aerial footage on Thursday that showed him fleeing law enforcement, nearly striking an FBI agent with his vehicle, then emerging from his car and appearing to reach for a loaded weapon in his pocket.
In addition to the loaded 9 mm handgun that was in Finicum's pocket, agents found three other loaded weapons, including semi-automatic rifles, inside the truck, according to the FBI.
David Fry, one of the four militants still at the wildlife refuge who has been livestreaming on YouTube under the name "DefendYourBase," told the Los Angeles Times that he and his remaining colleagues were willing to leave, but wanted the FBI's guarantee that they would not be arrested.
One video Fry uploaded on Thursday titled "Maybe last Dance?" shows a couple in camouflage slow-dancing to music blasting from a white pickup truck. The man in the footage said in a prior video that members of law enforcement were going to come in and kill them.
In another video on Thursday morning, Fry said that one of the militants was wanted on a warrant, so only three of them were free to go. They believed the government might arrest them at a later date.
"It turns out that if you do leave, they end up charging you later, and they are pressing everyone here it sounds like with that same felony charge of interfering with a federal employee's job," Fry said. "If you get a felony, you can't vote anymore and they take your guns away." The approach was "unfair," he added.
"A lot of those rioters over there in Ferguson and whatnot, they went to the riots with intentions of robbing and burning down cities, and everyone here came with intentions of thinking it was a peaceful, you know, revolution," Fry said.
Many of the armed militants said over the course of their occupation of federal land that they would match force with force if law enforcement confronted them.
CORRECTION: This article previously misstated that the FBI's video footage was shot from a helicopter; it was shot from a plane.
Calling all HuffPost superfans!
Sign up for membership to become a founding member and help shape HuffPost's next chapter