WASHINGTON -- An FBI official warned militants who have occupied a federal wildlife refuge in Oregon over the past month that "actions are not without consequences" and they should go home following the arrests of group leaders.
Eight people, including leader Ammon Bundy, were arrested Tuesday evening. Some were seized during a highway stop that led to a confrontation and shooting that killed Robert "LaVoy" Finicum, who served as a spokesman for the occupiers, and the wounding of an unnamed individual.
"Let me be clear, it is the actions and choices of the armed occupiers of the refuge that has led us to where we are today," FBI Special Agent in Charge Greg Bretzing said at a press conference Wednesday, urging those still at the Malheur National Wildlife Refuge to clear out.
He warned that "actions are not without consequences," but said anyone remaining at the refuge would be allowed to leave after being identified at law enforcement checkpoints that have been set up.
Ammon Bundy, in a statement through his attorney, also urged those remaining at the wildlife refuge to leave and go home.
"To those remaining at the refuge, I love you," Bundy said in the statement. "Let us take this fight from here. Please stand down. Go home and hug your families."
Three people connected with the occupation were arrested on Wednesday, The Associated Press reported.
A statement released by the FBI and the Oregon State Police said Duane Leo Ehmer, 45, of Irrigon, Oregon, Dylan Wade Anderson, 34, of Provo, Utah, and Jason S. Patrick, 43, of Bonaire, Georgia, turned themselves in to agents at a checkpoint near the refuge. All three are expected to face a charge of conspiracy to impede officers of the United States from discharging their official duties through the use of force, intimidation or threats.
It was unclear how many militants remained inside the center.
Bundy and all but one of those who were arrested on Tuesday appeared before a federal magistrate judge on Wednesday afternoon; she ordered them to remain jailed until at least Friday without bail.
It appears that only a few occupiers remain at the wildlife refuge, according to Oregon Public Broadcasting. The Los Angeles Times reported some of the remaining militants have made threats on livestream broadcasts, calling the standoff a "free-for-all Armageddon."
Law enforcement officials have provided few details on the arrests and shootings. Some sources said Finicum charged FBI agents, who then shot him. The Bundy Ranch said Finicum didn't provoke law enforcement.
A judge released a criminal complaint charging those arrested Tuesday with conspiracy to prevent federal officials from performing their duties.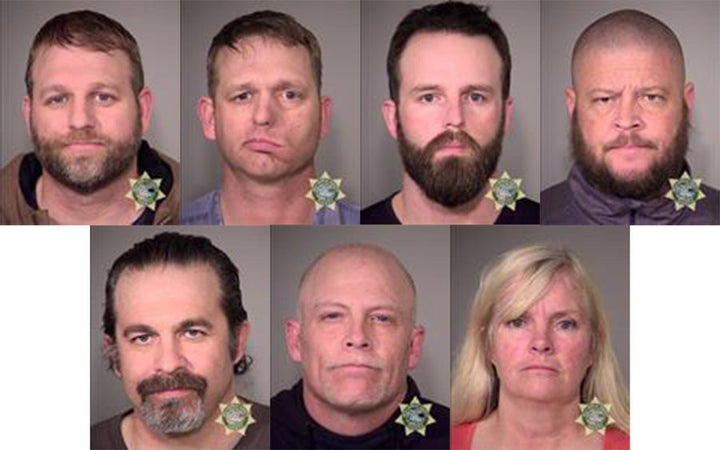 The occupation started at the beginning of the month amid a protest over the treatment of a rancher and his son. Those two were ordered imprisoned as the result of an appeals court ruling related to their conviction on arson charges in 2012.
The law enforcement action came amid calls from Oregon political leaders for a more aggressive approach to the occupation, which has disrupted life in Harney County for weeks.
"It's time for everybody in this illegal occupation to move on," Harney County Sheriff Dave Ward said.
Reporters have cleared out of the refuge, which the remaining militants on location saw as a sign that federal authorities were preparing to take final action.
"Media has been ordered to leave, which means they're coming to kill us, and they don't want them to see that," one man said in a livestream from the refuge. "They're going to murder all of us."
Nick Visser contributed to this story.
This article has been updated to include Wednesday's court appearances, Ammon Bundy's statement and the latest arrests.
Popular in the Community