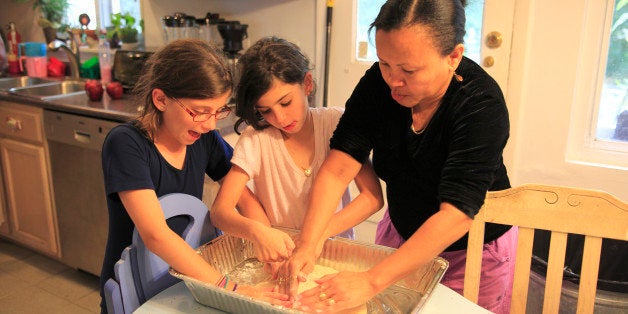 Oregon recently joined a handful of states that have committed to granting nannies and housekeepers overdue basic human rights.
The Beaver State on Tuesday narrowly passed a bill that would require meal breaks, overtime pay, protection from abuse and other standard workplace rights, according to KATU. While critics claim the bill, which was sent to the state Senate, is far too vague, advocates say the move is key in at least igniting the conversation about the common maltreatment domestic workers face. Though experts point out that it's not always intentional.
"Many employers don't see their domestic help as employees, but instead think of them as members of the family who may not need accommodations for adequate rest, food, pay and freedom from harassment," Sara Gelser (D-Corvallis), the bill's primary sponsor, told the news outlet.
Meager pay has long been a prime concern.
Five other states -- New York, California, Hawaii, Massachusetts and Connecticut – have passed their own bills of rights for domestic workers, according to the National Domestic Alliance Network.
But some are quite limited in nature.
Advocates, however, say this provision could apply to a fair number of households due to the sheer amount of wealthy families that employ numerous workers, ThinkProgress reported.
Just having systems in place to prevent abuse is a welcome reprieve for nannies and housekeepers.
In its first national survey of domestic workers in the U.S., the National Domestic Alliance Network found that housekeepers and nannies often endure verbal, psychological, and physical abuse on the job, but 91 percent of those surveyed never complained because they are fearful of losing their jobs.
Earning fair wages, getting vacation days and adequate sleep are also prime concerns for those who work in families' homes.
The Oregon bill, for example, stated that workers deserve overtime pay if they put in more than 40 hours a week, or more than 44 hours a week for live-in domestic workers. They are required one day off a week and at least eight hours of sleep each night, according to KATU.
Advocates remain optimistic about the latest legislation, and say that even just acknowledging that domestic workers deserve to be treated more humanely is a monumental step.
"The bill helps to right a historic wrong of excluding domestic workers from basic labor protections," the National Domestic Workers Alliance said in a statement. "And it paves the road for even more protections so that every domestic worker across the state can enjoy the labor rights that all workers deserve."
Calling all HuffPost superfans!
Sign up for membership to become a founding member and help shape HuffPost's next chapter