When an official prefaces his explanation of a call by saying "On the previous play, we have an unusual ruling," then you know you just saw -- and perhaps didn't initially realize -- something quite rare.
That was certainly the case during the 2013 Fiesta Bowl when referee Ron Cherry explained that a one-point safety had occurred after Kansas State blocked an extra point attempt by the Oregon Ducks in the third quarter. After the Ducks went ahead 31-10 on a 2-yard rushing touchdown by redshirt freshman quarterback Marcus Mariota, the K-State Wildcats blocked the point after attempt.
After Javonta Boyd burst through the Ducks' line to block the kick, Wildcats defensive end Ryan Mueller caught the tipped ball at approximately the 2-yard line and retreated into the end zone as he tried to set up a return. As he was being enveloped by defenders, Mueller pitched the ball to teammate Allen Chapman, who couldn't control the lateral toss. He was pulled to the ground, in the end zone, by Oregon lineman Jake Fisher. And, we'll let Cherry take it from here:
"On the previous play, we have an unusual ruling. The ball was blocked, caught, carried back into the end zone and declared dead by the defense. That play results in a one-point safety."

While the existence of a one-point safety was news to many fans, ESPN announcer Brad Nessler who was calling the game had seen one before. He worked a game that featured one of these rare plays back in 2004.
WATCH: Another One-Point Safety
Anyway, have you ever had a conversation with someone about college football, and no matter what you said, they just couldn't seem to understand what you were talking about? Well, I have. During one of these moments, I got so frustrated that I finally blurted out "hey, it is not like I am trying to explain how to score a One Point Safety or something!"
To his credit, Cherry kept his cool when faced with the task of explaining a one-point safety to a national television audience. While this play gave everyone plenty to talk and tweet about it, it did not ultimately prove decisive as the Ducks cruised to a 35-17 win.
Before You Go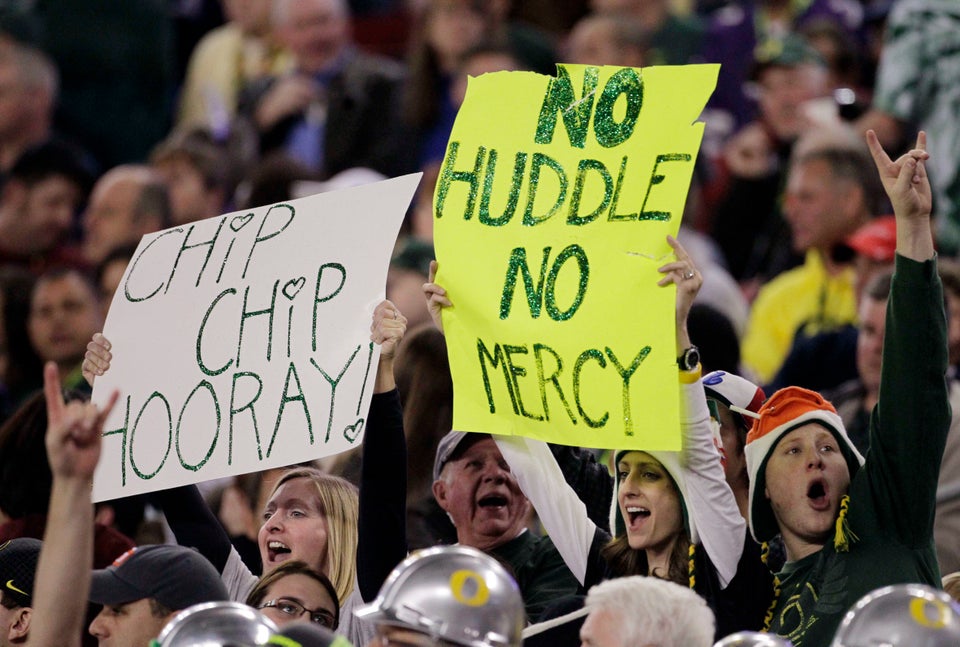 PHOTOS: 2013 Fiesta Bowl
Popular in the Community