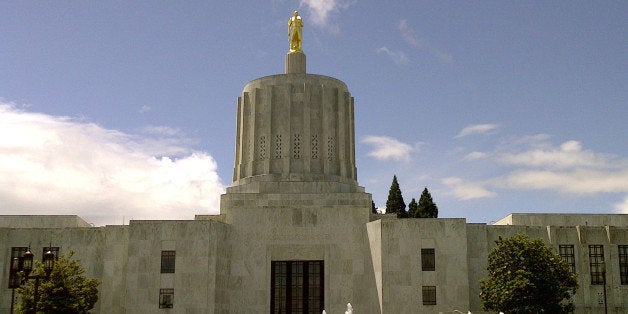 The Oregon Senate on Wednesday approved a measure that would require all businesses with at least 10 employees in the state to provide paid sick leave to their workers.
The bill, which passed by a vote of 17-13, will now go to the Oregon House, and if approved, to Gov. Kate Brown (D). A spokesman for the Working Families Party, a group that supports the measure, said that he was optimistic about the bill's chances in that chamber.
Forty-seven percent of private-sector Oregon workers and 71 percent of workers in the state earning less than $20,000 per year don't get sick days, according to an analysis of public health data by the Institute for Women's Policy Research.
"Of all the thousands of bills I voted on in the time that I've been here, I think this is going to be the vote that I'm the proudest to cast," state Sen. Diane Rosenbaum (D) said, according to The Associated Press.
The law would allow workers to accrue sick time "at the rate of at least one hour of unpaid sick time for every 30 hours the employee works or 1-1/3 hours for every 40 hours," according to the text of the bill. Employees could earn up to 40 hours of paid sick time a year.
"Today's vote in the Oregon Senate is a victory for every mom or dad who cannot stay home with a sick child for fear of losing pay. Working families are struggling. Paid sick days are a smart way to make people's lives a little bit easier," said Jeff Anderson chair of the Oregon Working Families Party and Secretary Treasurer for United Food and Commercial Workers 555.
Two cities in Oregon, Portland and Eugene, have already passed their own paid sick time laws. Employers in Portland would still be subject to that city's paid sick leave law, which requires the policy for employers with six or more workers, The Associated Press reported.
An earlier version of the bill would have required that workers get seven paid sick days and businesses had urged lawmakers to exempt employers with 25 or fewer employees, but lawmakers reached a compromise late last month, according to the Oregonian.
The bill would take effect Jan 1 2016, and the state would spend $4.4 million between 2015 and 2017 to implement it, The Oregonian reported.
If the measure becomes law, Oregon would become the fourth state to guarantee paid sick leave, joining Massachusetts, Connecticut and California.
Calling all HuffPost superfans!
Sign up for membership to become a founding member and help shape HuffPost's next chapter
BEFORE YOU GO
PHOTO GALLERY
Outspoken State Lawmakers