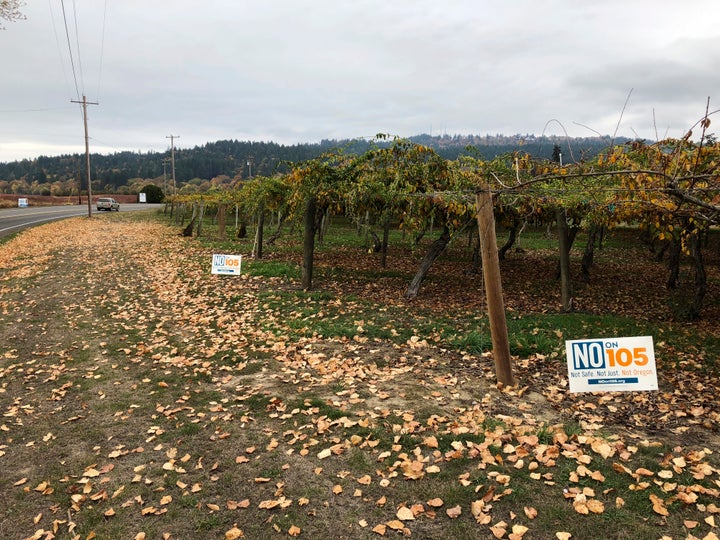 Even after years of fearmongering about so-called sanctuary jurisdictions for undocumented immigrants, Oregon voters on Tuesday rejected a measure that would have removed the state's decades-old policies restricting local law enforcement cooperation with federal deportation efforts.
About 63 percent of voters counted as of early Wednesday opposed an anti-"sanctuary state" measure, with more than 1.6 million votes tallied.  
The defeat of the Oregon measure was a bright spot of the 2018 midterm elections for immigrant rights advocates, along with Democrats taking over the U.S. House and voters rejecting anti-immigrant hardliners like Kansas gubernatorial candidate Kris Kobach (R).
Republicans deepened their control of the Senate, and President Donald Trump will still be in office, pursuing a crackdown on undocumented immigrants. But the Oregon measure's defeat showed that voters in one state, at least, weren't convinced by rhetoric that demonized undocumented people and policies meant to protect them.
"President Trump and some Oregon politicians have targeted our communities and played the politics of fear and division, but the overwhelming majority of Oregon voters did not fall for it," the ACLU added.
Oregon's sanctuary state policy is especially notable because of its 31-year duration, which meant it served as a model for other jurisdictions. There's no set definition for sanctuary jurisdictions, even though they're often referenced in campaign ads and political speeches. The term often describes policies that restrict local law enforcement's cooperation with Immigration and Customs Enforcement.
In Oregon, thanks to a 1987 law, local law enforcement is barred from using resources to police immigration by finding or detaining undocumented people who are not suspected of a non-immigration-related offense. ICE can still make arrests in the state.
The law originated a decade earlier, when officers approached Latino men at a restaurant and pressed them on their immigration status. One of them, a U.S. citizen, filed a class-action lawsuit accusing the officers of acting on behalf of immigration authorities. The lawsuit was later dismissed, but the man's lawyer successfully pushed for a law limiting the ability of police to be immigration enforcers.
Oregon "voters rejected a hateful attempt to strip the state of its anti-racial profiling law," Marielena Hincapié, executive director of the National Immigration Law Center, said in a statement applauding the vote.  
Calling all HuffPost superfans!
Sign up for membership to become a founding member and help shape HuffPost's next chapter
BEFORE YOU GO
PHOTO GALLERY
How Donald Trump Talks About Undocumented Immigrants