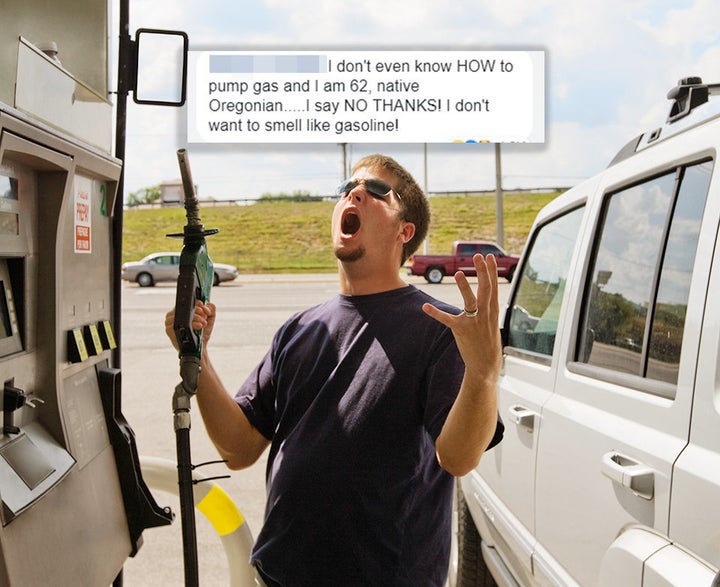 It's a new year with a bevy of new rules. For Oregonians, a self-serve gas law that took effect Monday has ricocheted to the top of Internet chatter.
House Bill 2482, which was signed into law last year by Gov. Kate Brown, allows motorists to pump their own gas in nearly half of Oregon's 36 counties.
Oregon and New Jersey had long been the only two states in the U.S. to bar customers from pumping their own fuel ― a job performed by gas station attendants.
The responses they received ― both serious and whimsical ― prompted the post to go viral over the weekend. As of Tuesday, it had been shared more than 20,000 times and drew more than 18,000 comments.
"I don't even know HOW to pump gas and I am 62, native Oregonian … I say NO THANKS! I don't want to smell like gasoline!"

"I've lived in this state all my life and I REFUSE to pump my own gas … This a service only qualified people should perform. I will literally park at the pump and wait until someone pumps my gas."

"I go to work at 5 in the morning. Not a lot of people at the gas pumps at that time in the morning. And yes, I will not feel safe pumping my own gas … Not to mention it's freezing and rainy. So thank you to all who voted to change it. You have now taken away a nice luxury that most of us enjoyed."

"Many people are not capable of knowing how to pump gas and the hazards of not doing it correctly. Besides I don't want to go to work smelling of gas when I get it on my hands or clothes. I agree Very bad idea."

"Yuck! Pumping my [own] fuel in freezing temperatures and handling a nasty ole fuel nozzle that 50 other people have touched that day (and who knows what cooties are on there), no thank you. It's nice to not have to pump your own fuel."
While it's impossible to determine which comments are genuine and which are sarcastic, the Internet was quick to poke fun at the Beaver State.
Here's a sampling of the responses:
"Apparently there's an entire state of people in America who are incapable of filling their own car with petrol."

"FEAR NOT OREGON!!!! I've decided to move to Oregon to open a school to teach people how to pump their own gas … I understand Oregon, adulting is hard and sometimes you [need] someone to show you how. I'm here for you."

"Omg this post is hilarious!! I'm in Wisconsin and with the wind chill it's currently -17. You know what I did this morning?! Had to pump my own flipping gas!! It's not that hard people!!"

"Apparently most people in Oregon assume that in order to pump gas you must first remove all people from the vehicle and stand in the open while thugs attack from all angles, all while being sprayed with gas."

"ERMAHGERD we gotta pump our own petrol!!! These comments have made my day."
Obviously, not everyone in Oregon is an entitled snowflake, and for those who do have real concerns ― the elderly or disabled ― they should rest easy knowing that the Americans With Disabilities Act mandates that service stations offer aid.
Still, some of the comments and responses are pretty funny.
And for those who really hate pumping gas, The Bend Bulletin reports that several gas stations they contacted had no plans of changing from full service.
"Honestly, I don't think we're going to make a change," said cashier Shelby Perkins at the 76 station in Prineville. "Our regular, longtime customers love coming here and talking to us while we pump their gas."
Besides, she added, many of their regulars probably don't know how to work a gas pump.
Corina Wright, manager of Towne Pump & Pantry in Prineville, told The Bulletin that their attendants will also continue to pump gas for customers.
"It's staying the way it is," she said.
And for those who've never pumped gas and find themselves in a situation where they have no choice, there's always YouTube:
Support HuffPost
The Stakes Have Never Been Higher
Related
Popular in the Community