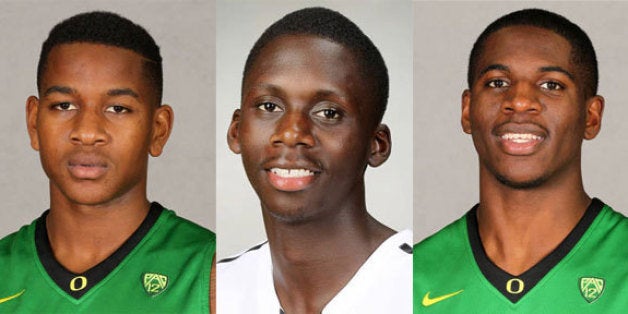 The University of Oregon found three former basketball players responsible for sexual misconduct and will remove them from campus for up to 10 years.
The victim's lawyer, John Clune, told The Huffington Post on Monday that the three men were found responsible for sexual misconduct and suspended for a minimum of four years, "or longer if my client is still on campus after four years." The maximum time for the suspension is 10 years.
The men were already suspended indefinitely from the men's basketball team at the school. Eugene, Oregon, prosecutors declined to pursue the case because Lane County District Attorney Alex Gardner determined there was insufficient evidence to "prove the allegations beyond a reasonable doubt."
In the victim's only statement so far, published in the student newspaper earlier this month, she thanked the Office of the Dean of Students for its support but ripped the athletic department for bringing Austin to the University of Oregon.
Austin, a sophomore, had been suspended from the basketball team at Providence College in Rhode Island because of an accusation of sexual assault in November, before transferring to Oregon in January. At Providence, an adjudication panel found Austin responsible for "non-consensual sexual penetration" and voted to suspend him, but a college vice president overturned that decision.
"I am angry with the culture that appears to exist in our athletic department that prioritizes winning over safety of our students," the victim wrote. "I cannot fathom how our basketball coach recruited someone who was in the middle of a suspension for another sexual assault to come to Eugene."
University of Oregon spokeswoman Julie Brown said Monday that in cases of sexual misconduct, the university provides information about the outcome of a campus adjudication only to the complainant and the accused. But Brown confirmed the news about the suspensions.
"It appears that the information released by Mr. Clune is accurate," Brown said, going on to note that the three students' potential transfers to other colleges was not something the university could speak to. "As has been said before, each young man had previously been given their full release and permission to contact any school. Any inquiries related to transfers should be directed to the individual," Brown said.
The University of Oregon found 11 students guilty of sexual misconduct in 2011-12 and 2012-13, according to information provided to The Huffington Post through an open records request. However, the university declined to explain what the sanctions were for those cases.
This story has been updated with comment from University of Oregon spokeswoman Julie Brown.
Popular in the Community