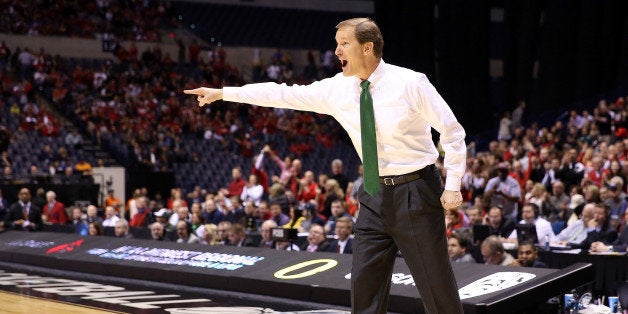 The University of Oregon filed a counterclaim earlier this month against a female student who accused the school of mishandling her sexual assault case, insisting her lawsuit will deter rape victims from coming forward in the future.
A current student at UO, known only as Jane Doe, filed a lawsuit against the university and its men's basketball coach, Dana Altman, in January, alleging the school recruited a man who they knew had been accused of sexual assault at his previous college. The school has kicked out this student and the two other men Doe said assaulted her at a March 2014 off-campus party.
The school filed a counterclaim on Feb. 9 saying that it was unaware of past allegations against the player, and instead argued that Doe had made false statements and should pay the university's legal fees.
UO admitted earlier this month it had accessed Doe's therapy records in December to prepare for the lawsuit, but insists it did so legally.
The "publication of false allegations about Oregon's handling of a report of an alleged sexual assault creates a very real risk that survivors will wrongly be discouraged from reporting sexual assaults and sexual harassment to Oregon, in direct contravention of the goals of both Title IX and Oregon," the university's lawyers wrote in their filing.
Colby Bruno, senior legal counsel for the Victim Rights Law Center, a nonprofit in Boston that provides free legal services to sexual assault survivors, disagreed with UO's assessment.
"In fact, it's always the contrary," Bruno told The Huffington Post Monday. "These types of lawsuits help bring voices to some victims who feel wronged, but were not in a place to speak out about it. These lawsuits often help with reporting, and do nothing to discourage reporting. Furthermore, a university's reaction like this could actually discourage reporting because the victims on campus do not feel protected by their university if at the first sign of problems, the university lashes out against the victim."
UO called Doe's lawsuit "frivolous" and "unreasonable," and said the allegations "threaten to harm not only Oregon and Altman but also all sexual assault survivors in Oregon's campus community."
But Bruno said that in her experience, "if one victim has found flaws with the process, then there are many others who have also been wronged in some way also."
John Clune, who is one of Doe's attorneys and is involved in several high-profile campus rape lawsuits, said he has never seen a university use the type of language that UO did in its counterclaim.
"It's pretty disingenuous for the university to sue their own student, a rape victim, and then try to talk about being concerned with reporting numbers going down," Clune told HuffPost on Monday.
UO's lawsuit is prompting outrage on campus, including an online petition launched over the weekend demanding that the school stop suing rape survivors.
Other colleges have pushed back in lawsuits against sexual assault survivors, but it's highly uncommon for schools to go as far as Oregon has and sue the alleged victim. Emerson College claimed in October it had no legal duty to protect students from rape. The same month, Virginia Wesleyan University said in a court filing that a rape victim was "contributorily negligent," but demanded her assailant be required to pay the legal bills.
This article has been updated to include a statement from Doe's attorney.
Related
Popular in the Community