Christopher Harper-Mercer, the gunman in Thursday's mass shooting at Umpqua Community College in Oregon, died by suicide, local law enforcement officials announced on Saturday.
The suicide occurred during a firefight with law enforcement officers, who had arrived to disarm him, Douglas County Sheriff John Hanlin said at a press conference on Saturday. 
Two Roseburg, Oregon, police officers and an Oregon state trooper exchanged fire with Harper-Mercer within minutes of arriving at the scene. The medical examiner subsequently ruled Harper-Mercer's death a suicide, suggesting that Harper-Mercer shot himself before law enforcement could kill him.
The sheriff confirmed that Harper-Mercer was enrolled in the class in which he opened fire, killing 9 people, among them classmates and the professor.
Hanlin also revealed that law enforcement found an additional handgun in Harper-Mercer's home, bringing the total number of firearms in his possession to 14.
To show just how short a period of time it took for the entire massacre and police response to transpire, the Douglas County Sheriff's Office released the following timeline of Thursday's events: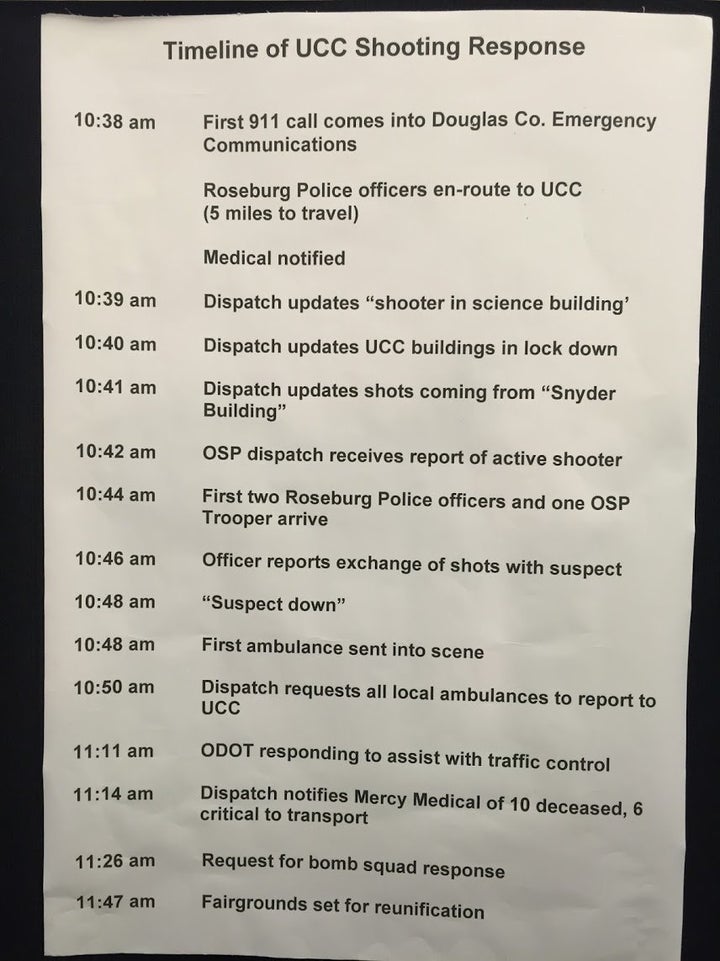 Shortly before the Saturday press conference, The Associated Press reported on new details about what occurred on Thursday.
Harper-Mercer allowed a student in the class to survive and gave him a package to deliver to police, according to Janet Willis, grandmother of Anastasia Boylan, a student present in the classroom. Boylan told Willis that she was wounded and playing dead when she saw Harper-Mercer spare the other student and give him the package.
Willis also told the AP that Boylan recalled Harper-Mercer asking students if they were Christian and shooting them in the head if they said yes.
There are divergent accounts of just what Harper-Mercer said as he fired on the victims, though.
Stephanie Salas, whose son Rand McGowan survived the attack, said that McGowan remembers Harper-Mercer asking about people's religions, but not targeting Christians.
McGowan said Harper-Mercer would make each person stand and then ask them about their faith.
"'Do you have a God? Are you Christian? Do you have a religion?' It was more so saying, 'You're going to be meeting your maker. This won't hurt very long.' Then he would shoot them," Salas told the AP.
At Saturday's press conference, Hanlin did not provide additional insight on the motive of the shooter.
Calling all HuffPost superfans!
Sign up for membership to become a founding member and help shape HuffPost's next chapter