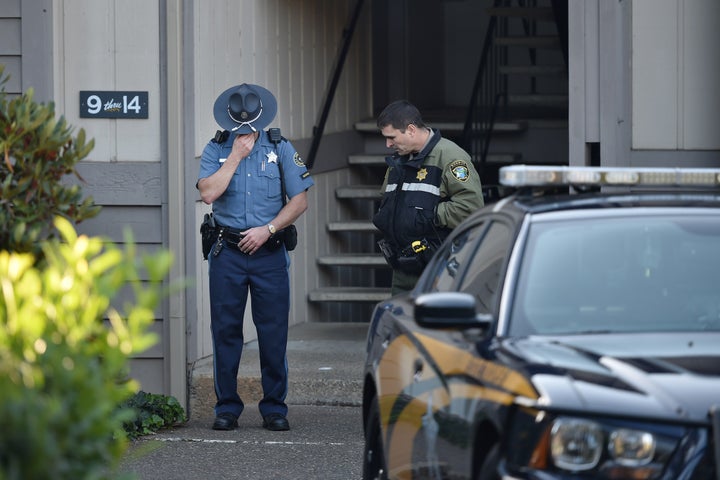 WASHINGTON -- Firearms used on Thursday in a mass shooting at a small community college in Oregon were purchased legally, authorities said on Friday. Some weapons may have been purchased by family members.
Although authorities did not name the gunman during Friday's press conference, he has widely been identified as Chris Harper Mercer.
Thursday's shooting at Umpqua Community College in Roseburg left 10 people dead and nine wounded. Mercer, 26, died after a shootout with law enforcement.
Thirteen weapons were recovered, six from the school and seven from Mercer's residence, said Celinez Nunez, assistant special agent in charge at the Bureau of Alcohol, Tobacco, Firearms & Explosives.
She confirmed that all of the weapons were purchased legally and traced to a federal firearms dealer. Seven of the weapons were purchased by the shooter or his family members in the last three years, Nunez said. Law enforcement also recovered a jacket with steel plates and additional magazines.
According to the Douglas County Sheriff's Office, the weapons recovered were pistols, rifles and a shotgun. Federal law prohibits felons, drug users, domestic violence misdemeanants and people involuntarily committed to mental institutions from possessing firearms.
Oregon recently tightened gun restrictions in the wake of other shootings in the state. In 2012, a gunman stormed a shopping center in Portland with a stolen AR-15 semi-automatic rifle, killing two people before taking his own life. Family members of those victims backed a measure that went into effect in August, requiring background checks on most private gun sales.
"If we want to keep our kids, schools and communities safe, we must make it harder for dangerous people to get guns," Oregon Gov. Kate Brown (D) said when she signed that law.
Gun control advocates contend that Oregon still has a number of loopholes that make it easy for would-be attackers to obtain weapons. The Law Center to Prevent Gun Violence last year awarded the state a "D+" because it does not impose a waiting period prior to firearm purchases, prohibit assault weapons or "significantly" regulate gun dealers, among other issues. Lindsay Nichols, a senior attorney for the organization, told the New Republic on Friday that he would ramp that up to a "C" because of the new background check law.
Wayne LaPierre, executive vice president of the National Rifle Association, said in 2012 that "the only thing that stops a bad guy with a gun is a good guy with a gun." His point is often repeated by gun control opponents. But as Think Progress reported, Oregon allows concealed carry on postsecondary campuses and there was at least one armed civilian on campus at the time of the shooting.
Gun control advocates have already pointed to the Umpqua Community College shooting as another reason why America needs to ramp up firearm restrictions. According to Everytown for Gun Safety, which advocates for legislative measures to reduce gun violence, this was the 45th shooting on a school campus this year.
"As I said just a few months ago, and I said a few months before that, and I said each time we see one of these mass shootings, our thoughts and prayers are not enough," President Barack Obama said on Thursday.
Democratic presidential candidate Hillary Clinton said in another interview, "I am just sick of this."
This article has been updated with revised casualty figures for Thursday's shooting.
Popular in the Community