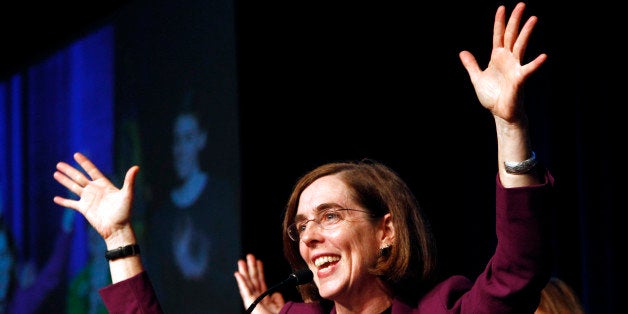 WASHINGTON -- Oregon's legislature is widely expected to pass an automatic voter registration bill this year that could add up to 300,000 voters to the rolls by the 2016 election, making it the first state in the nation to implement the kind of system that other countries, like Canada, have had for decades.
Automatic voter registration is expected to prevail this session, however, due to the legislature's new partisan composition. Oregon was the the only state in the nation where both houses of the legislature gained Democrats in the 2014 midterm elections.
The bill, which passed out of the state House Rules Committee Wednesday, is fast-tracked for a vote before July, when the legislative session ends. It dictates that prospective voters would receive a letter from the secretary of state's office notifying them of their pending registration and giving them at least three weeks to decide whether they want to opt out or register with a particular party.
Those who receive the letter can go online to opt out or select their party, and anyone who does not reply to the letter will be registered as "unaffiliated." Unaffiliated voters cannot participate in state primary elections, but they will still be able to vote in the general elections.
Most Republican legislators oppose the proposal, calling it costly and a partisan ploy aimed at helping demographics who are more likely to vote for Democrats. Some have also charged that the legislation is unnecessary, as the state already has one of the highest turnout rates in the nation. They also say it should be incumbent upon voters, rather than the government, to initiate the registration process, and that the DMV data sharing the bill requires could endanger voter privacy.
"Several of our caucus members have expressed concern that any bill allowing automatic voter registration at the DMV must protect the privacy of teen drivers, especially in light of recent government IT security breaches," Caitie Osborne, the Oregon Senate Republicans communications director, told HuffPost in an email. "We don't want to put young drivers in danger of having personal information accessible to those who might abuse it."
Philip Keisling, the director of the Center of Public Service at Portland State University and a former Oregon secretary of state, told The Huffington Post Thursday that the bill continues Oregon's tendency to expand, rather than restrict, access to the ballot. The state is one of only three in the country to adopt a system where every registered voter is mailed their ballot.
"I think it builds on a lot of firsts that Oregon has done, like universal ballot delivery," he said. "This carries that philosophy to the next step."
Keisling said he supports the legislation despite the "legitimate concerns" about the proposal.
"This is probably as good a place to experiment with this policy innovation as any, but it's not without its risks," he said.
With automatic voter registration, Oregon's voting process would resemble Canada's, where the federal government maintains a "National Register of Electors," or a database of nearly all eligible voters, using data from various provincial and municipal agencies.
Though they're much higher than the American average, Canadian turnout rates have decreased -- leading some critics of automatic voter registration to charge that proposals like Oregon's will not have the intended effect of encouraging more citizens to vote.
"Canadians used to be very smug, we used to have turnouts in the 70s and 80s, but now they're in the low 60s," said Nelson Wiseman, the director of the University of Toronto's Canadian Studies program. Wiseman noted that even with relatively easy access, many choose not to vote.
"It has heightened, the paranoia about [fraud], in conservative circles," Wiseman said. "[Harper's government] has increasingly put on more rules."
UPDATE: 2/6 -- The Oregon Secretary of State's office responded to the Republican concerns about privacy by arguing that the bill would strengthen, rather than weaken, protections for pre-registered voters.
"Under current Oregon law, personal information of pre-registered 17-year-olds is public," Communications Director Tony Green wrote in an email to HuffPost. "Under HB2177, that information would become confidential. Anyone who wants to protect the personal information of young drivers should vote in favor of the bill."
REAL LIFE. REAL NEWS. REAL VOICES.
Help us tell more of the stories that matter from voices that too often remain unheard.
BEFORE YOU GO
PHOTO GALLERY
Politicians React To Voting Rights Act Ruling