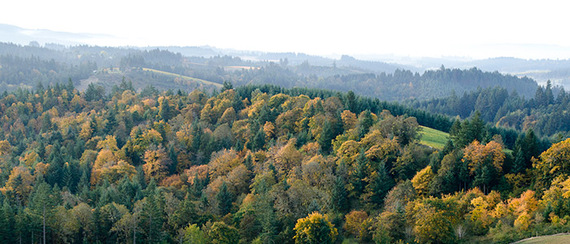 As someone who has enjoyed Oregon wines over the past few decades, I have to remind myself that the industry is still going through adolescence compared with states like New York and California, whose vinous histories date back hundreds of years. There had been plantings in Oregon as early as the 1860s and a small wine industry, largely producing fruit wines, burgeoned just before Prohibition shut it down in 1919.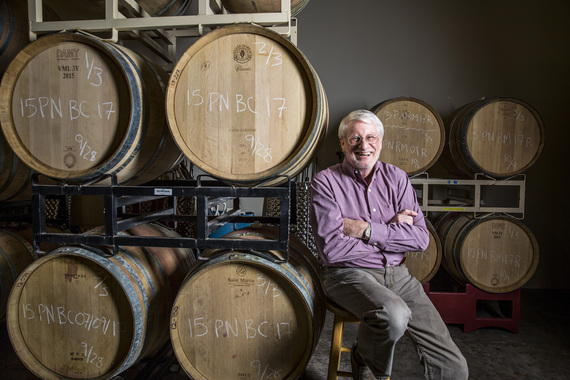 But it took decades for wine production to resume after Prohibition ended in 1933, and it amounted to little in the post-war years, when California's wine industry blossomed, then flourished in the 1960s. "We really started from zero," says David Adelsheim, who with his wife, Ginny, purchased a 19-acre field of wildflowers in Oregon's Chehalem Mountains back in 1971 to try their hand at making wine. "We just thought it would be fun; we didn't expect to make a ton of money and we didn't have much expertise to draw on back then." Ginny designed the labels.
Over dinner in New York, Adelsheim explained to me that "Oregon's wine industry is a story of fits and starts, and in 1973 we had some real battles to wage in order to protect the Willamette Valley from sprawling residential growth." In fact, Adelsheim is credited with keeping Yamhill County a vinicultural zone, now the center of the state's wine industry.
Still, Oregon wineries had little focus until various pioneers like Adelsheim, Dick Erath and David Lett insisted that the varietal that had the greatest potential in the terroirs of the Willamette Valley was Pinot Noir--a belief proven correct when Lett's Eyrie Vineyards Pinot Noir bested top-tier French Burgundies in two blind tastings in 1979. So eye-opening were those match-ups that the illustrious Burgundian vintner Joseph Drouhin scoped out vineyards on Oregon and began plantings there soon afterwards.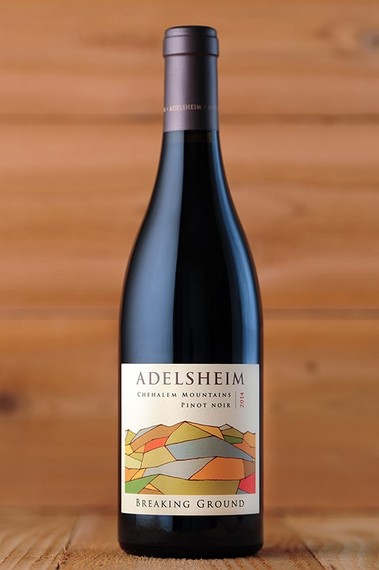 Meanwhile, Adelsheim was spending his time in Burgundy, learning its techniques and secrets; he even became Burgundian Liason for the First International Pinot Noir Festival, held in Oregon in 1987. Adelsheim's acreage grew, as did its wine-making facilities. In 1994 Jack and Lynn Loacker came on as co-owners, adding further to their estate holdings. With the addition of winemaker David Paige in 2001, the Adelsheim style of Pinot Noir was set, based on finesse, elegance and harmony.
Yet, despite tremendous strides--Oregon now has nearly 700 wineries and a thriving wine tourism industry--production is still way behind that of neighboring Washington State. "Our relative size has always been a virtue and an incentive in Oregon," says Adelsheim. "Instead of mere volume, Oregon vintners aim for high quality. Even if I wanted to make one of those ultra-ripe California-style Chardonnays, our climate wouldn't permit it, because we don't get that kind of heat in the Willamette Valley." (Adelsheim does make about 2,400 cases of Chardonnay [$65], with the 2014 at 13.5% alcohol.) "We could boost up the alcohol percentages in our wines by letting the grapes hang on the vine later in the season, but we don't aim for that style, especially with Pinot Noir, which takes on a different flavor profile when the alcohol gets above 14 percent." His 2014 "Breaking Ground" Pinot Noir ($45) comes in at 13.5%, with only 1,779 cases produced. Adelsheim also makes a rosé from Pinot Noir ($25), as well as a Pinot Gris ($19), Auxerrois ($25) and Pinot Blanc ($25).
Oregon's milder temperatures have allowed winemakers to aim for a balance of fruit and acid, as in the best Burgundies, and Adelsheim is not as worried about global warming in his vineyards as he is about overall climate change, because "so many factors go into what makes an individual terroir, and climate is significant to every aspect of growing grapes." In 2007 Adelsheim and vineyard manager Chad Vargas aimed to get all their estate vineyards certified by LIVE (Low Input Viticulture and Enology), a program founded in Oregon ten years earlier and the first in the U.S. to be endorsed by the International Organization for Biological and Integrated Control of Noxious Animals and Plants. In 2012 David Adelsheim received the lifetime achievement award from the Oregon Wine Board for lifetime of service in the industry.
Adelsheim seems to have warmed to the idea of expansion and making a good living from wine, noting that "Our export market is becoming more and more important for us because we have a moral obligation to our winegrowers to expand markets and help them make a good return on their investment." In that regard, David, whose title is now President, primarily focuses his energies on strategic planning, marketing and sales, financial planning, and over-all direction of vineyard and winemaking activities. Yet he still remembers when it was his job to fix the broken plumbing.
"I know this is a business," said David, "but it's still a lot of hard work to make it work, and for me it's still a lot of fun."
Which is where he came in.