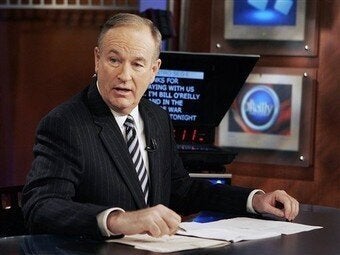 One would think that with four women co-hosts, Bill O'Reilly would have been put to the test in today's appearance on "The View" (ABC), given his producer's stalking of blogger Amanda Terkel and the uproar that has followed. But not one question was asked about the Terkel stalking, or subsequent efforts by Terkel's supporters to hold O'Reilly's advertising sponsors to account for their support of this outrageous bully.
Which leads one to wonder: Are the producers of The View so unaware of what is happening in media that they somehow missed the uproar (which was featured prominently on The Huffington Post, and to which O'Reilly rival Keith Olbermann devoted two segments)? Or was there a pre-interview agreement between O'Reilly and The View that he would not be called to account for these actions?
Quick review: two weekends ago Amanda Terkel went away for a weekend to an off-the-beaten-track town in Virginia, only to be ambushed by two male employees of O'Reilly, who stuck a camera in her face and accused her of hurting a rape victim, Alexa Branchini, and her family, and called her "dishonest." (Terkel's crime was to highlight on her blog comments O'Reilly had made about a different rape victim, Jennifer Moore, in which O'Reilly virtually blamed the young woman for her own rape.) Terkel's blog post was prompted by the decision by Branchini's foundation, which advocates for rape victims, to invite O'Reilly to speak at the organization's fundraising event. (For a more complete accounting, click the links in this post.)
But the clincher was the fact that O'Reilly never invited Amanda Terkel to defend her comments in-studio; instead he sent two men to trail her on the highway for two hours and then accost her.
I find it deeply troubling that among the hosts of The View, none asked O'Reilly about this. Except for one, these are women known as fairly progressive -- women who've no doubt encountered discriminatory and bullying behavior by men during the course of their own careers. In letting O'Reilly slide by as they did, they enabled this known misogynist, allowing him to appear before a female audience as a nice-enough guy -- not one who would ever send a couple of guys out to stalk your daughter while she's on vacation.
Related
Popular in the Community