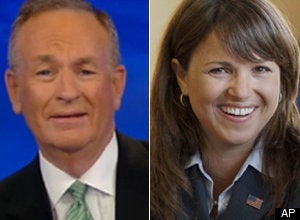 Bill O'Reilly said that he has tape of some "crazy stuff" Senate candidate Christine O'Donnell has said on his show in the past, but that he's not going to play it — yet (via Mediaite).
O'Reilly made the comments during a segment on Monday's "O'Reilly Factor." Speaking with Fox News analysts Juan Williams and Mary Katharine Ham, he called O'Donnell's now-infamous comments about witchcraft "dopey," but said that Democrats shouldn't be using the comments against her. Yet O'Reilly also chided the Delaware Republican for backing out of her planned appearances on two Sunday talk shows last week.
And he said that he has dirt on the new star of the Tea Party:
"It just seems to me...I don't know, Juan, I'm trying to be fair to Ms. O'Donnell. She's been on this program a couple of times, and we have some kind of crazy stuff that she said. We're not going to play it yet. I don't think it's relevant yet. We'd still like Ms. O'Donnell to come on the Factor. I'm not in the business of [injuring] her. I'd like to see if she's the better candidate."
Just a minute later, however, O'Reilly seemed to have made up his mind. Calling O'Donnell's Democratic opponent Chris Coons a Marxist, he said, "I'd rather have the witch than the Marxist."
Related
Popular in the Community