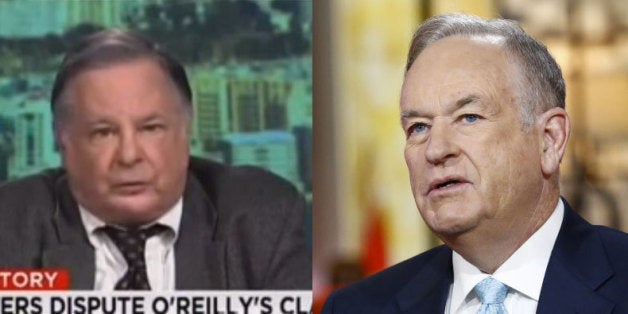 A former colleague of Bill O'Reilly accused the Fox News host on Sunday of embellishing his war reporting experience in Argentina after the Falklands War.
Eric Engberg, a retired CBS correspondent who was working with O'Reilly in Buenos Aires at the time, says the scene in the capital was less dangerous than O'Reilly has led the public to believe.
O'Reilly initially drew criticism earlier this week when left-leaning magazine Mother Jones published a report questioning his claim that he "reported on the ground in active war zones from El Salvador to the Falklands" during his time with CBS and "survived a combat situation in Argentina during the Falklands War."
The controversy seems to turn on whether the riots O'Reilly experienced -- which took place after the Argentines surrendered, and in Buenos Aires, 1,200 miles from the Falklands -- constituted a "combat situation."
"I don't know of any American foreign correspondent who had a weapon pointed at him. I didn't hear any gunfire," Engberg said of the riots. "Not only did I not hear any gunfire, as I say, I didn't hear any sirens."
News reports from the time do describe police firing guns, as well as throwing tear gas and firing rubber bullets, in response to rioters breaking windows and throwing sticks and stones. However, no fatalities were reported.
"All the CBS correspondents that were there were sent to cover the Falklands War … that was the description of what our job was," O'Reilly responded. "When you have soldiers and military police firing into the crowd as The New York Times reports and you have people injured and hurt and you're in the middle of that -- that's the definition [of combat]."
"This is such a smear it's unbelievable," O'Reilly added.
Engberg first weighed in on the controversy in a Facebook post on Saturday. Bob Schieffer, another of O'Reilly's former CBS colleagues -- he was CBS News' lead correspondent on the Falklands War -- cast doubt on O'Reilly's assertions by noting that reporters had been unable to reach the islands referenced in Mother Jones' initial report. However, unlike Engberg, Schieffer did not address O'Reilly's claims specifically.
On Sunday, Engberg told CNN's Brian Stelter that he decided to speak out after seeing footage in which O'Reilly claimed he was the only reporter brave enough to cover the riots in Buenos Aires. "I was out there pretty much by myself because other CBS news correspondents were hiding in the hotel," O'Reilly said, according to a clip played on "Reliable Sources."
"What he just said is a fabrication -- a lie," Engberg said after CNN played the clip. Engberg added that other CBS News employees at the bureau -- five correspondents and roughly 10 camera crew members -- went out into the streets to cover the demonstrations.
"Nobody stayed in their hotel room because they were afraid," Engberg said.
After Engberg's initial claims, O'Reilly invited his former colleague to appear on "The O'Reilly Factor" to discuss the allegations, and called the CBS veteran a "coward" for declining to do so. Engberg explained his decision to Stelter on Sunday.
"I don't want to turn this into an argument on his turf over what he did that night," Engberg said. "I'm simply stating the facts. The facts speak for themselves. If he has a response to what the facts are, that's fine -- he can lay it out. I'm not going to argue about it."
A Fox News spokesperson says Chairman & CEO Roger Ailes and senior management are "in full support of Bill O'Reilly."
Video of both appearances below.
Calling all HuffPost superfans!
Sign up for membership to become a founding member and help shape HuffPost's next chapter