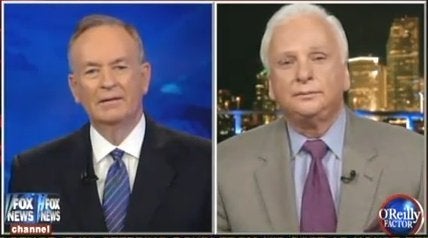 Bill O'Reilly and Bernie Goldberg slammed MSNBC's election coverage on Wednesday's "O'Reilly Factor," with Goldberg saying that the network had "jumped the shark" by having its opinion hosts preside over the election results.
Goldberg told O'Reilly that he thought both Fox and CNN had done "a professional job" by having hosts from their news sides -- in Fox's case, Megyn Kelly and Bret Baier, and in CNN's case, Anderson Cooper and Wolf Blitzer -- anchor the coverage.
But Goldberg chastised MSNBC for, as he put it, breaking "the cardinal rule of journalism" by having Keith Olbermann, Chris Matthews, Rachel Maddow, Lawrence O'Donnell and Eugene Robinson anchor.
"I thought I was watching 'The View' without Elisabeth Hasselbeck," he said.
Goldberg also said that he thought the MSNBC hosts were "giggling like schoolgirls" during the broadcast.
O'Reilly, unsurprisingly, agreed with his guest. He predicted that, when Comcast took over NBC, the new parent company would make major changes to MSNBC. He also said that MSNBC executives had "putting up a white flag and surrendering" with its coverage.
"They rightly figured they were gonna get slaughtered, because they get slaughtered every day of the year over there," O'Reilly said. "They never win, they always do poorly. They said why, waste the time and money. We'll put these guys on, the far left people will watch."