UPDATE (via TPM): Bill O'Reilly is offering a rather high-flown explanation for the incident in which he shoved the Obama staffer in order to get access to the Illinois Senator during a rally in New Hampshire: He did it in the name of freedom...
..."I had no choice, ladies and gentlemen, but to uphold the Constitution," O'Reilly says, adding that his zeal to defend the "freedom of the press" explains why he went on to shove the Obama staffer, shout at him repeatedly, and call him a "son of a bitch."
UPDATE: Watch Huffington Post's Editor Roy Sekoff talk about O'Reilly's blow-up on Fox News:
The incident was triggered when O'Reilly--with a Fox News crew shooting--was screaming at Obama National Trip Director Marvin Nicholson "Move" so he could get Obama's attention, according to several eyewitnesses. "O'Reilly was yelling at him, yelling at his face," a photographer shooting the scene said.
O'Reilly grabbed Nicholson's arm, said "move" and shoved him, another eyewitness said. Nicholson, who is 6'8 said O"Reilly called him "low class."
Secret Service agents came after O'Reilly pushed Nicholson and the agents flanked O'Reily.
UPDATE: John Amato has video of Bill O'Reilly's call into Fox News about the incident. "I gently had to remove him from that position. No scuffle, I just moved him from the spot.. I might have called him an SOB, that's possible, nothing more than that. No one on this earth is going block a shot on the O'Reilly Factor. It is not going to happen." Watch the video here.
Photos/video of the incident by Off the Bus correspondent Joshua Cinelli: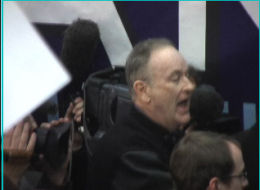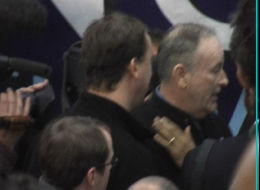 Hillary Clinton also tangled with O'Reilly today. Marc Ambinder reports:
Clinton took her first question from a woman who said that Bill O'Reilly, who stood about 40 feet away from Clinton's left, asked her about Clinton's troop withdrawal plan from Iraq.
"Bill O'Reilly!" Clinton said, gesturing to the talk show host.
The crowd started to jeer, but Clinton raised her hand: "Oh no, no no -- he gets at least some credit for being here."
And she launched into a five minute disquisition on Iraq.
Check out HuffPost's comprehensive on-the-ground New Hampshire coverage here.

Popular in the Community