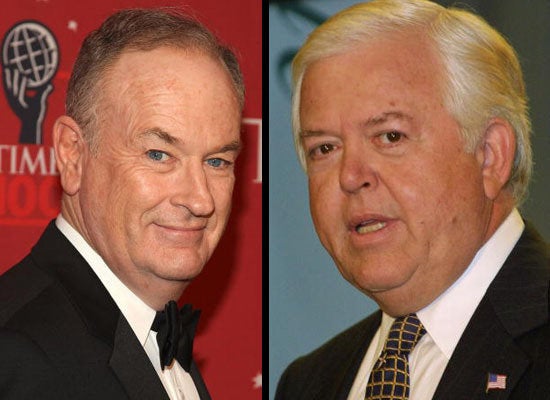 Last Tuesday, CNN host Lou Dobbs, became a focal point of the "birthers" brouhaha, when he hypothesized on his radio show that Obama may not be a properly documented American citizen and his presidency could be "illegal." "I'm starting to think we have a document issue." Dobbs said. "You suppose he's un... no, I won't even use the word undocumented, it wouldn't be right."
Now, it looks like Bill O'Reilly wants to join in the fun. After slamming the birthers story during Monday's show (though defending Dobbs' right to free speech), O'Reilly wants Dobbs to join him on the O'Reilly Factor. Last night, after a segment answering viewers' questions on birthers, O'Reilly added: "By the way I think we're going to have Lou Dobbs on this program tomorrow. That should be interesting."
TVNewser has learned that Dobbs' outside publicists pitched The O'Reilly Factor producers for the CNN host to appear on Fox News. FNC confirms this account.

It hasn't been determined yet if Dobbs will appear on tonight's show due to a scheduling conflict, but both Dobbs and O'Reilly producers are trying to find an agreeable date and time for Dobbs to guest on his cable competitor.
TVNewser subsequently confirmed that Dobbs would not be appearing tonight.
Also today, the social justice group ColorOfChange.org has added its voice to the numbers calling on Dobbs to resign, sending an email to its membership that reads:
Dear ColorOfChange.org member,

Lou Dobbs is using his platform on CNN to revive paranoid conspiracy theories about whether President Obama was born in the U.S.1 While the question was put to rest long ago, Dobbs is pretending that this extremist nonsense is a legitimate national conversation.

Intentionally or not, he is stoking the fires of racial fear and paranoia in the same way that the McCain/Palin campaign did when they cast Obama as "not one of us."2 Even after being called on this, Dobbs refuses to stop.

CNN, which is held in high regard by many Americans and describes itself as the "the most trusted name in news," is allowing one of its hosts to give legitimacy to debunked, racist conspiracy theories.

Please join us in calling on CNN to dump Dobbs, and ask your friends and family to do the same:
Today, Media Matters for America responded to CNN president Jonathan Klein's latest misrepresentation of Lou Dobbs' coverage of birth certificate conspiracies and his suggestion that Dobbs' coverage has been "legitimate." Yesterday, Klein told TV reporters that Dobbs' coverage of the issue has been "all about the phenomenon of doubters" -- with Klein suggesting that Dobbs has done nothing more than host discussions of why "some people doubt" that President Obama is a U.S.-born citizen. Klein is not telling the truth. Dobbs has done far more than simply ask why there are still people who doubt Obama's citizenship. He has legitimized their conspiracy theories by demanding that Obama produce documentation -- to prove something that Klein himself acknowledges is beyond doubt.
Watch their lay out of the issues below:
Related
Popular in the Community