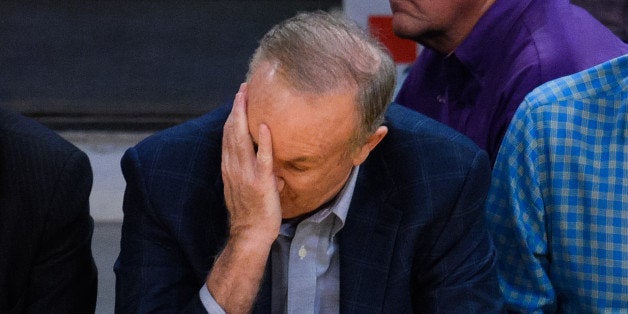 "He was in Dallas," Tracy Rowlett, a former colleague of O'Reilly's at Dallas station WFAA, told liberal watchdog Media Matters. "Bill O'Reilly's a phony -- there's no other way to put it."
The Fox host has claimed on several occasions that he heard the gunshot that killed George de Mohrenschildt, a friend of JFK assassin Lee Harvey Oswald who committed suicide at his daughter's home in Florida in 1977. O'Reilly originally made the claim in his 2012 book, Killing Kennedy. He repeated it during an appearance on "Fox & Friends" while promoting the book: "I was about to knock on the door where [de Mohrenschildt] was, his daughter's house, and he blew his brains out with a shotgun," O'Reilly said (see embedded video at the bottom of this piece). He made the claim again in an adaption of Killing Kennedy for younger readers.
Rowlett and Byron Harris, another of O'Reilly's WFAA colleagues at the time, both say the embattled host was with them at WFAA's Dallas headquarters when de Mohrenschildt died.
The station "would have reported it as some kind of exclusive -- and there was no exclusive -- if O'Reilly had been standing outside the door," Harris said. Not only did WFAA run no exclusive, but the story was broken by The Dallas Morning News.
According to Rowlett and Harris, O'Reilly never mentioned while he was working at WFAA that he was present when de Mohrenschildt committed suicide.
"That came later," Rowlett said. "That must have been a brain surge when he was writing the book."
O'Reilly's claim to have been in Florida is also contradicted by conversations the Fox host had with Gaeton Fonzi, an investigative journalist who wrote extensively about the Kennedy assassination. Fonzi, who is now deceased, writes in his biography that he received a call from O'Reilly shortly after the suicide, asking for confirmation it had happened. From Fonzi's autobiography:
About 6:30 that evening I received a call from Bill O'Reilly, a friend who was then a television reporter in Dallas. "Funny thing happened," he said. "We just aired a story that came over the wire about a Dutch journalist saying the Assassinations Committee has finally located de Mohrenschildt in South Florida. Now de Mohrenschildt's attorney, a guy named Pat Russel, he calls and says de Mohrenschildt committed suicide this afternoon. Is that true?"
The new charges promise further trouble for the embattled Fox entertainer, who since last Thursday has fended off accusations that he overstated his war reporting experience. O'Reilly has claimed in the past that he "reported on the ground in active war zones from El Salvador to the Falklands" during his time with CBS and "survived a combat situation in Argentina during the Falklands War." O'Reilly was in Buenos Aires -- 1,200 miles from the Falklands -- when the conflict ended, but maintained in an interview with conservative radio host Hugh Hewitt* that the riots he witnessed in the capital constitute a "combat situation."
O'Reilly did not immediately respond to request for comment through the publisher of Killing Kennedy, Henry Holt and Co.
*CORRECTION: A previous version of this story misstated the name of the host O'Reilly spoke with. It was Hugh Hewitt rather than Howard Kurtz.
Gabriel Arana is senior media editor at The Huffington Post.
Support HuffPost
The Stakes Have Never Been Higher
Related
Popular in the Community