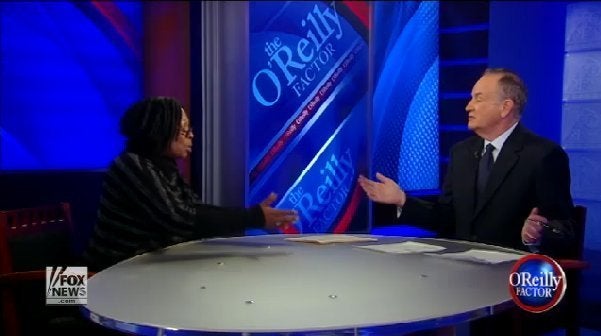 Whoopi Goldberg's appearance on Bill O'Reilly's show was aired in full on Tuesday's "O'Reilly Factor." It was their first meeting since October, when O'Reilly caused Goldberg and Joy Behar to walk off the set of "The View" in anger. Unsurprisingly, that incident, and O'Reilly's statement that "Muslims killed us on 9/11," was the focus of his and Goldberg's rematch.
Though the encounter remained fairly civil -- except for one moment when Goldberg swore-- the two expressed a fundamental disagreement over both the impact of O'Reilly's words and the situation in the Muslim world. O'Reilly told Goldberg he thought it was ludicrous to assume that he literally meant all Muslims were responsible for the 9/11 attacks.
"I don't worry so much about what you think," Goldberg said, adding that she did worry about the effect such statements might have on viewers. "You're a really great showman, you're a great guy to talk to, but sometimes I think you give yourself less credit, which is shocking, I know, than you think," she told O'Reilly.
O'Reilly then asked Goldberg if she thought there was a "Muslim problem" in the world, as he did. She said that she thought there was a "terrorist problem." The two clashed about the issue for a few minutes, with O'Reilly saying that 90 percent of the terrorism in the world was being caused by Muslims, and Goldberg insisting that he was painting things with too broad a brush.
The spikiest moment, however, came when O'Reilly referred to Goldberg as "Ms. Goldberg."
"What is this bullshit about Ms. Goldberg?" Goldberg snapped -- ironically, using the very word that she used during their encounter in October. "Stop that, Bill, just call me Whoopi."
Related
Popular in the Community