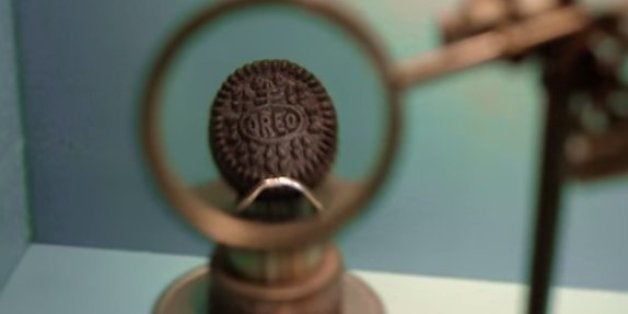 Oreo's cutesy campaign to promote Oreo Minis didn't exactly hit the spot.
The brand ramped up hype late last month when it pledged to send free treats to people in small towns across the country. A nearly two-minute video, voiced over in Seussian rhyme, suggested eating them in bulk: "Just to make sure you don't misunderstand, you can tell that they're minis if there's lots in one hand."
But the rope-tied parcels delivered to the least-populated towns in all 50 states last week only included a single quarter-sized cookie in each package.
Some residents found it a little ridiculous.
"This is the talk around town and, to us, this is just a big joke," Mauckport, Indiana resident Debbie White, one of 81 people who lives in the town, told the Indianapolis Star. "Why in the world would they ship out one mini cookie is beyond me. Thanks Oreo."
For context, she tweeted a photo of her "freebie" next to a quarter.
Oreo said it plans to send one full-sized bag of the miniature cookies to each house in the towns by the end of the month.
"We were planning on sending a surprise follow up later in August, but there's been some confusion," Alan Keane, a spokesman for Oreo, told The Huffington Post on Thursday.
He declined to comment on whether sales of Oreo Minis have increased since the campaign began.
"That's the funny thing, I don't even eat sweets," Theresa Houdek, one of 68 residents in Balltown, Iowa, told ABC-afilliate KCRG, shrugging off the unexpected morsel she found among bills and letters.
After sending the cookies to the small-town residents last week, Oreo extended the campaign nationwide, offering to mail out 500 cookies a day starting Aug. 11 to anyone who requests one through an official website. The promotion ends on Friday, and the website "closes" for the day after 500 people sign up. Keane said the 500-person cap was chosen for "no particular reason."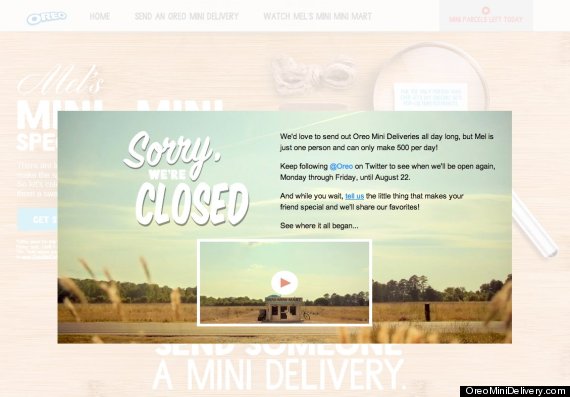 This pop-up appears once 500 people have requested cookie packages.
Unlike the cookies, Oreo's social media fan base is big. The brand has won praise its quick wit on Twitter during the 2013 Super Bowl blackout and support for gay marriage, which it broadcast across social networks. Its long lists of followers also help advertise launches of weird flavors.
So far, the enthusiastic responses to the #MiniDelivery hashtag from its followers may outweigh the eye rolls over its initial campaign.
Updated on Thursday morning with comments from an Oreo spokesman
Calling all HuffPost superfans!
Sign up for membership to become a founding member and help shape HuffPost's next chapter
BEFORE YOU GO
PHOTO GALLERY
What The GOP Doesn't Want You To Know About The Deficit