Brace yourselves -- a new Oreo is hitting the shelves and this cookie has downsized. Welcome to the world, Oreo Thins: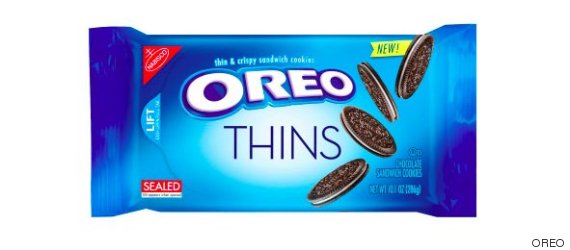 Oreo announced the new, slimmer version of itself on Monday, though the new treat won't actually hit stores until July 13. Thins will come in three different varieties -- Original, Golden and Mint flavors -- with a suggested retail of $4.59.
The new Oreo Thins really do live up to their sleek name. The classic cookie is 12.5 mm thick, while this new cookie is 7.5mm thick. To get a better idea of how the cookies looks, from left to right, here's a Double Stuf Oreo, regular Oreo and the new Oreo Thins:

Despite its small size, multiple Huffington Post editors agreed that the Thin looks and tastes exactly like a regular Oreo, without feeling like a "diet" cookie (you know, those "fun" snack-sized Oreos that look and taste nothing like the real thing).
It may be hard to get over the somewhat-icky name, but the Thins aren't really a "diet" cookie at all, if that's what you're going for. According to the packaging, four Oreo Thins have 140 calories, 6 grams of fat and 12 grams of sugar, while three regular Oreos have 160 calories, 7 grams of fat and 14 grams of sugar. Either way you look at it, Oreos aren't ever going to be "healthy," but they will always be delicious.