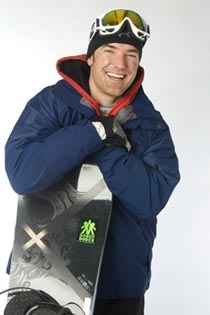 style="float: left; margin:10px" 
/>
After my second Olympic Games, I was invited to visit several children's hospitals. I still remember my first tour of St. Jude Children's Research Hospital just outside Boston. As an Olympian, I couldn't wait to inspire the young patients. I wanted to do more to raise their hopes than any celebrity they had ever met.
I was handed a mask as staff there explained the children's vulnerability to germs and diseases. Then I walked from room to room, activity to activity and conversation to conversation, expecting to find a bunch of somber faces. But a somber face was the one thing I couldn't find. These children had the most amazing outlook on life, though many weren't expected to make it through the year. They had all gained a new perspective on life, and weren't going to let the adversity of ill health take away the time they had here.
I'd met everyone from celebrities to Olympians to the president of the United States, but I walked out of that hospital feeling more inspired by those children than by anyone I had ever met before. Since that day, I visit children's hospitals and cancer wards every chance I get, and never cease to be inspired.
A few years later, I met a snowboarder named Chris Klug. I didn't know anything about Chris's background, but, as with the children, I was immediately drawn to his spirit. I soon learned why...
Chris Klug
Overcoming Adversity
(Story from When Turtles Fly: Secrets of Successful People Who Know How to Stick Their Necks Out)
Weird numbers? What did the doctor mean when he said that my physical was showing some "weird numbers"? I was a world-class athlete. World-class athletes didn't have "weird numbers"...did they?
I'd been snowboarding on the World Cup circuit for a while and was feeling perfectly healthy when the doctors told me I had primary sclerosing cholangitis, or PSC. They didn't know if it would be in one, five or ten years, but they told me I would eventually need a liver transplant. I had never paid all that much attention to transplant lists, but I knew that bodily organs weren't on sale at my local pharmacy. Being asymptomatic, I figured that I had plenty of time, but they decided to put me on the transplant waiting list in 1994.
My dreams had always been to follow in the footsteps of my Olympic idols, speedskating greats Dan Jansen and Eric Heiden, and downhill skiing champion Bill Johnson. Four years later, it finally looked possible, as alpine snowboarding was included in the Nagano Olympics in 1998. My teammates and I were all thrust into the limelight overnight and were overwhelmed with the Olympic spirit.
After a devastating second run in Nagano, I dropped from the silver medal position down to sixth place, arriving home afterwards with an empty, unfulfilled feeling. But my experience at the games spurred on the motivation to come back in four years to capture one of those illustrious Olympic medals. However, the path to that medal would be a rocky road, and would rely on one of the bravest families I've ever met.
After the 1998 games, I was still feeling healthy, but the doctors continued to tell me the horrifying fact that this autoimmune disease was causing my body to attack itself, and the continual scarring of my liver would eventually lead to cancer. Each year, I would undergo medical procedures to clean out my bial ducts and keep me going a little longer before the inevitable transplant. Despite the repeated test results, I was sure they somehow had the wrong guy. I felt fine.
In the spring of 2000, my stubborn denial finally came to an end as my first symptoms appeared. I started feeling a bit crummy just as I was getting ready to leave for a Hawaiian surfing trip. After a few days, I realized this was more than your common flu when a shooting pain sliced deep into my lower right side. I knew exactly what sat below the layers of skin and muscle there...my liver. Apparently, the doctors didn't have the wrong guy.
Further tests would show that my liver was so scarred it was barely doing its job. Without any arguments from me, the doctors immediately advanced me to the more critical stage on the liver transplant list. I was sent back to Aspen to start my "training" for surgery. I prepared for it just as vigorously as I did for any snowboarding competition I'd ever entered. As in my snowboard races, I did visualization daily to ready myself for the race for my life.
I tried to keep up with regular exercise, but each week found I was getting sicker and sicker. I dropped from 220 pounds down to 186. Each day I lost more energy, and I was forced to think about the stats. There were 86,000 people across the country waiting for organs and fifteen died each day waiting for a transplant. I just prayed that I would be fortunate enough to make it off the list and get a second chance. And if I was given that second chance, I was certainly going to do something valuable with it.
I still remember the day I received the call that I would receive my chance. They had a liver transplant candidate for me. On July 28, 2000, I found out the candidate was a match, and the next day I would be receiving his liver. I went into the hospital on a Saturday, and by the following Wednesday, I was discharged, without any signs of infection or organ rejection. I was kept on a short leash for about three weeks and, miraculously, seven weeks later I was on my snowboard again. Any initial qualms I had about bouncing back were quickly put to rest.
Six months after that, I found myself atop the World Cup podium, and ended the competition season with four World Cup top-three finishes. A year and half later I was standing on the podium and receiving a bronze medal in the Olympic Games...in my home country. Standing on that podium, I had a wealth of emotions running through me as I remembered all it took to get to that spot.
I couldn't help but think of the family who had given me a second chance. The family who had lost a loved one but granted me a new life. Shortly after the Olympics, I had the opportunity to meet my donor family. I was more nervous about our meeting than I had been for my Olympic race. How do you thank a family for life itself?
It took unimaginable strength to turn the tragic loss of their thirteen-year-old son into the most profound gift you could offer to five different families. None of the adversities I conquered could compare to the challenges that family faced. They were the real heroes of this process, and I am humbled daily by their decision. They gave the biggest gift you could give, and they gave it to a complete stranger.
It was a truly emotional encounter. We all shared laughter and tears. I got to hear stories about the little boy who had touched them all so deeply. They got to hear how, ultimately, he had done the same for me. And in the end, I think they understood how incredibly grateful I was for the difficult decisions they'd made, and how the Olympic medal was as much his as mine.
My experiences now have become much less about demonstrating my athletic prowess and more about proving what someone can do with the gift of life, and about encouraging everyone to share their decision with their family. One donor can save up to twenty-five lives-I'm here today because of it.
Motivational Weight Management Tip
My experience of working with the Biggest Loser contestants and Symtrimics has inspired me to leave motivational diet, health, and wellness tips at the end of all of my blogs. These tools will be driven from the actual advice shared in my weekly motivational Transformation Talks. This week's tip: Visualize a positive outcome to your goals. Don't just imagine a fitter you, but the experiences and praise you'll get once you reach your healthy outcome. There is great motivation in visualizing positive results.

REAL LIFE. REAL NEWS. REAL VOICES.
Help us tell more of the stories that matter from voices that too often remain unheard.