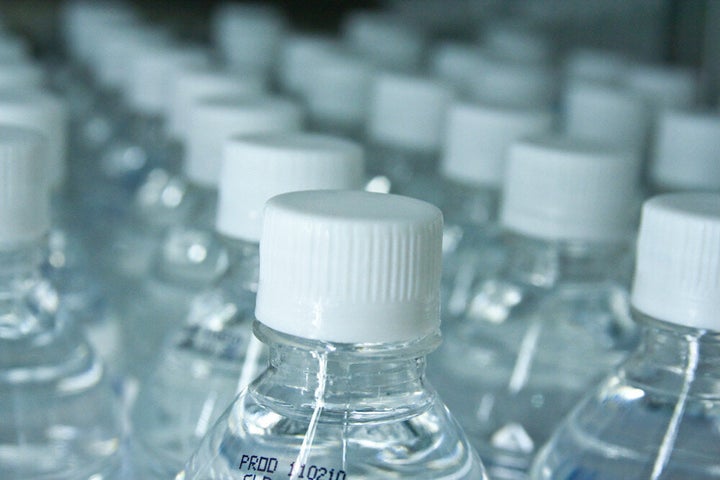 Many bottled water producers make silly health claims for their products. There's Smart Water, which claims to improve brain function despite being normal purified tap water. Vitamin Water bills a whole host of different health claims even though experts say it's more or less sugar water. Don't even get us started on blk water, the new ebony-tinted, supposedly super-healthy offering from the Manzo brothers of Real Housewives of New Jersey "fame."
But the advertising claims of BioKristall are unusual even in this ignominious company. German maker Lammsbrau bills its bottled water bills as "organic," via its title, which includes the German term ("bio") for organic products, according to Worldcrunch.
It's not that we're disputing that BioKristall would meet the USDA Organic certification standards, inasmuch as it is free of pesticides or chemical fertilizers. We know it is -- but so is every other bottled water. It doesn't make any sense to call one water organic; the term refers to agricultural practices, and water, to the best of our knowledge, does not come from farms. Indeed, the scientific term "organic" (as in Organic Chemistry) emphatically does not apply to water. It refers to molecules that contain carbon, and water includes only hydrogen and oxygen.
All these reasons, and others, helped convince a Frankfurt court that heard a case against Lammsbrau that there was no such thing as organic water. But Lammsbrau, which also brews beer, appealed the decision, and won the right to keep its "bio" name, as long as it agreed to change its label to decrease its resemblance to the state-approved organic certification symbol.
BioKristall is not alone in its shifty application of the organic label, even if it is the first to get court approval. A Welsh producer, Llanlyr, made waves at this year's Fancy Food Show for its absurd organic bottled water, and several others have tried hard to do so -- even though, as Mother Jones points out, the USDA has specifically said that water cannot be called organic.
Calling all HuffPost superfans!
Sign up for membership to become a founding member and help shape HuffPost's next chapter