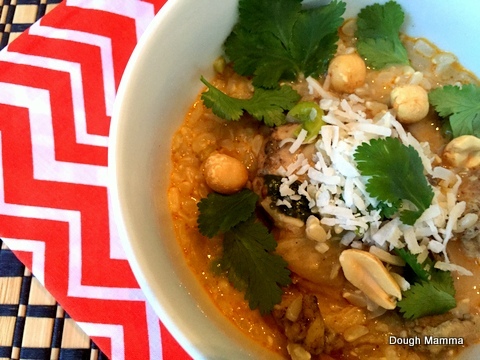 Tuesday night we dined with friends, they hosted and we brought the food. I don't travel with food often, but I now realize it's the perfect arrangement for two busy families. I cook and deliver the food, while my friends graciously allow their home to be trampled by a hoard of kids running amok - sounds fair to me.
This dish from David Tanis is absolutely delicious. Although aromatic and full of flavor, these spices marry so well, even the pickiest of eaters will enjoy this mellow curry. For those who like heat, increase the cayenne or add a fresh hot pepper or two while heating your chicken broth.
This dish serves about 6 people and costs around $3.75 per person. Serve with rice and you have a meal you can feed the entire family. We used all organic ingredients minus some of the spices and were happy to find such a rich and luscious dish at such a low cost.
Title: Organic Curry Chicken for Under $4.00/person
Author: David Tanis
Prep time: 30 mins
Cook time: 1 hr
Total time: 1 hr 30 mins
Serves: 6
Notes: I took some liberty here and used what I could find in our pantry. Some of my spices were dry, and I used peanuts instead of cashews. I also skipped the parsnips and added some peas instead. Finding organic ginger, garlic or spices may be tough in some places, substitute with conventional products or order online. It took me about 45 minutes to make this dish, however I did read comments on the NY Times page, where people stated it took them anywhere from 1.5-2 hrs. I decided to err on the side of caution and claim 1.5 hrs total time for most home cooks.
Ingredients
2 pounds of organic skinless boneless chicken thighs, cut into 3-inch chunks
Salt and pepper
1 Tbsp grated ginger
2 tsp grated garlic
¼ tsp cloves
¼ tsp fennel seeds
¼ tsp cardamom seeds
¼ tsp allspice berries
¼ tsp cumin seeds
¼ tsp coriander seeds
¼ tsp turmeric
¼ tsp cayenne
3 Tbsp lemon juice
¾ cup raw cashews
¼ cup shredded dried unsweetened coconut
1 pound small parsnips, peeled and cut in 2-inch batons, optional
2 Tbsp of ghee, coconut oil, or vegetable oil
1½ cups finely diced onion
1 Tbsp of tomato paste
1 2-inch piece of cinnamon stick
3 cups of chicken broth or water
1 cup of thick coconut milk
A few sprigs of mint and cilantro for garnish, optional
Instructions
Season chicken generously with salt and pepper and put in a mixing bowl. Add ginger and garlic, massage into meat.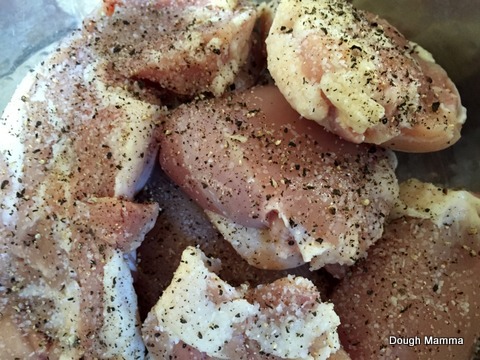 In a dry skillet over medium heat, toast cloves, fennel, cardamom, allspice, cumin and coriander until fragrant, about 2 minutes. Grind the toasted spices to a fine powder and add to chicken. Add turmeric, cayenne and lemon juice and mix well. Let marinate at room temperature for at least 15 minutes, or refrigerate up to 1 hour.
Heat oven to 375 F. Put cashews on a baking sheet and roast until lightly browned, 8 minutes. Remove and set aside to cool.
Spread the coconut on the baking sheet and toast until lightly browned, about 5 minutes, then let cool.
Grind the coconut with ¼ cup cashews to make a rough powder. Reserve ½ cup of cashews for garnish.
Bring a small saucepan of lightly salted water to a simmer, then add parsnips and cook until tender, about 10 minutes. Drain and cool.
In a wide heavy bottom pot, heat ghee over medium-high heat. Add cooked parsnips, if using and saute until lightly browned. Removed and reserve. Add chicken pieces to the pot, stirring occasionally until lightly browned, about 5 minutes, then remove and set aside. Add onions and cook until soft, about 5 minutes. Add tomato paste and let it sizzle with the onions for 2 minutes. Add broth and bring to a brisk simmer, stirring with a wooden spoon and scraping up any caramelized bits from the pot. Add cinnamon stick, chicken and the ground coconut and cashew mixture. Adjust heat to a gentle simmer, cover and cook for about 30 minutes, until chicken is tender. Taste the sauce and adjust seasoning if necessary.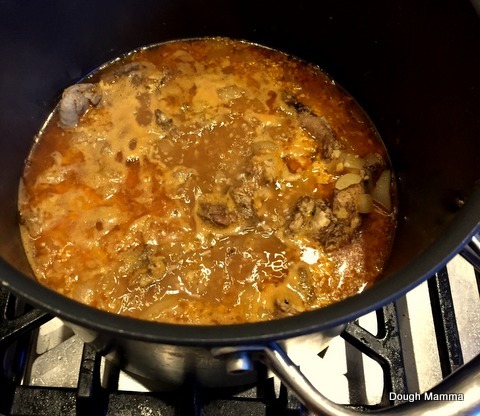 To finish the dish, stir in coconut milk and add reserved parsnips. Cook for 3-4 minutes, until parsnips are heated through and the sauce has thickened slightly. Serve with rice and garnish with mint, cilantro leaves and toasted coconut.