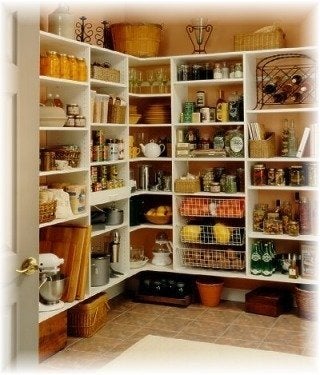 Keep Your Pantry Constantly Stocked with Essential Green Goods
Each celebrity chef on Supper Club with Tom Bergeron has the luxury of planning eco-meals well in advance, but sometimes we regular folks have to pull a meal together with little time to spare. Avoid last minute freak out sessions by stocking your pantry with a few essential items so that you can pull together quick and healthy green meals in a flash.
Organic rolled oats: Rolled oats are full of whole grains and keep you satisfied for long periods of time. They are great for breakfast, in cookies, or in homemade granola. Pair with fresh berries and yogurt from the farmers' market and you've got an environmentally responsible parfait.
Organic rice syrup: Rice syrup is one of the least processed sweeteners that you can buy. Use it in all your baked goods as a healthier substitute for the devil of all sweeteners, high fructose corn syrup. High fructose corn syrup is often an ingredient in cheap foods that are mass produced and shipped all over the country.
Quinoa: Quinoa is a complete protein and can substitute for less sustainable proteins like non-organic meats. Compared to other grains, quinoa is higher in calcium, phosphorus, magnesium, potassium, iron, copper, manganese, and zinc. It's great in stews, curries, salads, and pilafs. Serve your guests a great eco-curry just by pairing the quinoa with tons of local vegetables and your favorite curry recipe.
Organic canned adzuki beans: Adzuki beans contain some of the highest levels of protein and lowest levels of fat in any variety of beans. They also contain high levels of potassium, fiber, B vitamins, iron, zinc, and manganese. They're great in soups, dips, and casseroles.
Homemade almond butter: Use organic almonds to make your own almond butter or purchase it at the farmers' market. Almond butter is one of the most nutrient dense butters; it lowers cholesterol, and is high in the antioxidant vitamin E. It's a great ingredient in vegan baked goods, like cookies, energy bars, and truffles.
Organic pine nuts: Pine nuts are a staple because they are a necessity in any fresh pesto. Just pick up some fresh basil from your local CSA or at the farmers' market and you're good to go. Enjoy a farm fresh green meal while supporting your local sustainable farmer.

Calling all HuffPost superfans!
Sign up for membership to become a founding member and help shape HuffPost's next chapter